Autonomous Student Media: Gestures Towards the Ungovernable
Yesterday, members of the Young Conservatives of Texas tabled with pro-Kavanaugh & anti-#MeToo signs on West Mall. They were swiftly confronted by a growing crowd of students, who made signs in protest, destroyed YCT signs, and chanted slogans like "we believe survivors!" With women of color taking the initiative, the protests grew increasingly militant and also confronted the administration and the police enabling the YCT rally. Within two hours, the YCT had fled in the face of the massive backlash.
Here's a preliminary serving of information we dug up on the people who were out there yesterday. We encourage people to use these to wage campaigns and ensure there are repercussions for the actions they took yesterday. Demonstrating in defense of rapists and making campus hostile to survivors should not go unanswered. At the same time, students should prepare for backlash. Already, one student is facing harassment and threats because of a video circulating from yesterday. Students should expect to organize solidarity campaigns against targeted harassment, and begin securing their own information to avoid harassment.
Lillian Bonin
Lillian Bonin is a junior government major, Vice Chairman of the YCT, a Liberal Arts Representative in Student Government. She is also a racist who we exposed previously for liking white nationalist pages and is friends with two Neo-Nazis, Ciera Harris (also in the YCT) and Dietrich Kessler. Her email is lillianbonin@gmail.com, if you would like to send her a piece of your mind (we recommend using an anonymous email, perhaps even a Virtual Private Network, if you do so).
She is facebook friends with Student Government Vice President Mehraz Rahman. Pressure SG to remove this racist & rapist from their ranks by contacting them at their website, facebook, or twitter.
She works as a runner at Popp Hutcheson, a property tax law firm in Austin. The numbers for the firm, if you wish to alert them about the activities of their employee, are:
512.473.2661
800.473.2661
Saurabh Sharma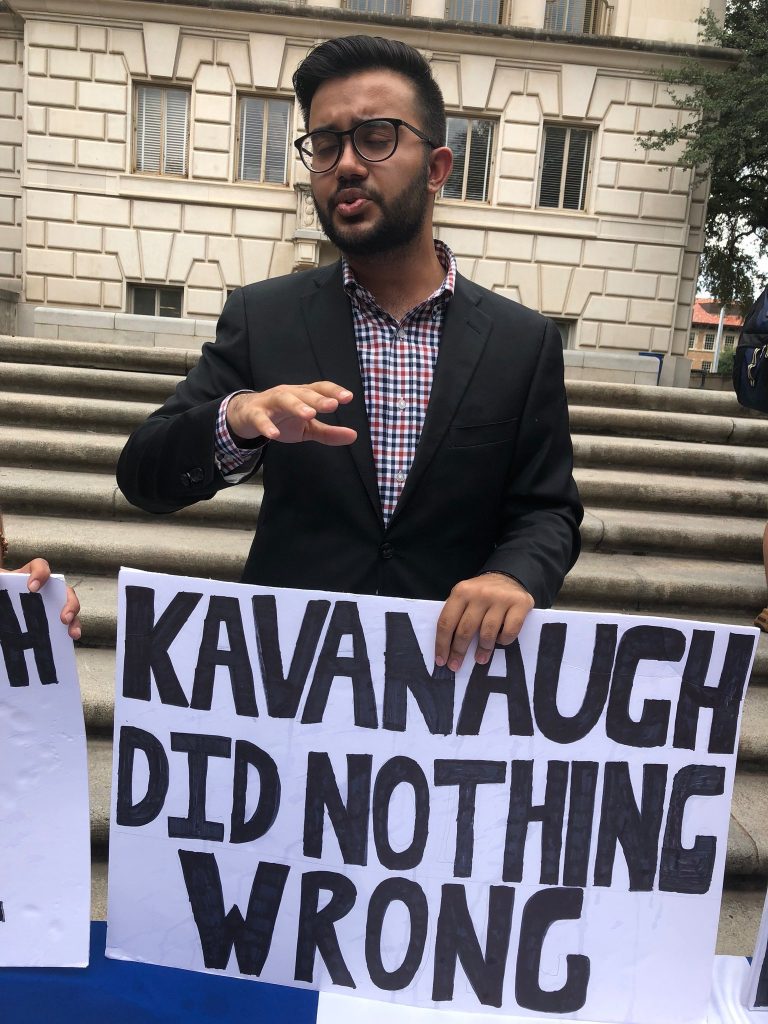 Saurabh Sharma is the Chairman of the YCT and a senior majoring in biochemistry. He is a Capitol Correspondent for Empower Texans, a right-wing group that the YCT is affiliated with which hides behind the rhetoric of "free market principles." You can reach him on Twitter at @ssharmaTX.
His email is ssharma1618@gmail.com. His phone number is 469-347-5556.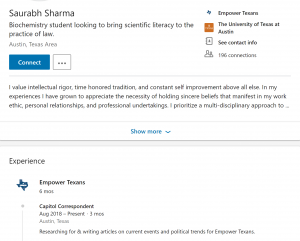 Anthony Nevin Dolcefino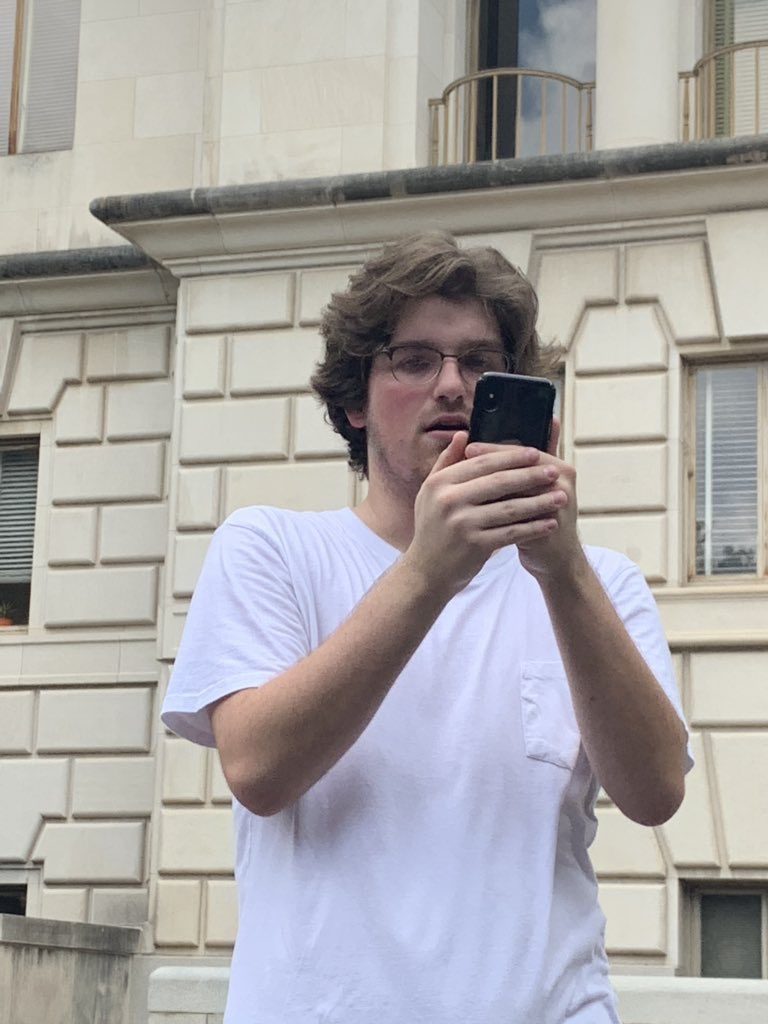 Anthony Nevin Dolcefino, who we have written about previously for his friendship with white nationalists Andy Kessler and Ciera Harris, is a government major and researcher at Dolcefino Consulting. He was previously also the Vice Chairman of the YCT (it's unclear whether he or Bonin share the position, or if Bonin succeeded him). He livestreamed much of the events of the protest. On his posts, Harris and Kessler both commented in support. His email is: anthonydolcefino@gmail.com
Joshua Ross Lambert
Joshua Ross Lambert is a senior government major. He is a part of Texas 4000 For Cancer. His email is lambertj1206@utexas.edu. Near the end of the event, Joshua became flustered when failing to argue with someone and shouted "Make America Great Again!" before walking away. Someone then grabbed his hat and threw it away. Joshua's phone number is reportedly 281-678-7138.
Encourage Texas 4000 to remove Joshua from their group!
Phone: (737) 300-2318
Email: info@texas4000.org
Samuel David Samson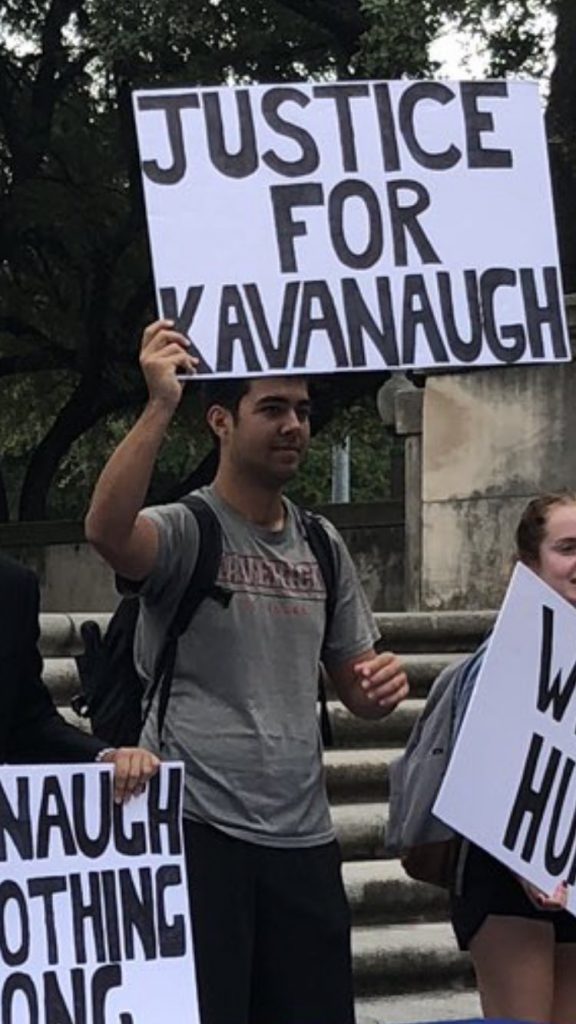 Samuel Samson is a government sophomore and is also in Liberal Arts Honors. He has interned for Ted Cruz. He is also affiliated with Turning Point USA, and was spotted last semester harassing protestors at the Palestine Solidarity Committee's Israel Bloc Party Protest. His email is ssamson915@gmail.com.
Alejandra Cordova
Alejandra Cordova is a government sophomore at UT and member of the YCT. She works at the Chik-Fil-A on MLK Boulevard. Her email is alejandracordova@live.com
Alejandra's phone number is: (210)-392-3491
The phone number of the Chik-Fil-A where she works: (512) 473-8651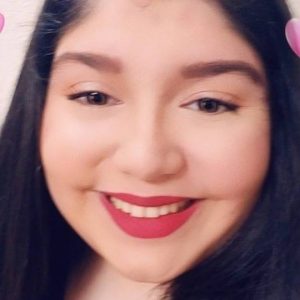 Cayden Connally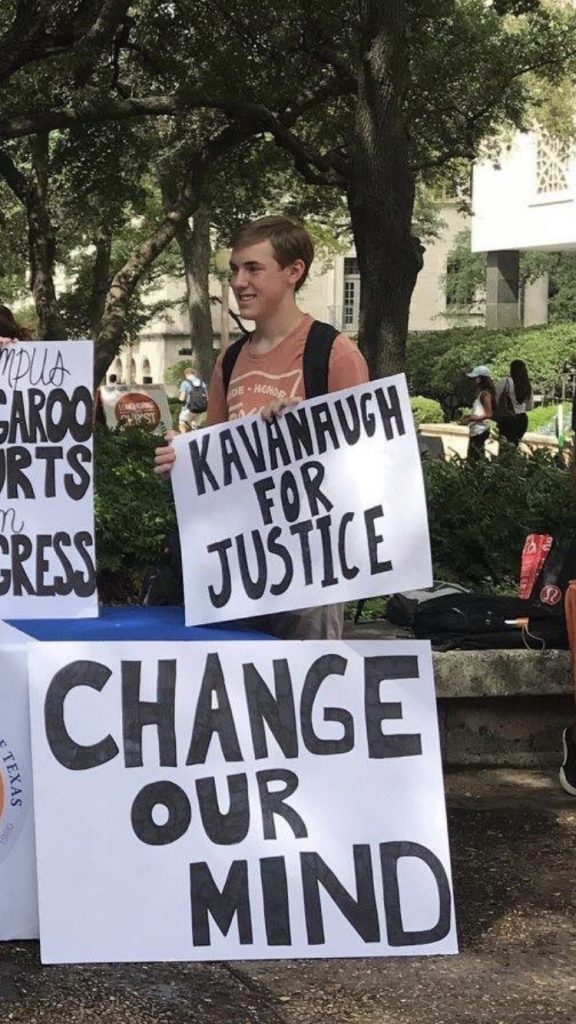 Cayden Connally is a government sophomore and member of the YCT. He is one of the financial officers in YCT. His email is epiccrc115@gmail.com.
Maya Lia Vela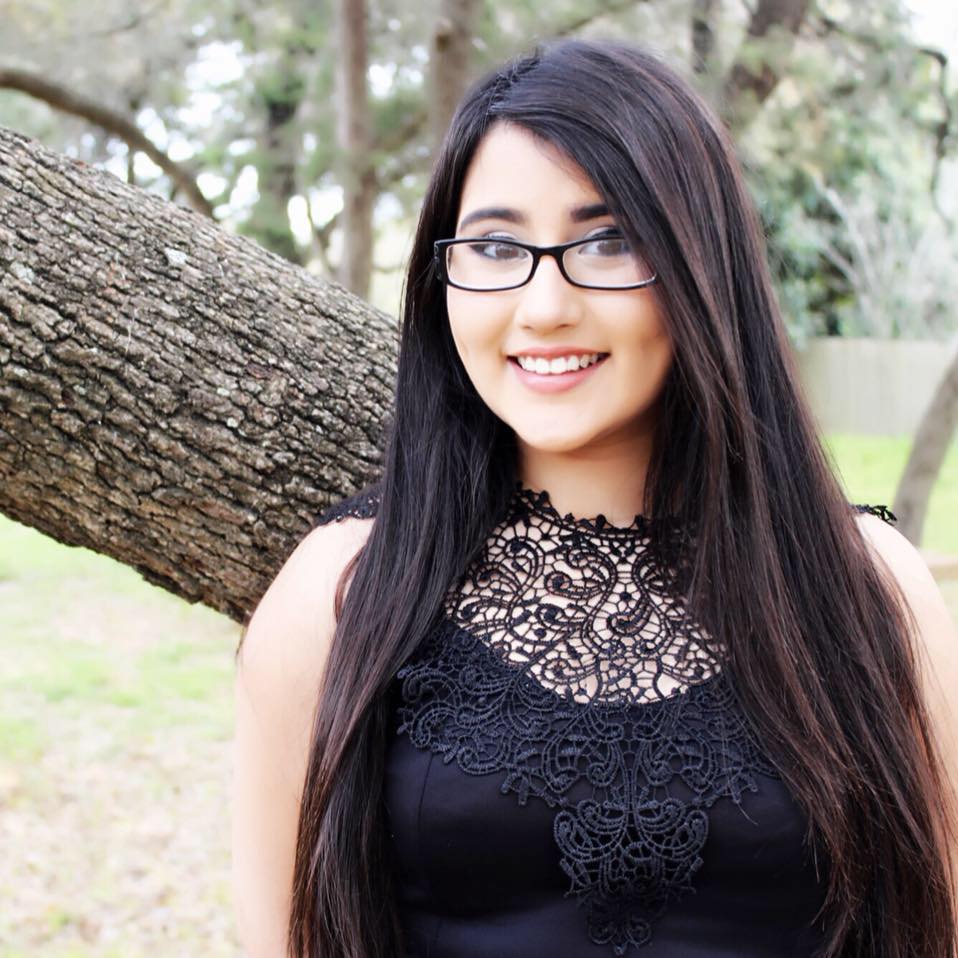 Maya Vela is a junior majoring in Journalism and a member of the YCT. She was spotted standing by the YCT yesterday, and has tabled with them previously. Her email is mayaliavela@gmail.com. Her phone number is 210-878-9058.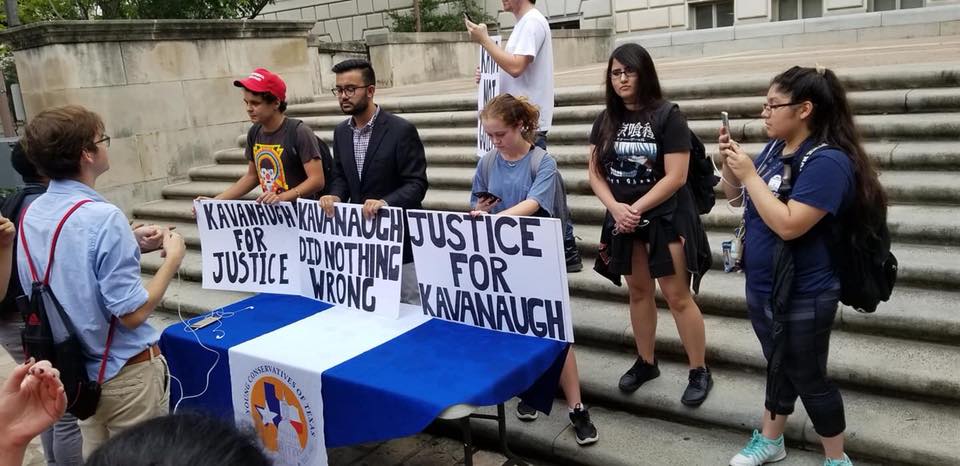 Leighton Berridge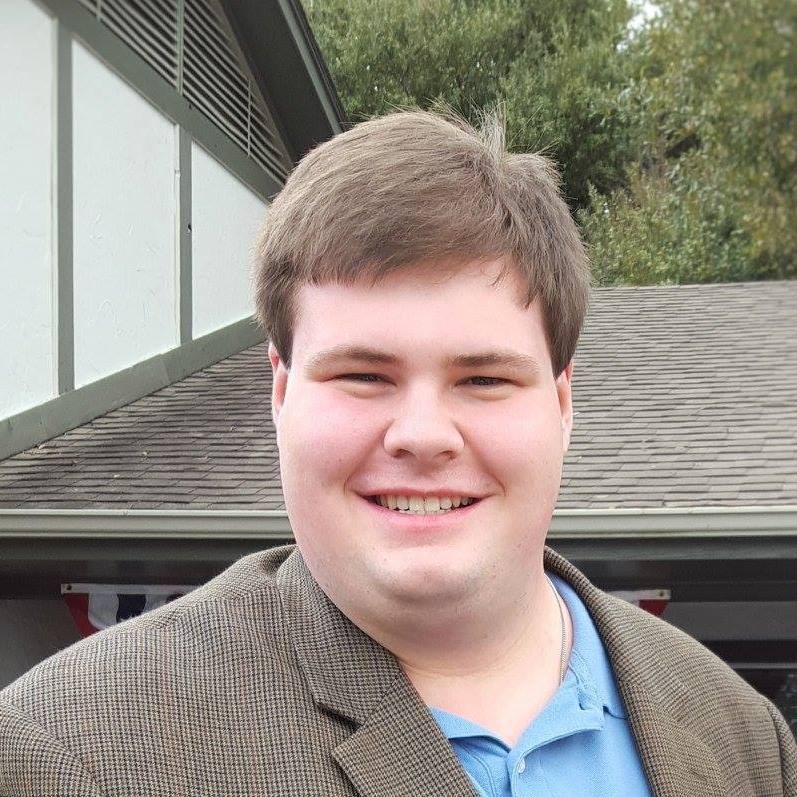 Leighton Berridge, who was mentioned in a previous expose, was also present today alongside the YCT. He is a member of the YCT who we previously revealed for his connections to white nationalists and other racists within the group.
Administrative Accomplices
These are the two main UT administrators who enabled the YCT yesterday and helped escalate the situation by trying to corral students and use cops against counter-protestors.
Doug Garrard
Douglas Garrard is the Senior Associate Dean of Students. He helped protect the YCT protest and pointed out particular students to police for intimidation. He threatened one student, who was simply standing on the steps behind the YCT with a poster, with police. To phrase this another way: he threatened to use cops–armed men with guns with the right to imprison or kill–against survivors and other students protesting rape apologia.
When students attempted to confront him about protecting rape apologists and failing to protect survivors, he refused to have a conversation and claimed that he did not have a position. Contact him and his office and force them to take a position and be held accountable for protecting a disgusting, hostile event at UT.
Office Phone: +1 512 471 5017
+1 512 232 2850
Office Location: SSB 4.104
Email: garrardd@austin.utexas.edu
Susan Buckenmeyer
Susan Buckenmeyer is the Director of Student Activities in the Dean of Students Office. She was one of the first one the scene at the protests yesterday, helping to enable the YCT's shenanigans. When the YCT initially got surrounded by the crowd protesting them, she helped them move to the stairs next to the tower and then tried to declare that only YCT students could stand on the stairs–which is ironic given that they did not reserve that space (and should not be able to reserve that public space to protect themselves from confrontation). She was also involved in pointing out students to police.
Contact Susan and demand that she answer for the ways she enabled the YCT and applied ridiculous protections to their event.
Office Phone: +1 512 471 3065
Office Location: SSB 4.400
Email: susan@austin.utexas.edu
Don't let this be the end of the fallout from yesterday. Don't let UT & the YCT forget about the harm they've done. Let's use this moment and start building something to take down the YCT and the administration that enables them.
---
Send any intel about the people listed here or the YCT to us on facebook, twitter, or at our email!
Got a story you need to tell? Do you have thoughts on the YCT counter-protest, experiences, art, or something else you want to put out into the world? You can publish it with us! We can promise anonymity for any content you submit and offer up our platform. Send us your opinion pieces, art, rants, zines, reviews, news, statements, report-backs, or anything else you wanna see put out in the world. Don't worry about being "coherent," "professional," "civil," or some other bullshit–just come as you are!
We take all kinds of content, with an eye towards marginalized perspectives and news about movements & revolutionary organizations. Submit content to austinautonomedia [@] autistici [dot] org.