Autonomous Student Media: Gestures Towards the Ungovernable
Over a month ago, UT students and Austin anti-racists showed out to take action against the presence of white nationalist speaker Katie Hopkins on campus. Since the counter-protest, a team of antifascists has dedicated itself to digging up information on the students who attended thise event, where the Daily Texan reported the audience applauding the grotesque xenophobia Hopkins was spewing.

This crew now gladly presents the fruits of this research, as well as a call to help identify some yet unrecognized faces. The research below includes people who were at the Katie Hopkins event, as well as newly identified members of Turning Point USA or the Young Conservatives of Texas.
New Faces: Everybody Hates You!
This section deals with new individuals identified from the November 13th Katie Hopkins speaking event. Highlights of this section includes a hindu nationalist fascist & multiple members of Tau Kappa Epsilon.
Varun M Hukeri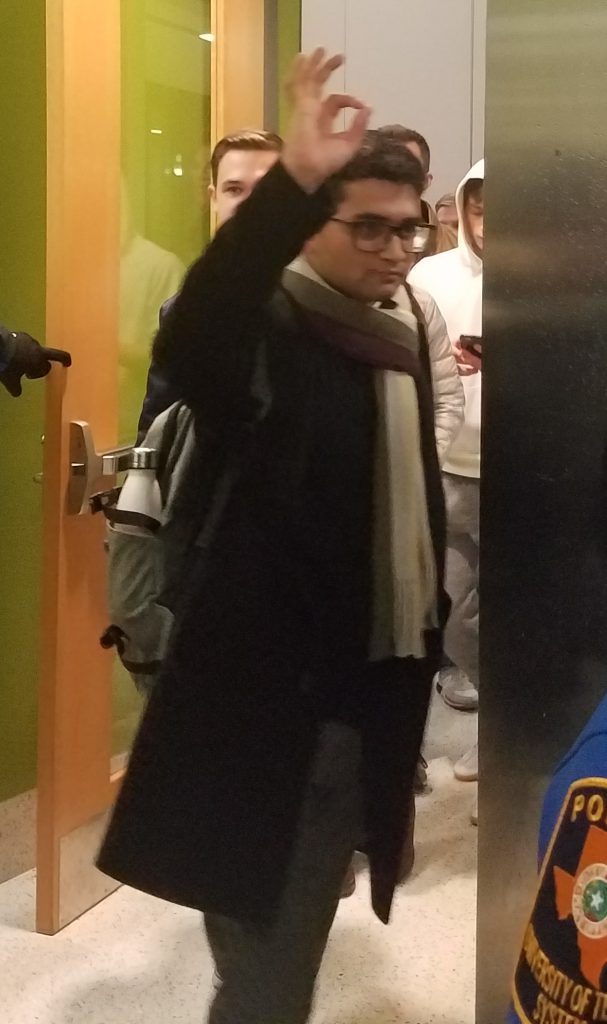 Government & IRG junior in Liberal Arts Honors with a minor in Chinese.
Associate editor of content for The Liberator. Has previously been an undergraduate research fellow at Innovations for Peace and Development, and is still listed as a contributor to the Chinese Development Finance blog. Volunteer at Foundation for the Homeless
Member of Liberal Arts council, College Republicans, and Hindu Students Association.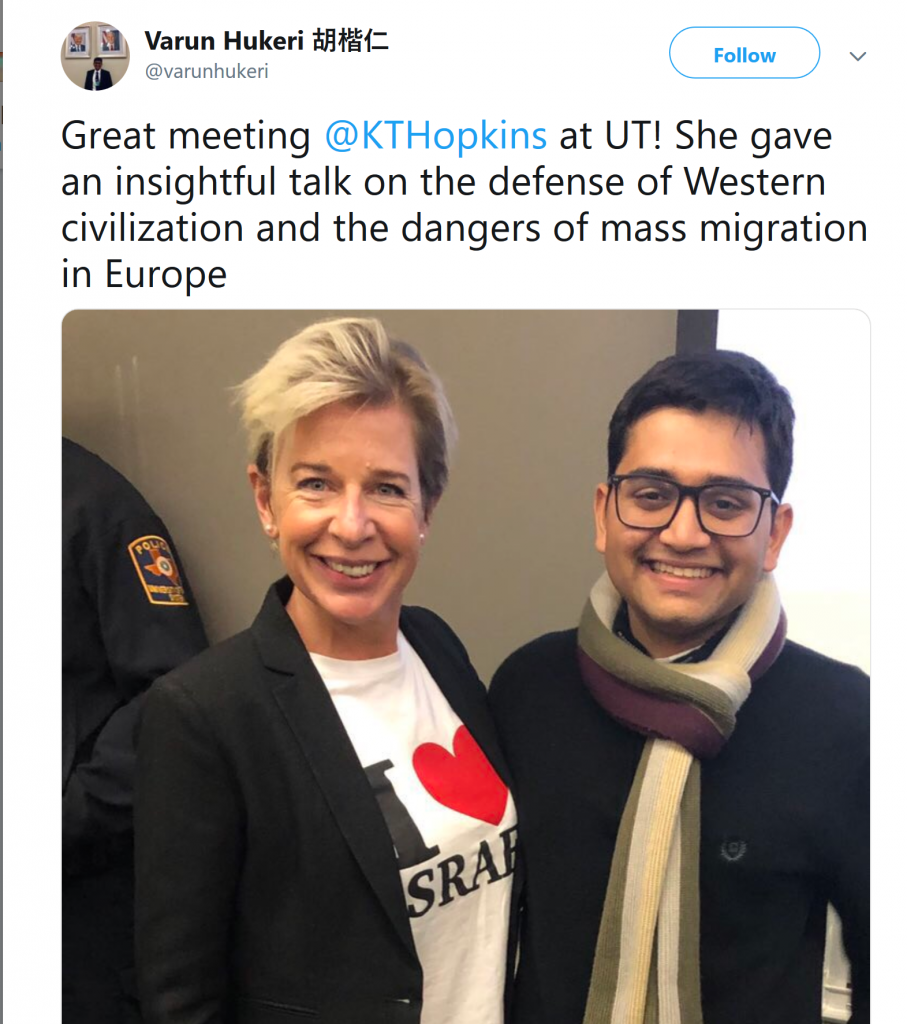 Varun was present at the Katie Hopkins event in November. While exiting the event, he flashed the OK sign–a symbol co-opted as an alt-right dogwhistle–at protestors.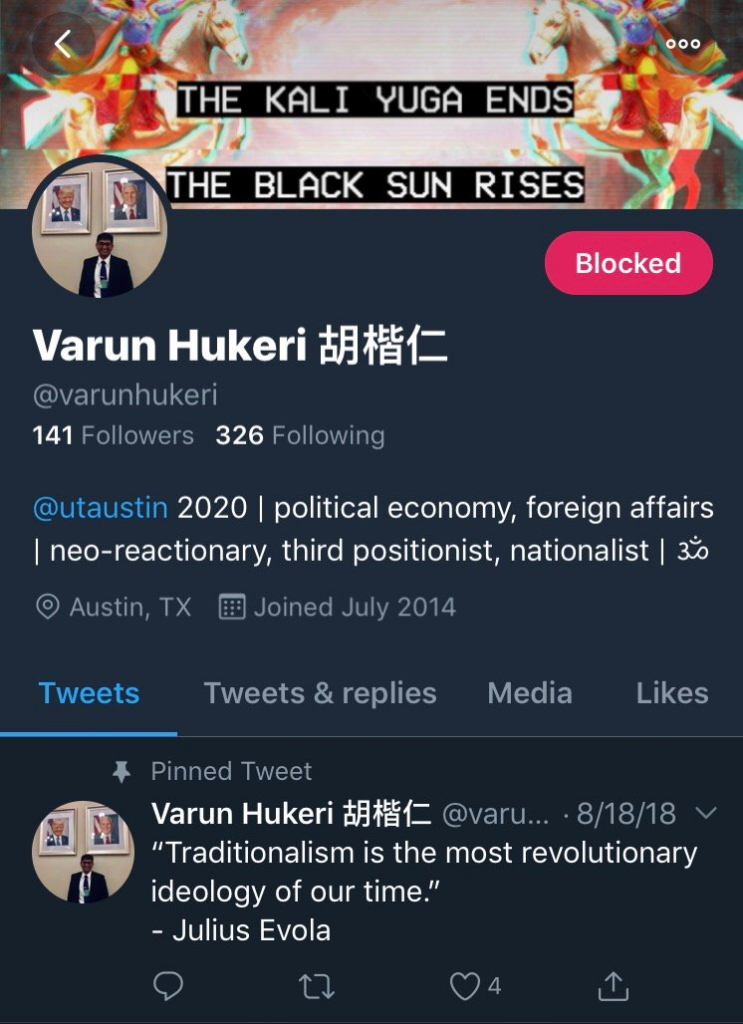 On his Twitter, Varun describes himself as a neo-reactionary, a third positionist, and a nationalist. Third Positionist refers to a strain of fascism that mixes nationalism, racism, & anti-semitism with elements of left-wing anti-capitalism, such as the tendency of Strasserism within the early Nazi Party. His pinned tweet is a quote by Julius Evola, an Italian writer who became one of the most prominent late 20th century fascist philosophers in Europe. Evola was known for espousing a mixture of Nazi occultism and Hinduism, which merged mysticism, race science, authoritarianism, and casteism. Varun epouses a similarly fascistic Hindu nationalism. His cover photo "The Kali Yuga Ends, The Black Sun Rises," is a reference to this blend of Nazi occultism and Hinduism which sees the present state of Western civilization as one of chaos (The Kali Yuga) which will be followed by the resurgence of the Black Sun, a symbol of fascistic resurgence long used by Nazi groups.
On Twitter, he follows alt-right figures like "race realist" Stefan Molyneux, Ann Coulter, Mike Cernovich, and Paul Joseph Watson, Neo-Nazi Richard Spencer, French fascist Marine Le Pen and more. On Facebook, his likes include fascist meme pages.
www.twitter.com/varunhukeri
Cameron Lane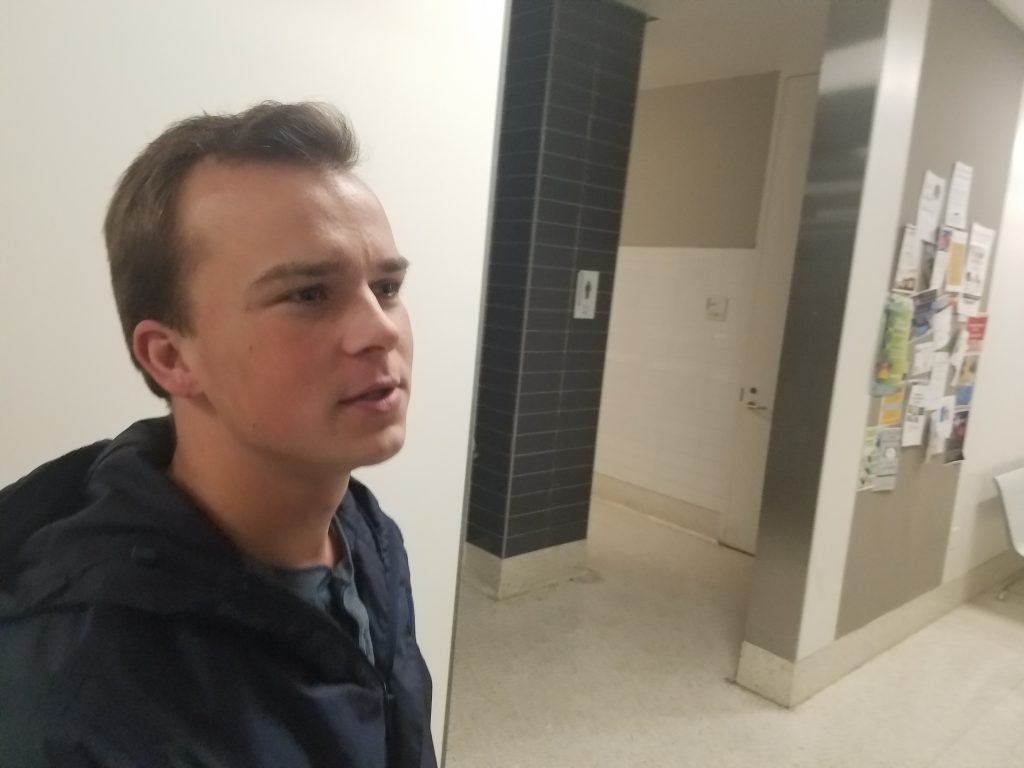 Senior in Aerospace Engineering at UT
Interned with Emergent Space Technologies R&D over the summer in D.C.
Tau Kappa Epsilon Chapter President and "founding father."
Member of College Republicans
Attended the Katie Hopkins event.
Facebook likes include alt-right pages and figures such as Breitbart and Milo Yiannopoulos


www.twitter.com/TheCameronLane
Logan McLeod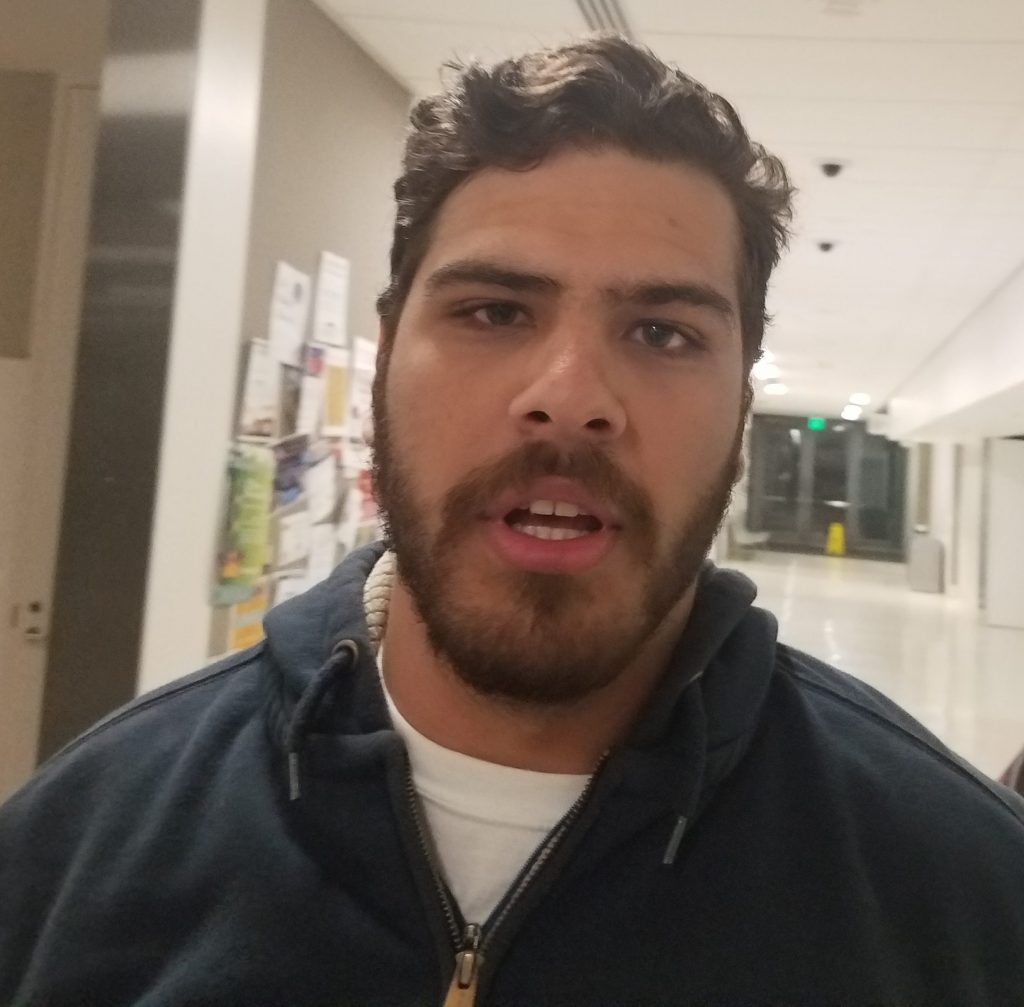 Studies Corporate Communication at UT
Member of TKE
Attended Katie Hopkins event. Came out of the room and mocked protestors calling attention to KH's racism.
New Faces: End of Semester Shitheads
The individuals identified in this section are various members of Turning Point USA and YCT who we gained information on recently. Some of them were involved in various agitations near the end of the semester, such as YCT's & TPUSA's xenophobic tabling events.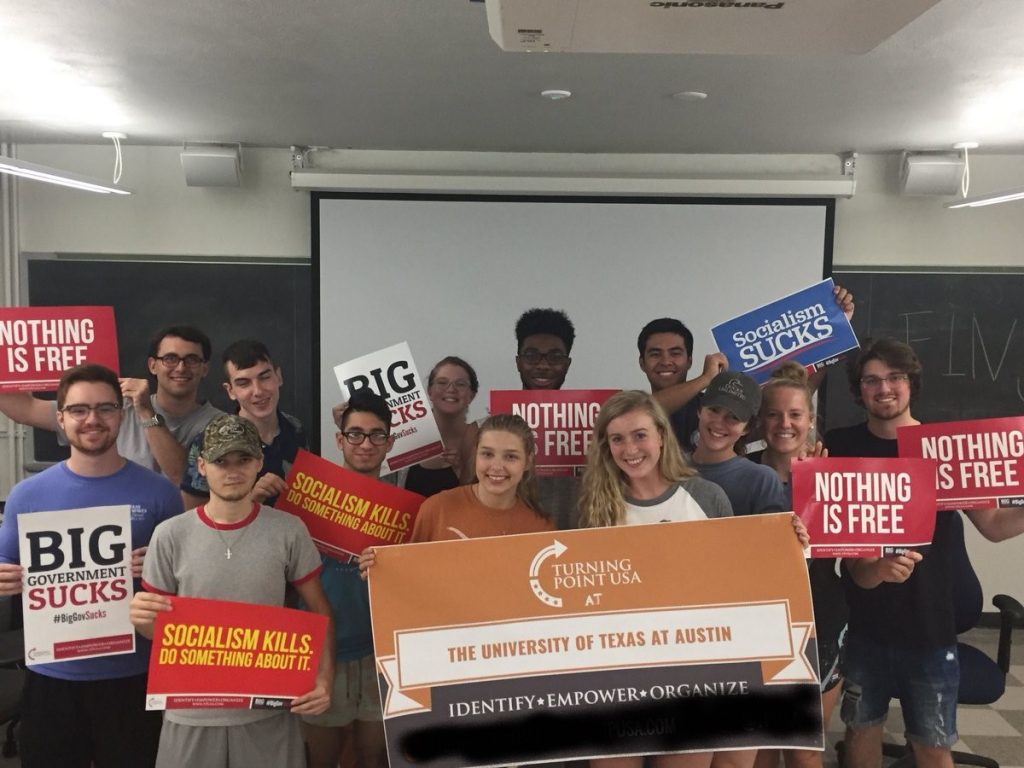 Senior in Biology and Pre-med at UT
Member of Texas Iron Spikes
Member of Turning Point USA. Spotted at their first meeting.
Kate Robinson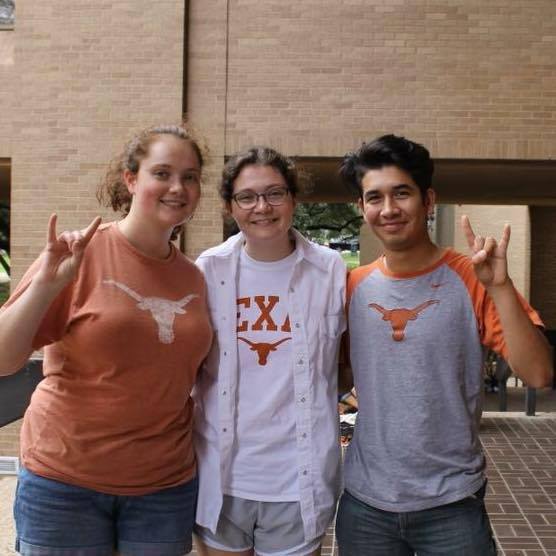 Radio-Television-Film student at UT
Member of Longhorn Band
Member of YCT.
twitter.com/katerobinon
Jorge Emiliano Garcia


Plan II major
Jorge was spotted most recently tabling with the YCT with anti-immigrant signs. He is reported by those who know him as a regular cheater, uses slurs like the n-word, makes sexist jokes, and calls trans people mentally ill.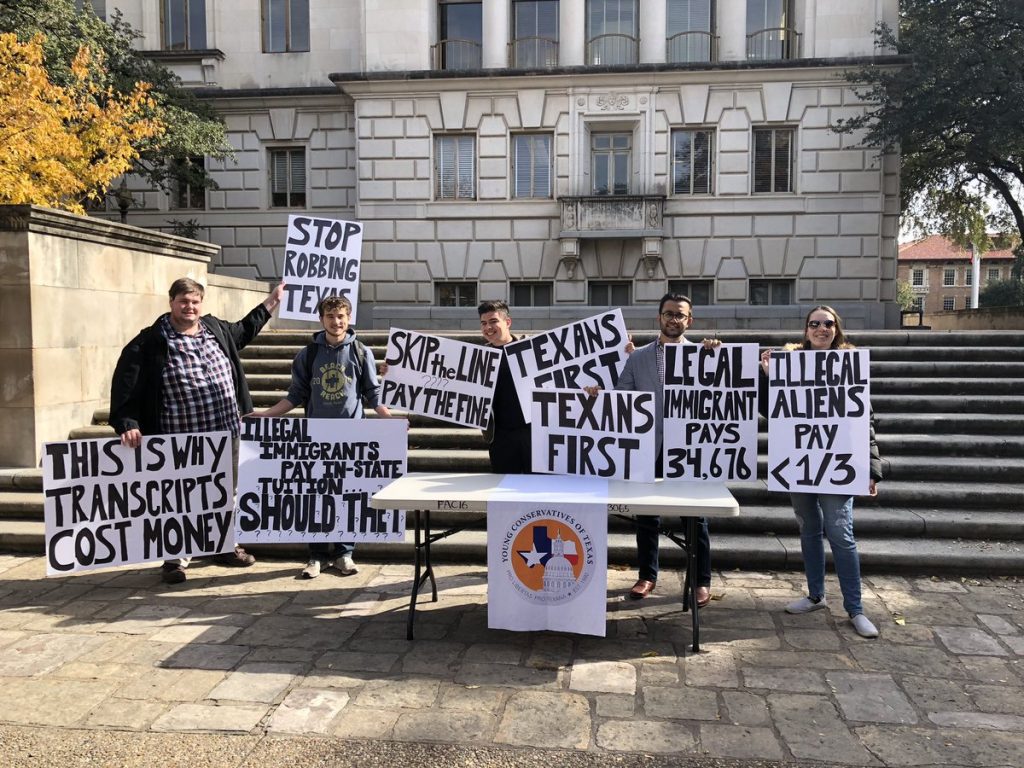 twitter.com/jorgeemilianoG9
Familiar Faces
Plenty of the shitheads who came out to see Katie Hopkins were established figures in the campus right, whether as members of YCT or Turning Point. Here's all the folks we recognized beforehand. If you don't recognize these folks, read our writeups on YCT and TPUSA members.
Anthony Nevin Dolcefino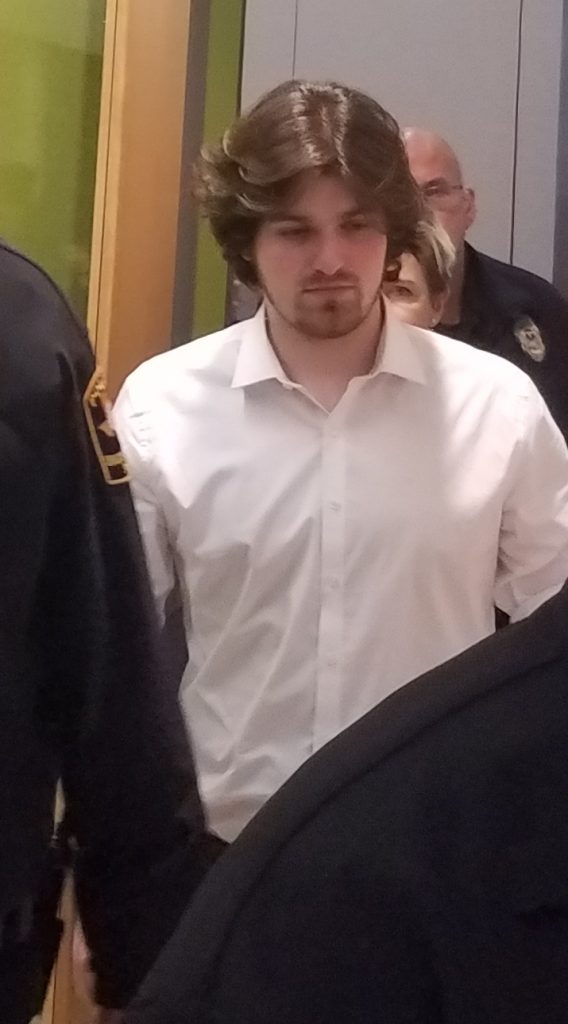 Joseph Francis Berard Strassman and Joshua Ross Lambert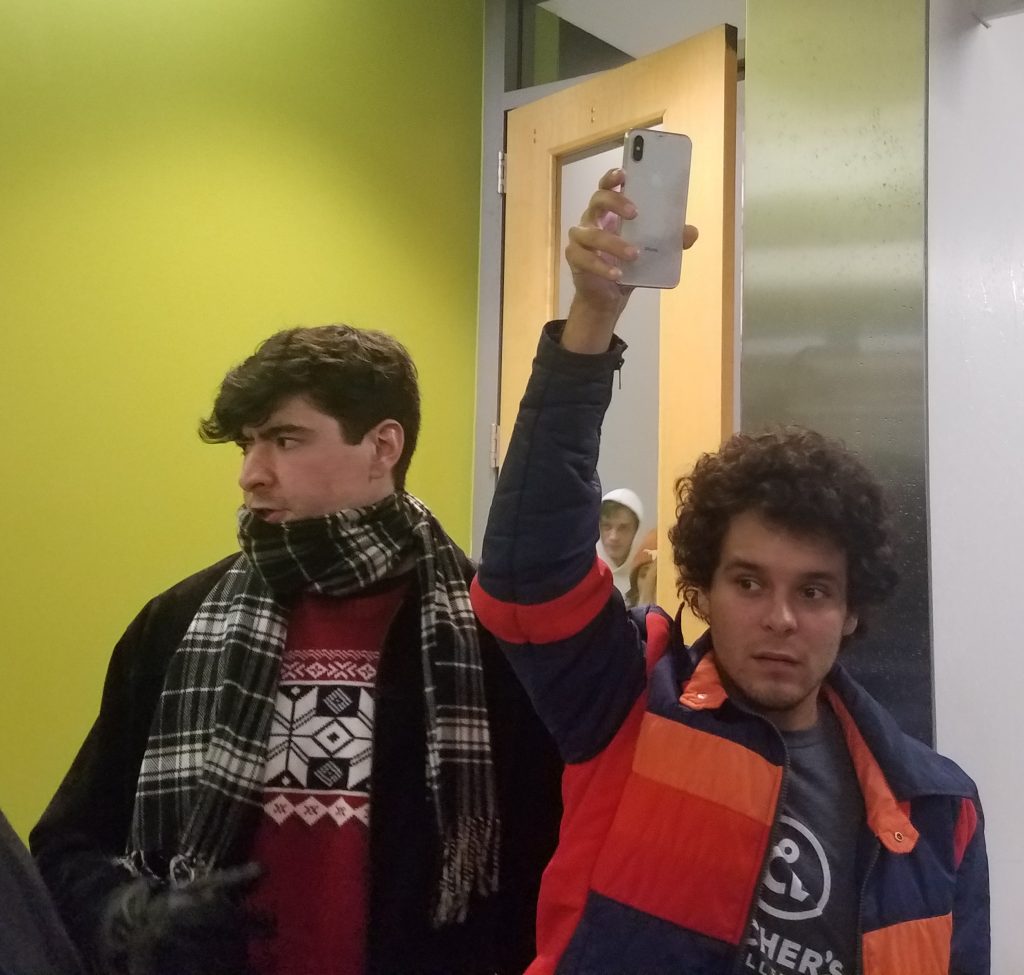 Chandler Simmons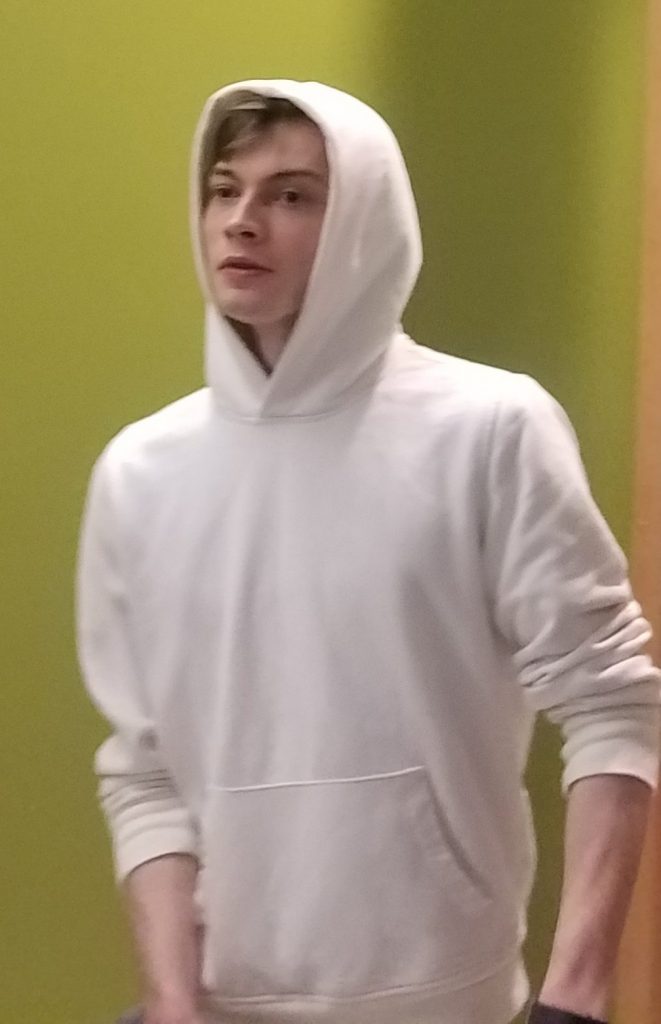 You might not recognize him since he hasn't popped up often, but we originally wrote about Chandler being an anti-semite and associating with white supremacists in one of our first articles exposing racists within the YCT.
John Stolz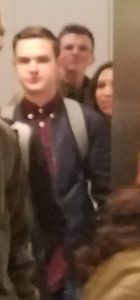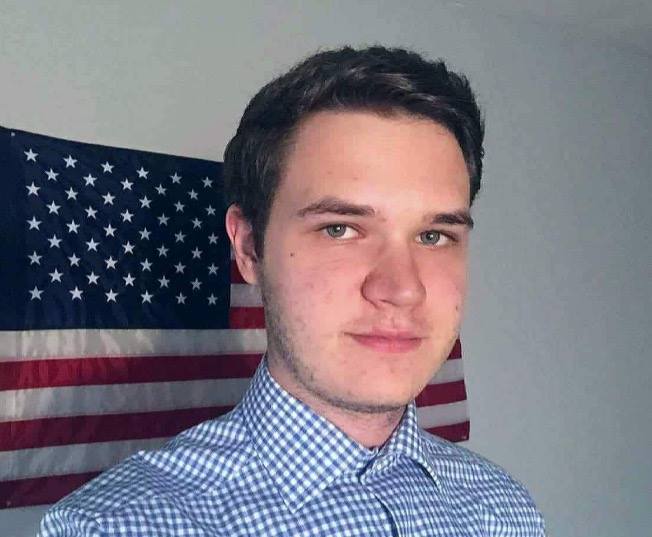 Ariana Silva
Lance Jones and Samuel David Samson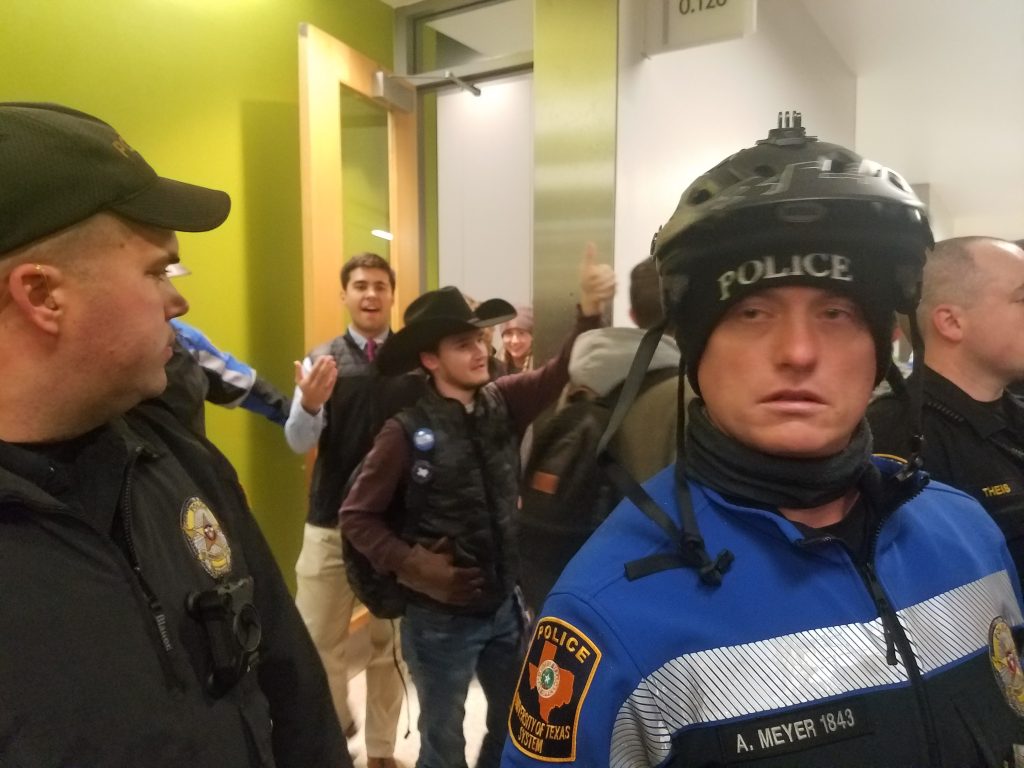 Meghan Michelle Lovett and Elysse C Brenner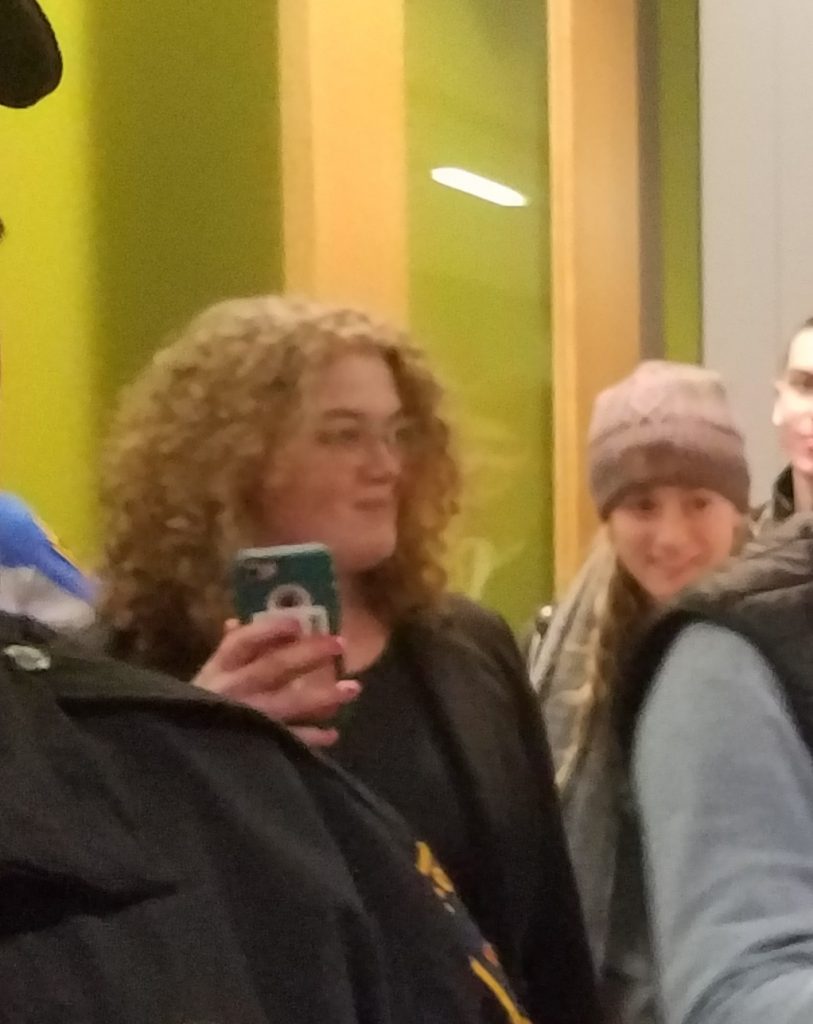 Duncan Trimmell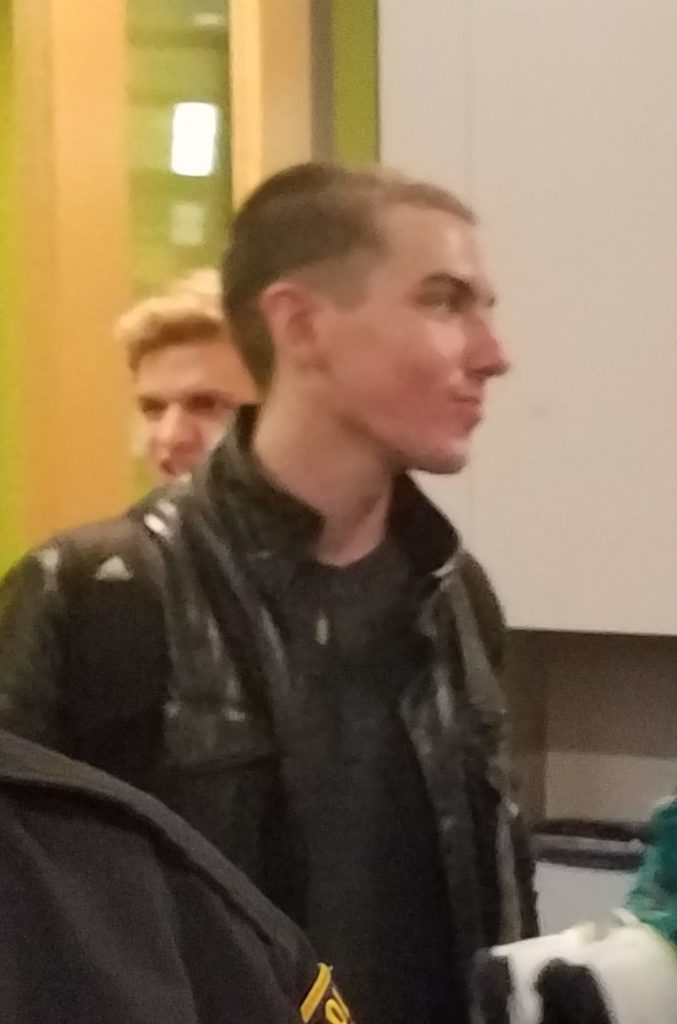 Do you know these racists?
Despite our research, there are some people we have yet to identify. We're putting these out there in the hopes that someone reading this article recognizes one of these racists and can give us some information about them.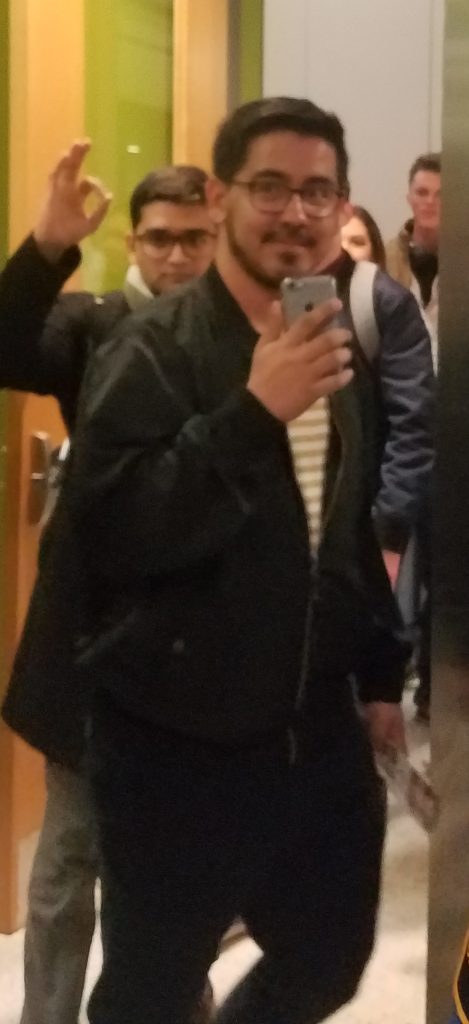 What we do know about the person above: First name is Antonio Remmenga.
http://twitter.com/antonior_42/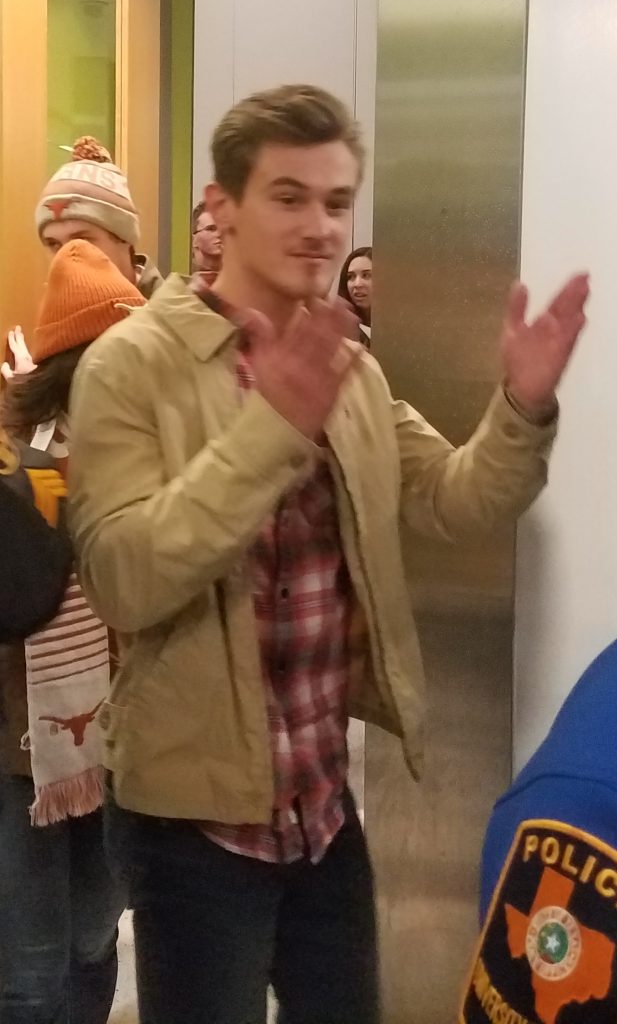 ---
Send any intel about the people listed here or TPUSA to us on facebook, twitter, or at our email!
Got a story you need to tell? Publish it with us! Send us your opinion pieces, art, zines, reviews, news, statements, report-backs, or anything else you wanna see put out in the world. We take all kinds of content, with an eye towards marginalized perspectives and news about movements & revolutionary organizations. Submit content to austinautonomedia [@] autistici [dot] org.