Autonomous Student Media: Gestures Towards the Ungovernable
[CW: Racism, anti-semitism, Nazi imagery, homophobia]
Our organization recently received a tip about a facebook group called UT Austin Hot Takes, which had recently been taken over by admins posting and enabling white supremacist content. As we investigated the group and its members, we stumbled onto information that overlapped with an ongoing investigation we had been conducting into some fascists & reactionaries who had showed up in May to disrupt RSF's People's Trial of the rapist professor Robert Reese. Below we've compiled the information we have gathered. We uncovered a larger network of connections that included outright Neo-Nazis, neo-confederates, and the racists of the Young Conservatives of Texas.
The admins of the UT Austin Hot Takes group cloak their rhetoric in the disguise of "free speech," being "edgy," and irony. These are common dog-whistles of the neo-fascist right, used to justify the normalization of propaganda and racist ideas. In reality, these aren't just harmless ideas or jokes. These ideas have real impacts on the world and, as the data we gathered shows, the people pushing these ideas often take their ideas into the real world and political activities. That's why we believe it's important to expose & isolate these people now, so that students & others in our communities can be aware of the dangers they pose and organize to counter their power.
The major takeaways from the information we gathered are that there is a substantial network of right-wing students who are familiar with each other and connected to the Neo-Nazi & white supremacist far-right throughout Austin & Central Texas. Many of these people are closely tied to the Young Conservatives of Texas, which does not surprise us. While there are some ideological tensions between those who hold more right-libertarian beliefs and those who are more strictly authoritarian fascists, their social circles overlap significantly and they have even worked together to advance their politics.
Our information gathering isn't complete. This information should be used to ensure that these people are kept out of our communities & positions of power. We encourage anybody with information about where these people work, their activities, and other relevant information we can use to ensure they are held accountable for their words online and their activities. Drop a line on facebook, twitter, or email us to help provide intel (email located at bottom of article).
Update as of 7/10/18:
Kessler & Harris, among others in this list, suspected of putting up anti-communist stickers on campus, even attempting to put razors underneath some. Added a section on Chandler Simmons, another member of the Hot Takes group and probably associate of some of these folks. John Stolz has been positively identified as "Dress Shirt," one of the students who showed up to disrupt RSF's "People's Trial."
Community sources indicate that Ciera Harris, John Stolz, and Joseph Strassman were recently spotted at the Qdoba in West Campus, where they were overheard discussing the differences between men's and women's brains and the possibility of a race war & a white ethnostate in America, and making anti-semitic jokes. John Stolz, Joseph Strassman, and Patriot Boy have been previously spotted at Pizza Press and Whataburger together. Based on multiple sightings, John Stolz and Joseph Strassman are believed to live somewhere in central West Campus, near 24th and San Antonio/Rio Grande St.
Christopher Ritchie, who many of the people below likely have ties to, was most recently spotted at a fascist "Patriot Prayer" rally in Portland. He flew out, wore armor, and was caught on video attacking people on the streets–including throwing a trash can lid at someone.
UT Hot Takes Admins
In May, ownership of the UT Austin Hot Takes facebook group was given to 4 people, who had bought admin status from the previous owner for $100. One of these pages is a page that takes its name from the former fascist dictator of Spain, Francisco Franco. We don't know who this person really is, but we were able to find information about their three friends. All three of these admins achieved their status in what seems to have been a coordinated takeover of the group. Soon after taking over, they began adding their friends as new members–including some who were outright Neo-Nazis. Below is the information we've gathered on each of these members and their ties to white supremacist figures & ideas.
John F Stolz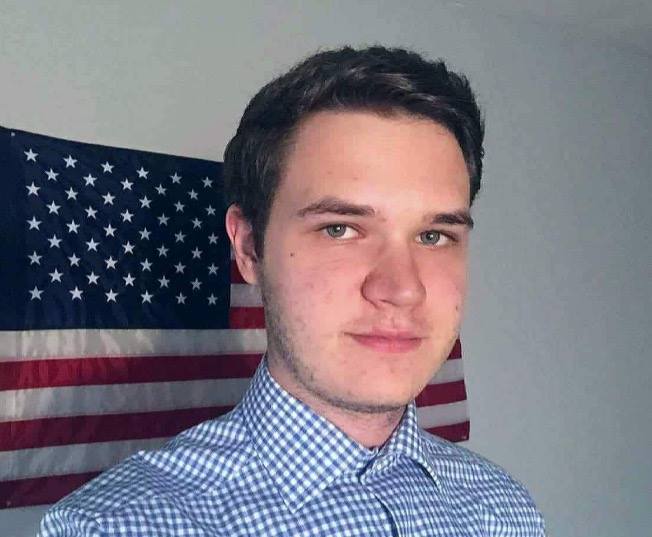 Email: johnfstolz1996@gmail.com
Government Major
John Stolz is one of the admins of the Hot Takes facebook group. He occasionally makes posts on his views, notably with white nationalist rhetoric about the threat of migrants or decrying "white guilt." He simultaneously advocates censorship on "moral" grounds while defending the right of his fascist friends to free speech in the group. His facebook likes include white supremacist pages such as "American Nationalism," "wholesome memes of traditional morality," "Traditional Britain Group," and "The Reality of South Africa." Each of these pages trades in fascist dog-whistle politics, such as claims of "white genocide" in the settler-colony of South Africa or using nationalism as an entry point for fascist recruitment.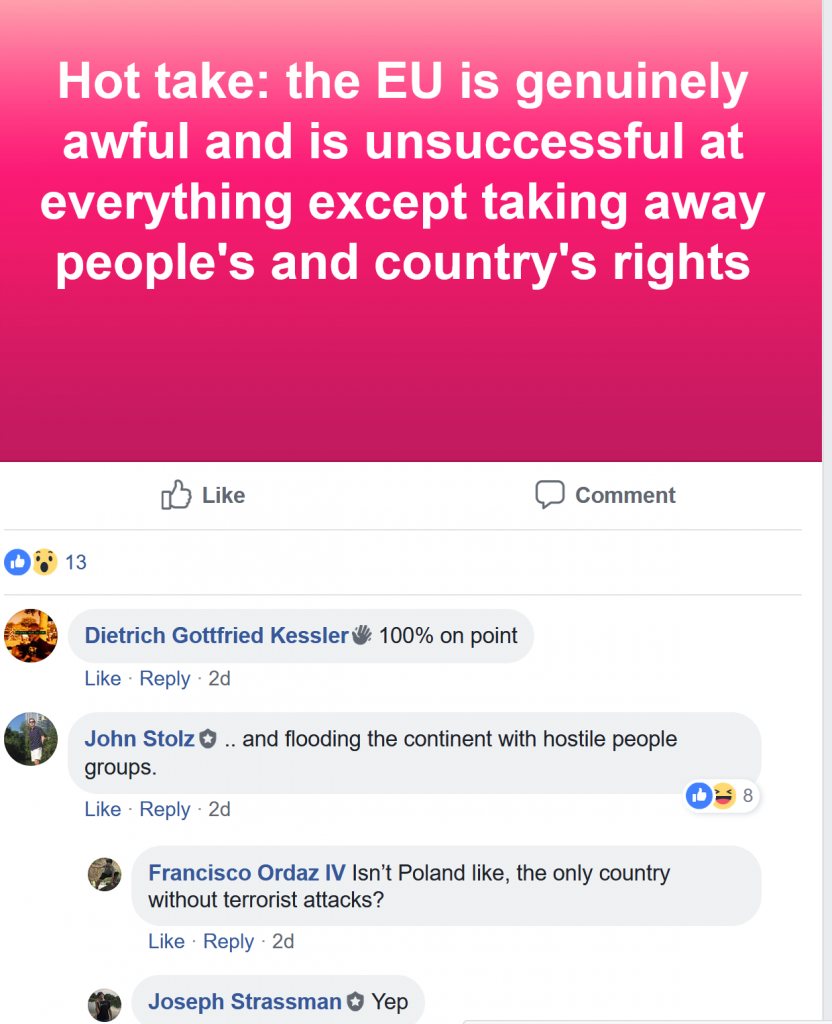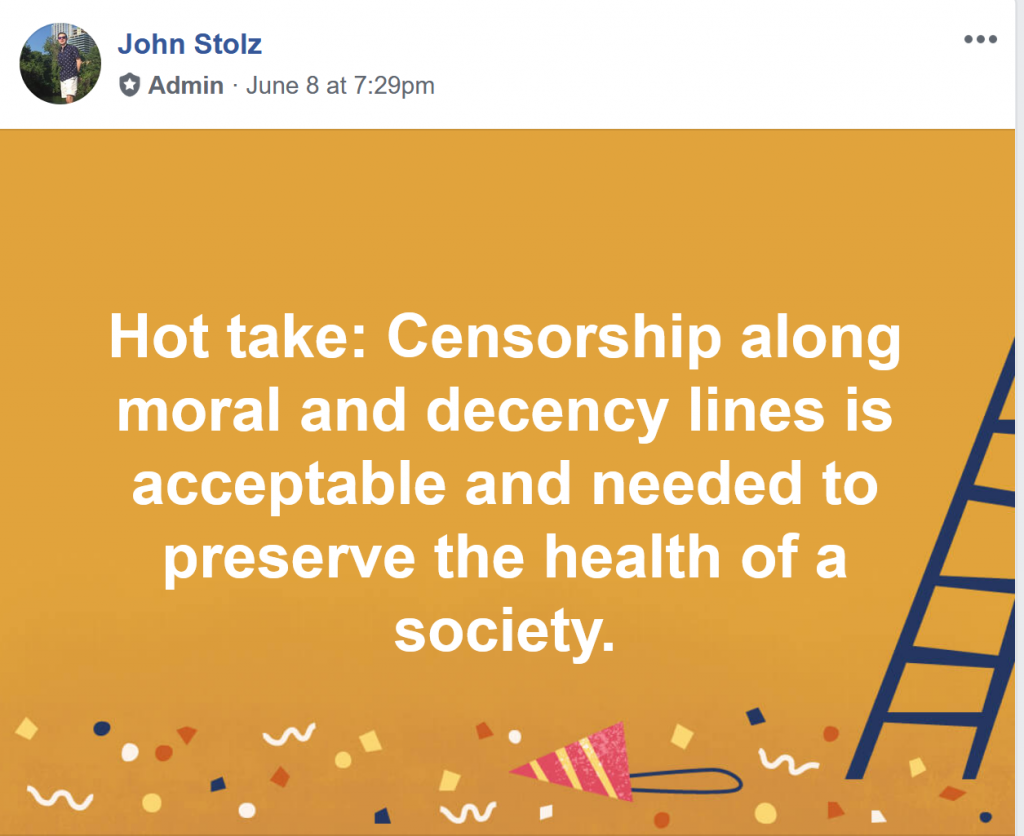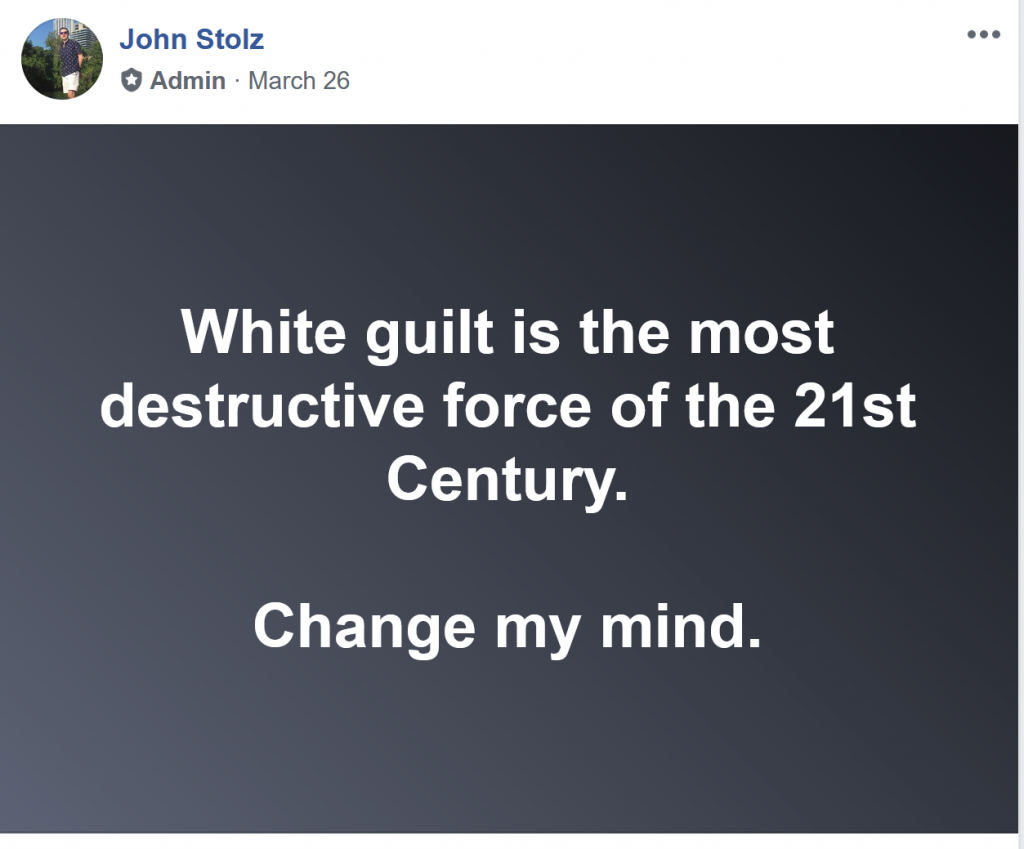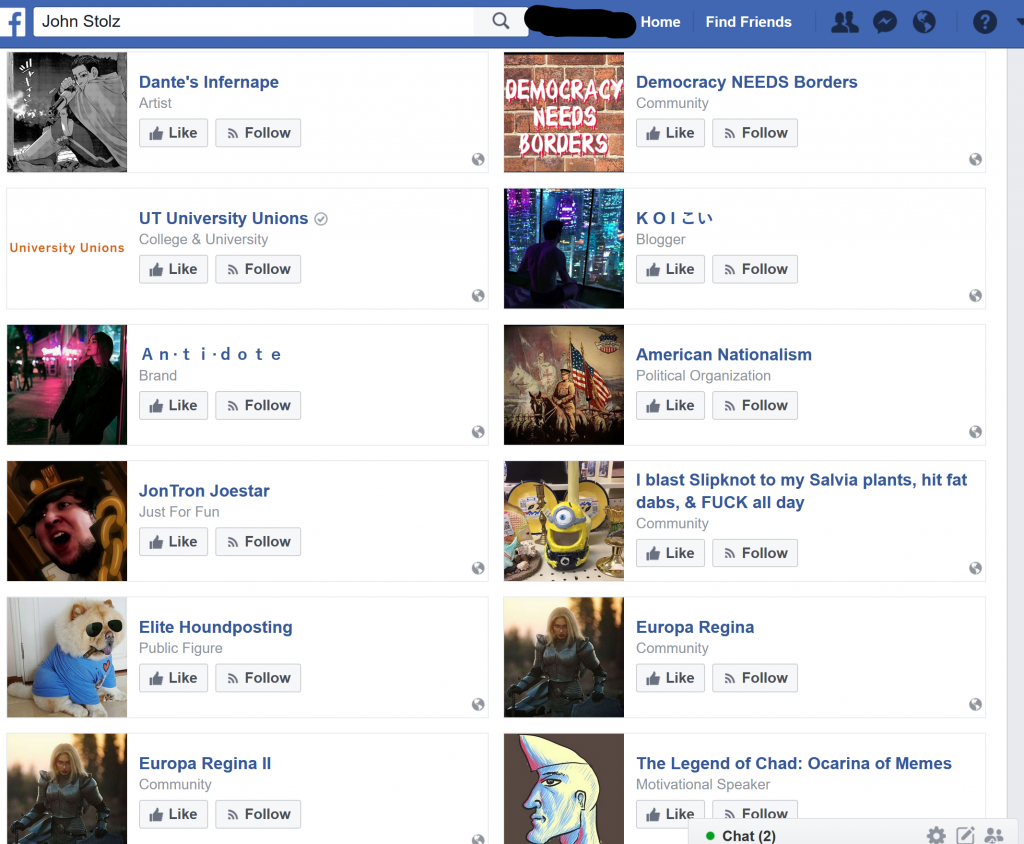 Friends with YCT members, including Strassman and Leighton. Showed up to the RSF event in May and was also seen with Christopher Ritchie.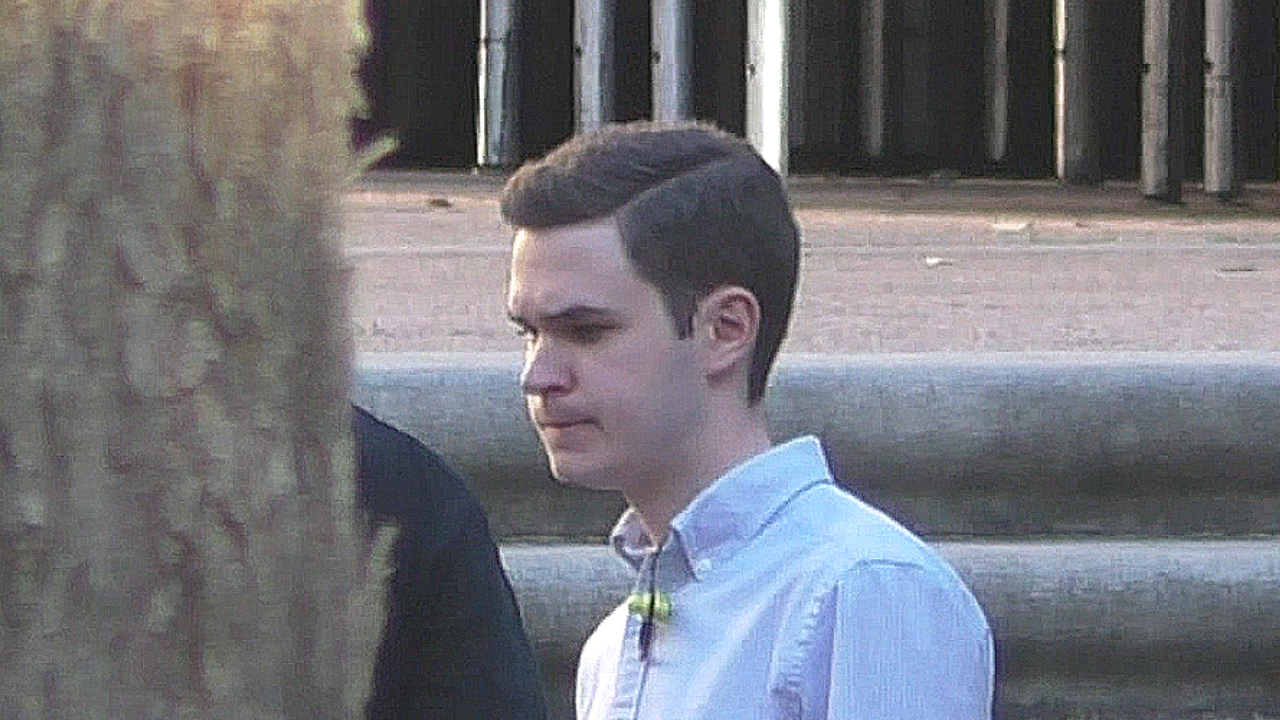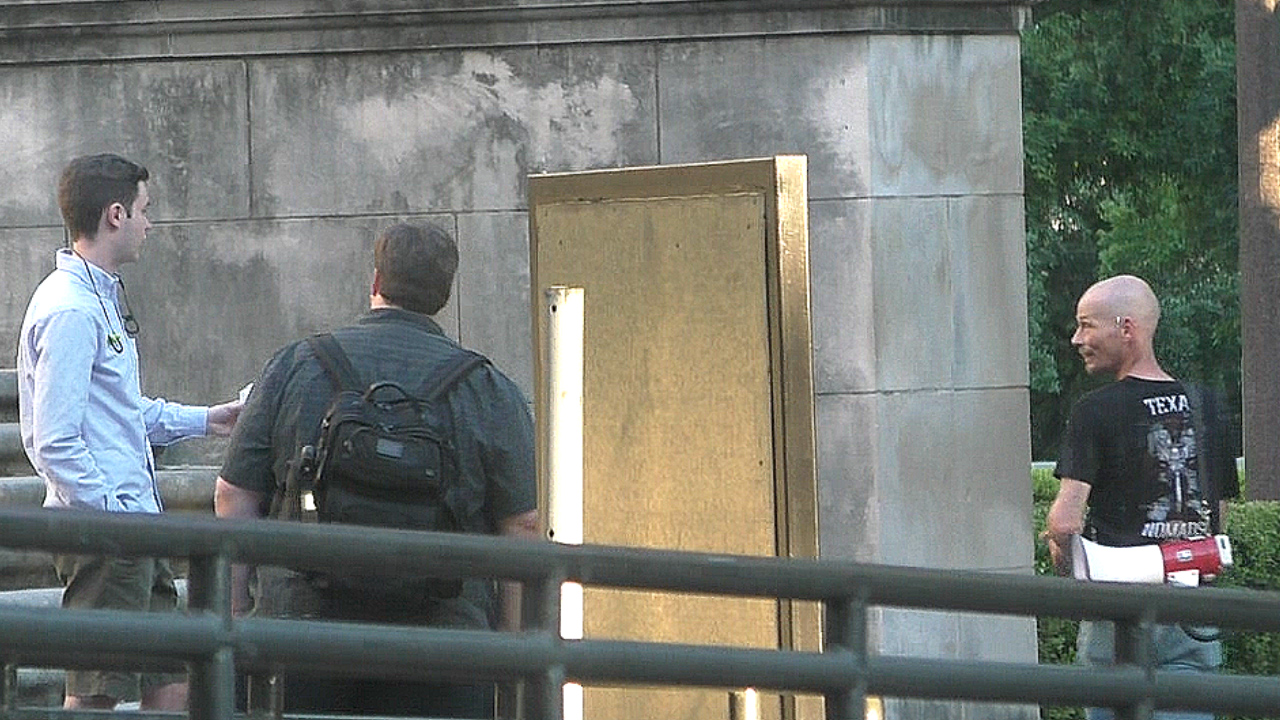 Joseph Francis Berard Strassman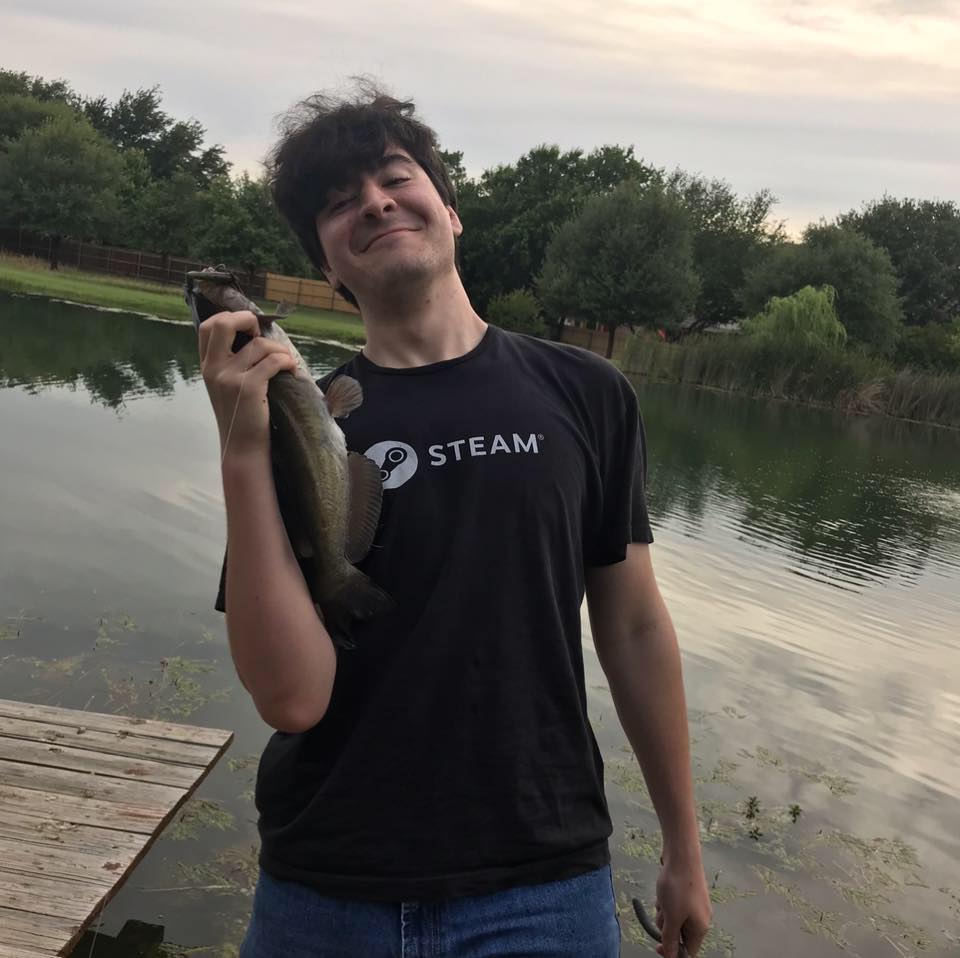 Email: joebstrassman@gmail.com
Aerospace Engineering Major
Last known job: Undergraduate Research Assistant with the Institute for Computational Engineering and Science.
Office location: WRW 415B
Joseph Strassman was the second admin who, alongside John Stolz, bought the page for $100. In his contributions to the group's discourse, he makes similar references to fascist dog-whistles, such as "white guilt," "white genocide," "globalism," and claiming that minorities engage in "pity parties." His likes also include fascist pages like "American Nationalism," "RadTrad," and "wholesome memes of traditional morality."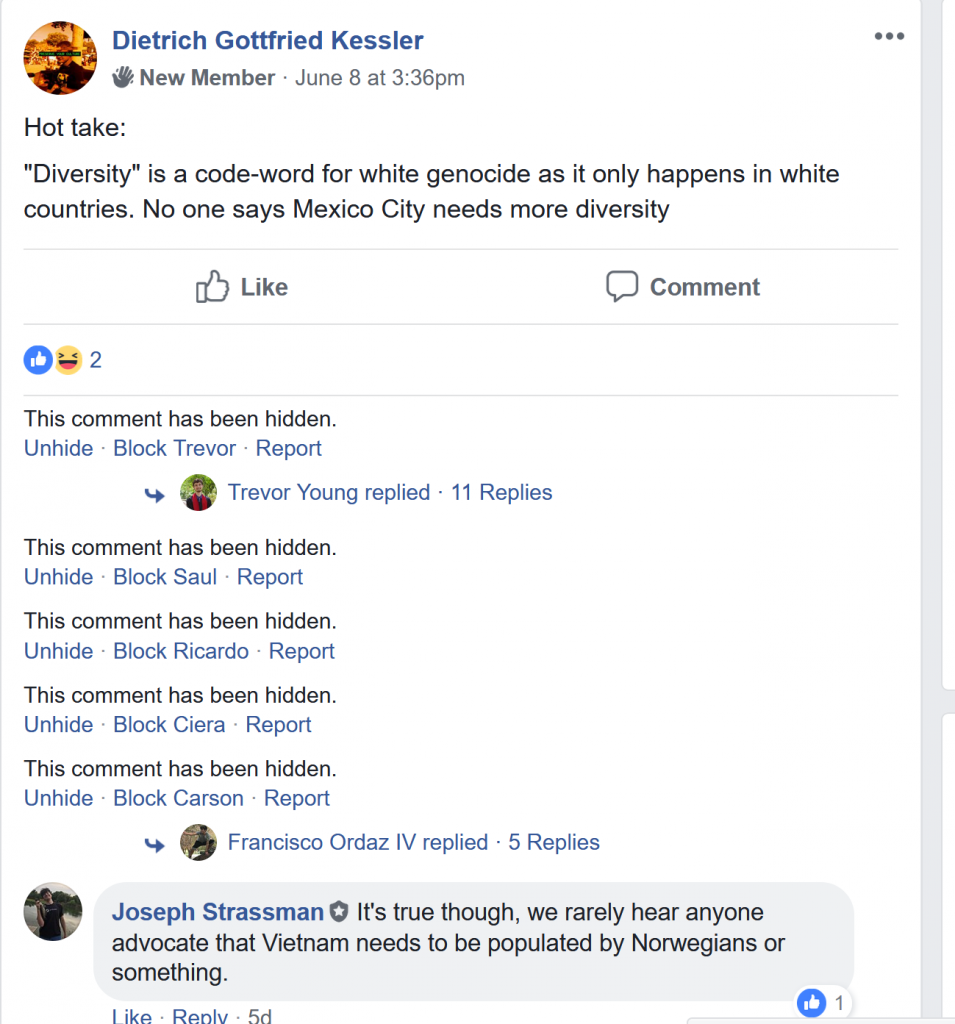 Joseph Strassman was also on our radar prior to this, as we acquired footage of him and his other YCT friends–including YCT members Saurabh Sharma and Homero Trevino–showing up to try and disrupt RSF's "People's Trial," event. While there, they also palled around with neo-confederate Christopher Ritchie, who has most recently gained notoriety for attempting to violently assault people at protests, harass & intimidate reporters from the Texas Observer, and disrupt leftist events.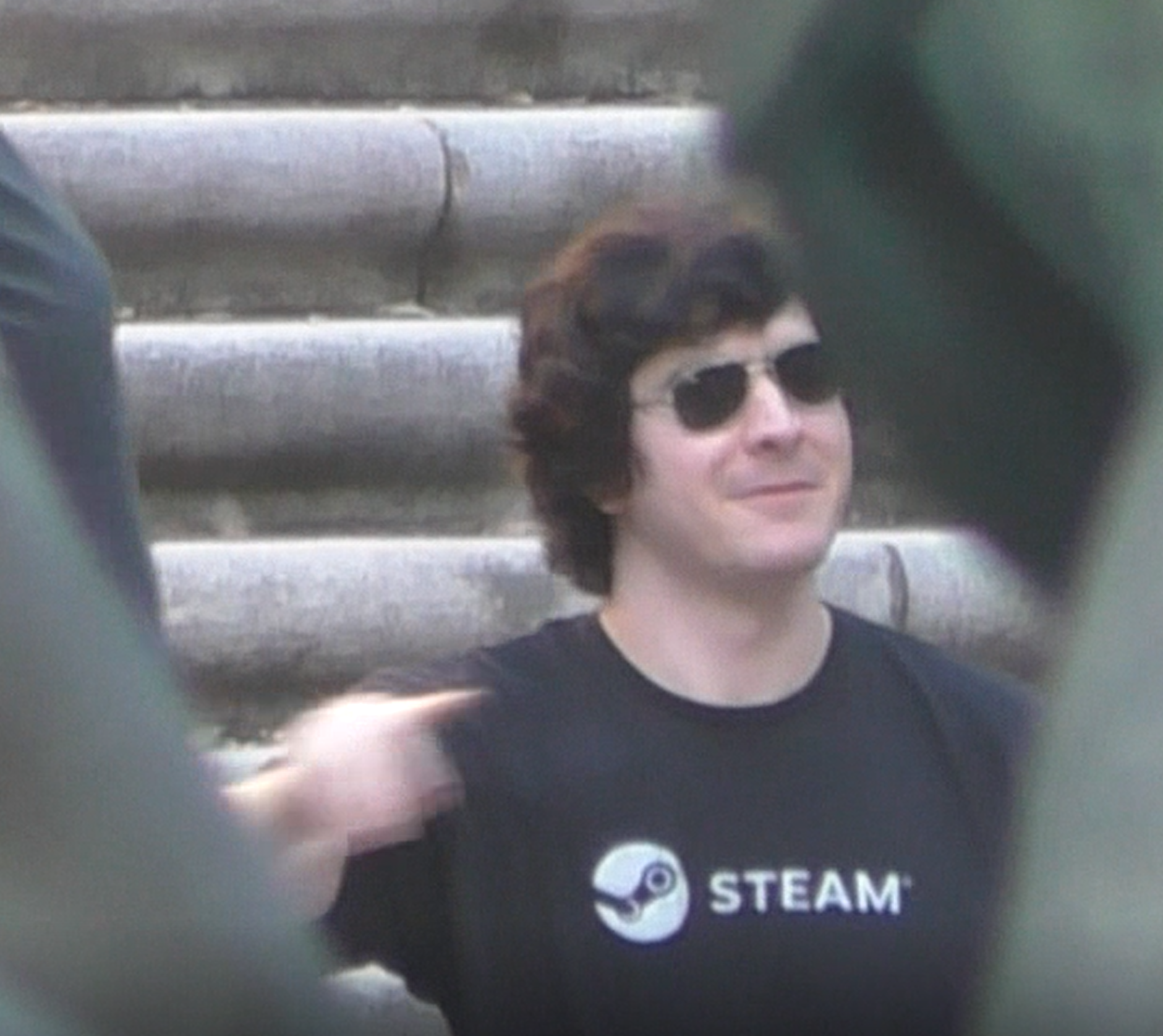 Anthony Nevin Dolcefino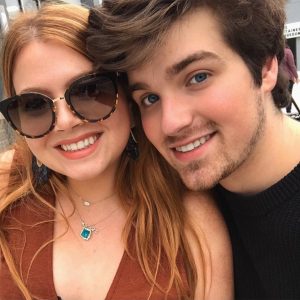 Email: anthonydolcefino@gmail.com
Government major
Vice Chairman of the YCT as of May 2018.
Was a spring 2018 intern at Texans for Greg Abbott.
Researcher for Dolcefino Consulting
Originally from Katy Texas and went to Seven Lakes high school.
Besides rushing to the defense of the speech of his fascist friends, Anthony is not very active in spouting racist views in the group. He is most notable for his connections to his other fascist admin friends. He also added two members to the group, the neo-nazi who goes by Dietrich Kessler & the founder of the new Turning Point USA chapter at UT, Meghan Lovett.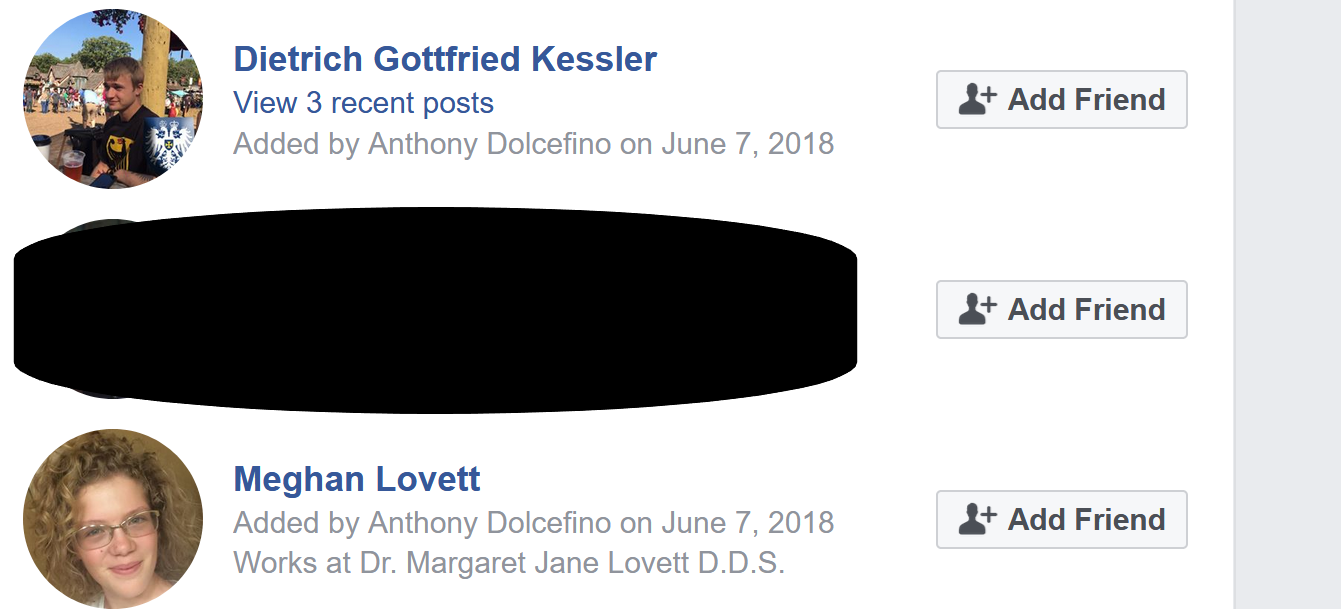 Others
Andy Kessler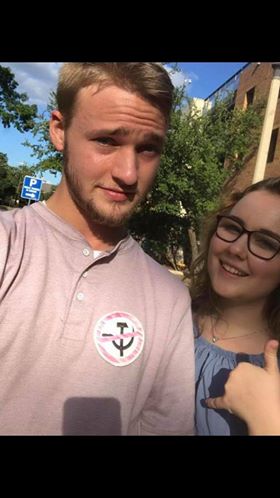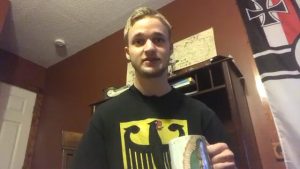 Andy Kessler, who goes by Dietrich on social media, was added to the Hot Takes group soon after its takeover. He quickly revealed himself as an outright Neo-Nazi, even taking part in the aesthetic of white supremacy. His posts include those equivocating queerness and pedophilia and others labeling diversity "white genocide." He partakes in German fascist aesthetics, sometimes wearing an Iron Cross and German military outfit in his photos. He has a black eagle tattoo on his left arm and a red Templar cross tattoo on his right. Below are pictures of his posts. He also posted a 35 minute livestream in the group, in which he lays out his white supremacist ideas in full. We won't do him the service of posting it publicly, but anybody interested in viewing it or using it (perhaps to let his employer know) is welcome to message us and view it.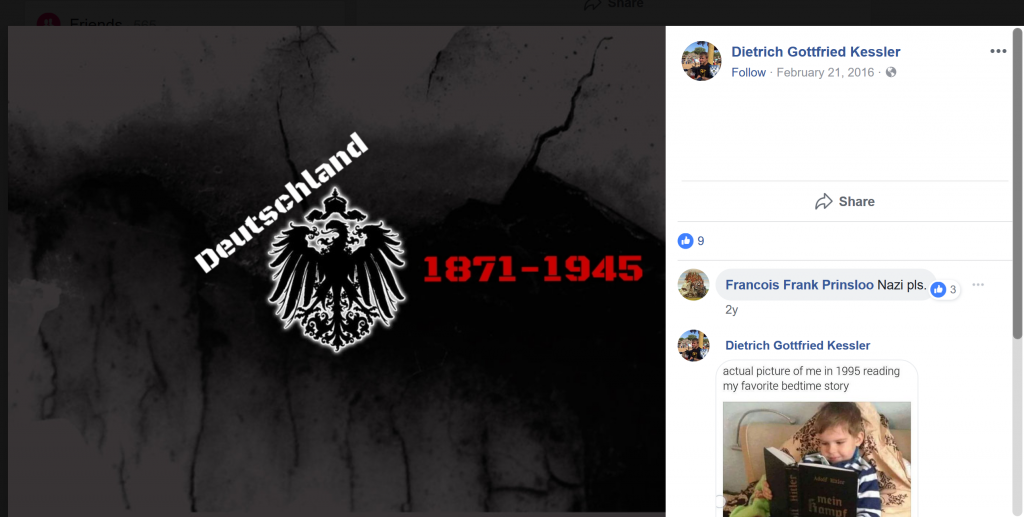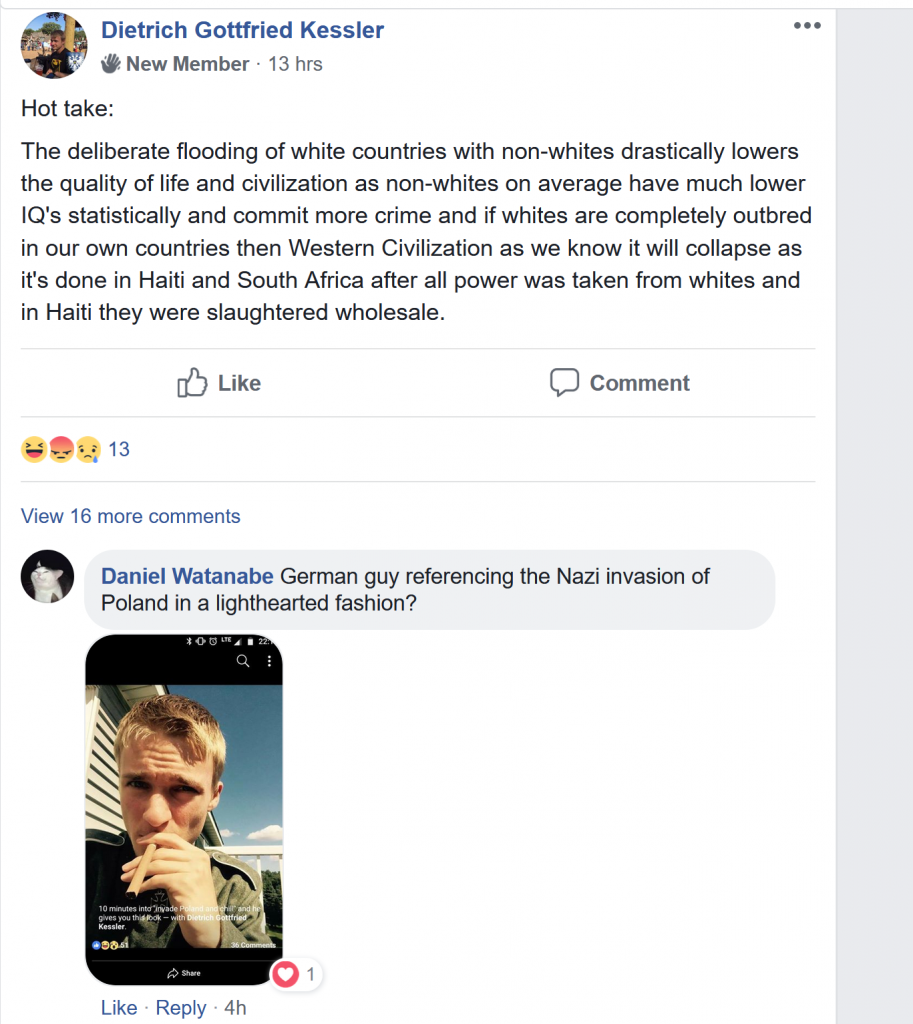 From his previous photos, it is likely that he was a former student at UT. He also dates a current UT student named Ciera Harris–more info on her below–and is friends with Lillian Bonin, the fascist YCT member & Liberal Arts Rep who we exposed previously. Kessler and Harris are also suspected of being involved in posting up anti-communist stickers around campus, some of which were discovered earlier this year with razors or evidence of attempts to stick razors underneath them.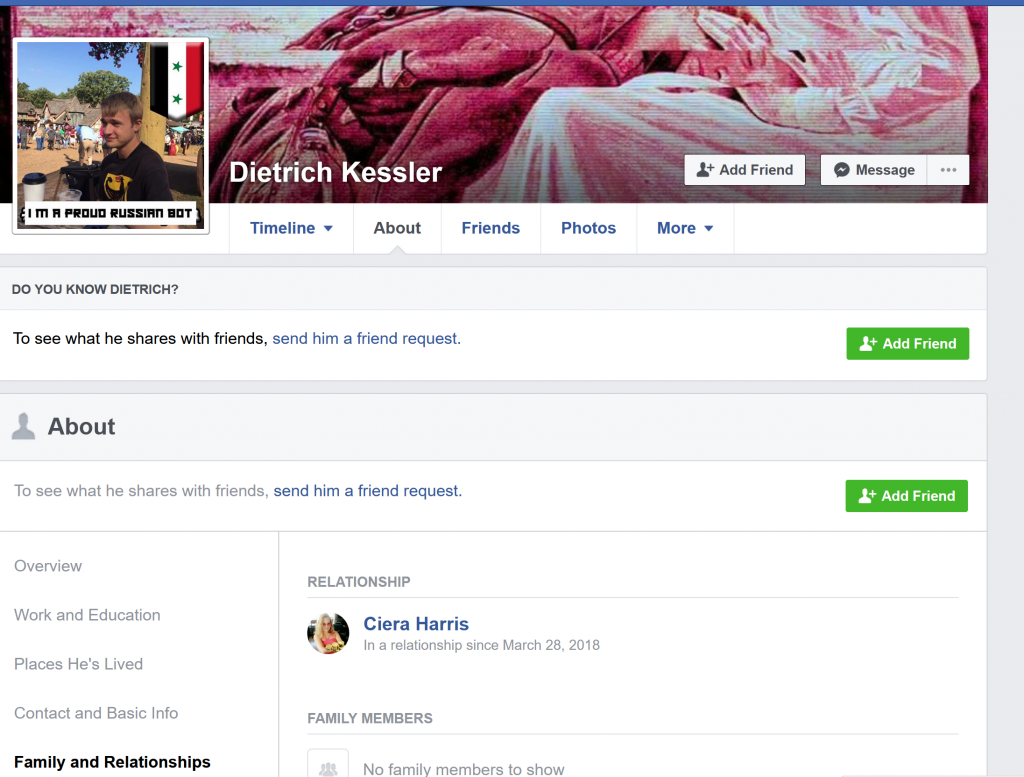 Ciera Harris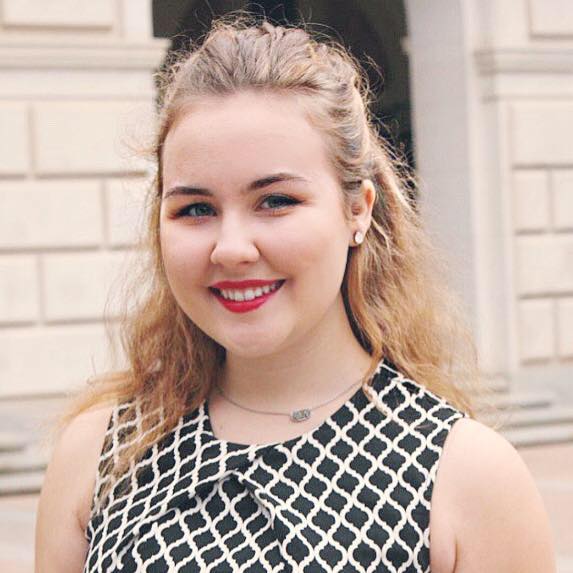 Email: cieraharris1@gmail.com
Advertising major
Director of Communications for the YCT in 2018.
Worked as an intern at Harris Media from January 17 to May 17.
Went to Lake Travis High School.
Ciera Harris, who is in a relationship with Andy Kessler, shares many of his beliefs. Her facebook likes include the fascist "wholesome memes of traditional morality" page that Strassman & Scholz follow as well. She accepts Kessler's anti-semitic comments and posts, even on her own profile. She is also close friends with Lillian Bonin. Notably, she interned at Harris Media in 2017–the same media company which helped out the fascist AfD party in Germany and the (former) workplace of Ariel Gherman, a neo-nazi who attended the fascist rally in Charlottesville.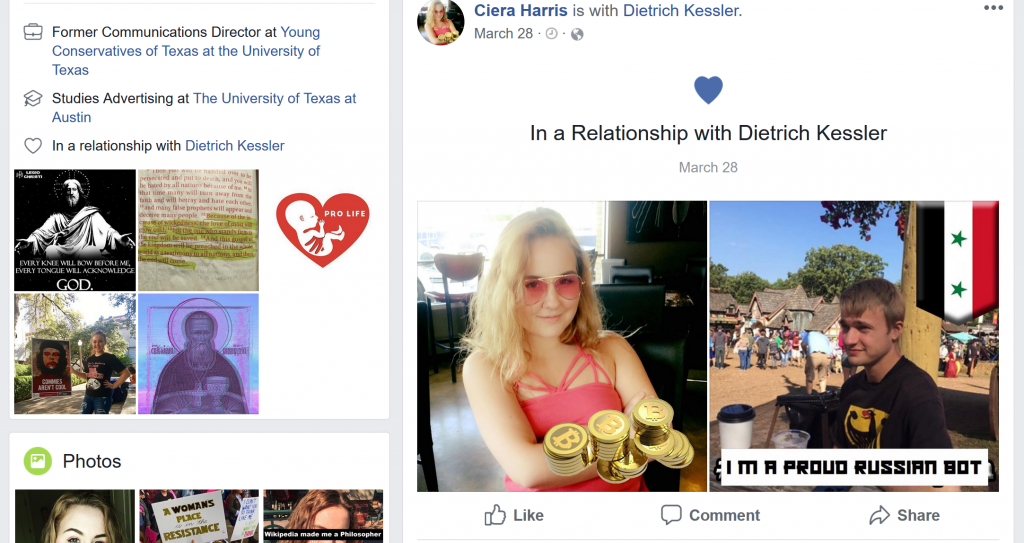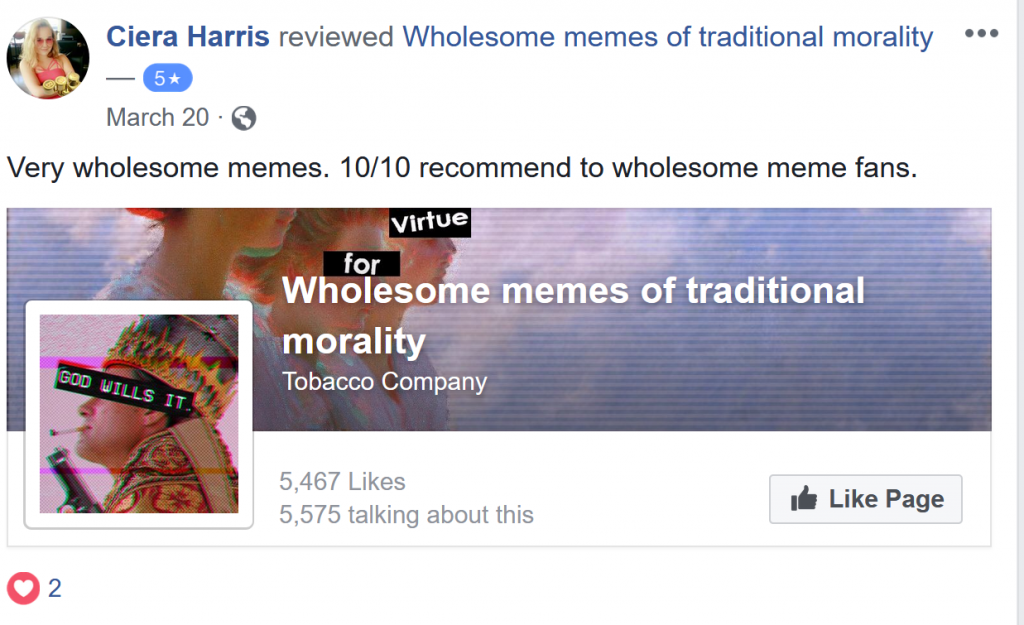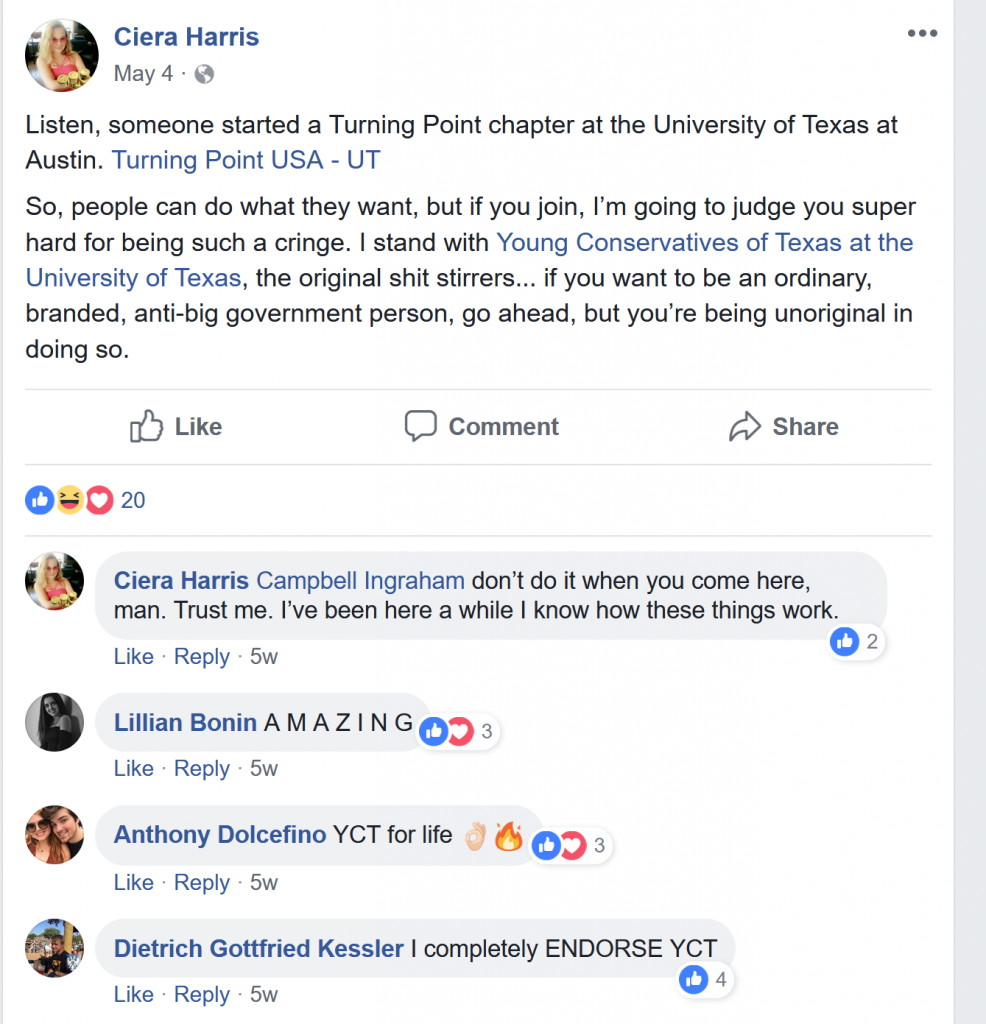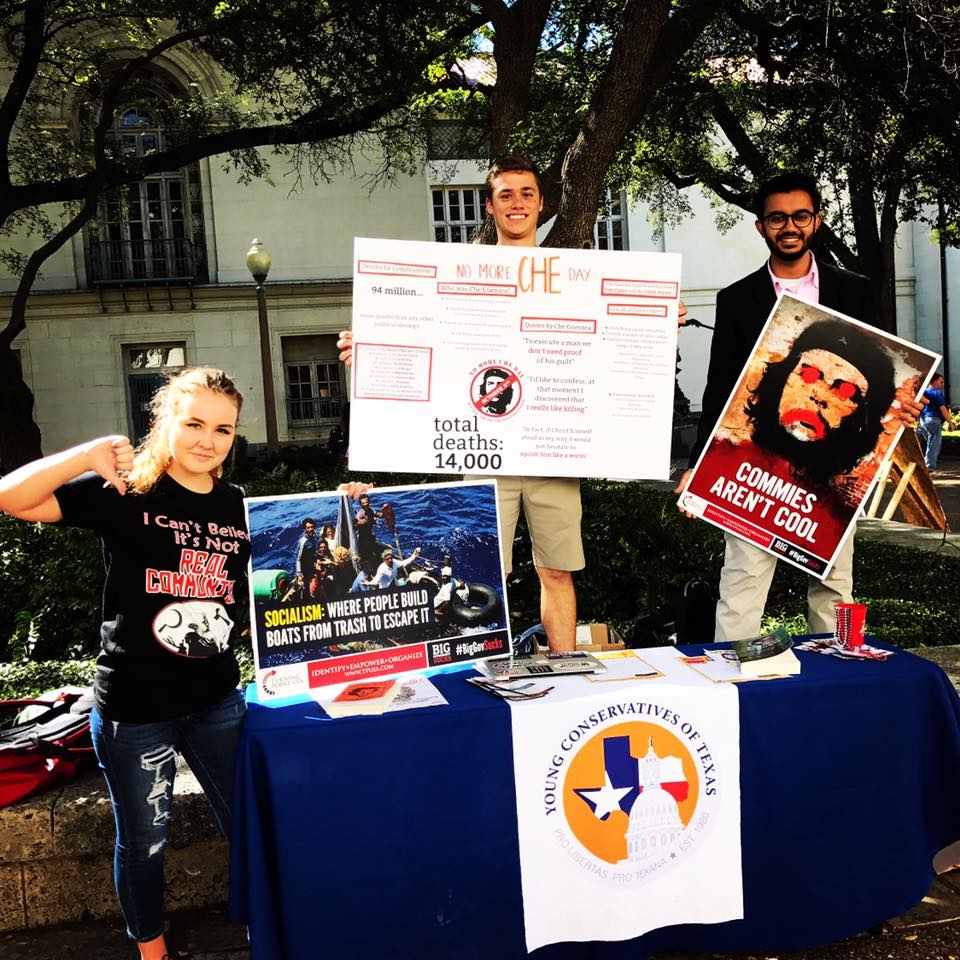 Leighton Berridge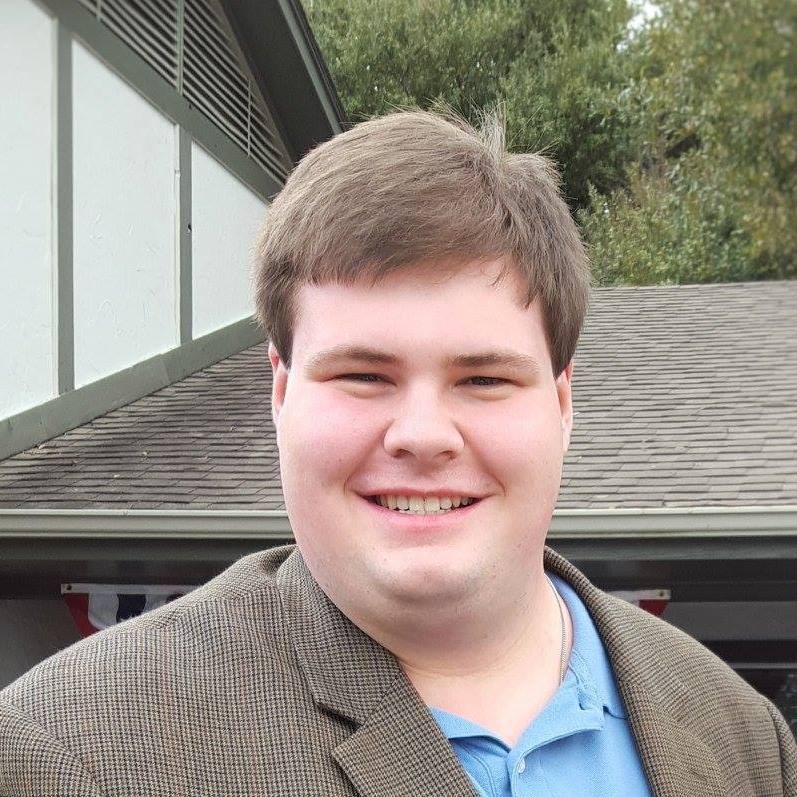 Leighton Berridge is a UT student. He is not a prominent member of the Hot Takes facebook group. However, he is closely tied to the YCT and to individuals like Strassman. He is facebook friends with many of them. He was also spotted among the crew that showed up to RSF's People's Trial, alongside Strassman and Christopher Ritchie.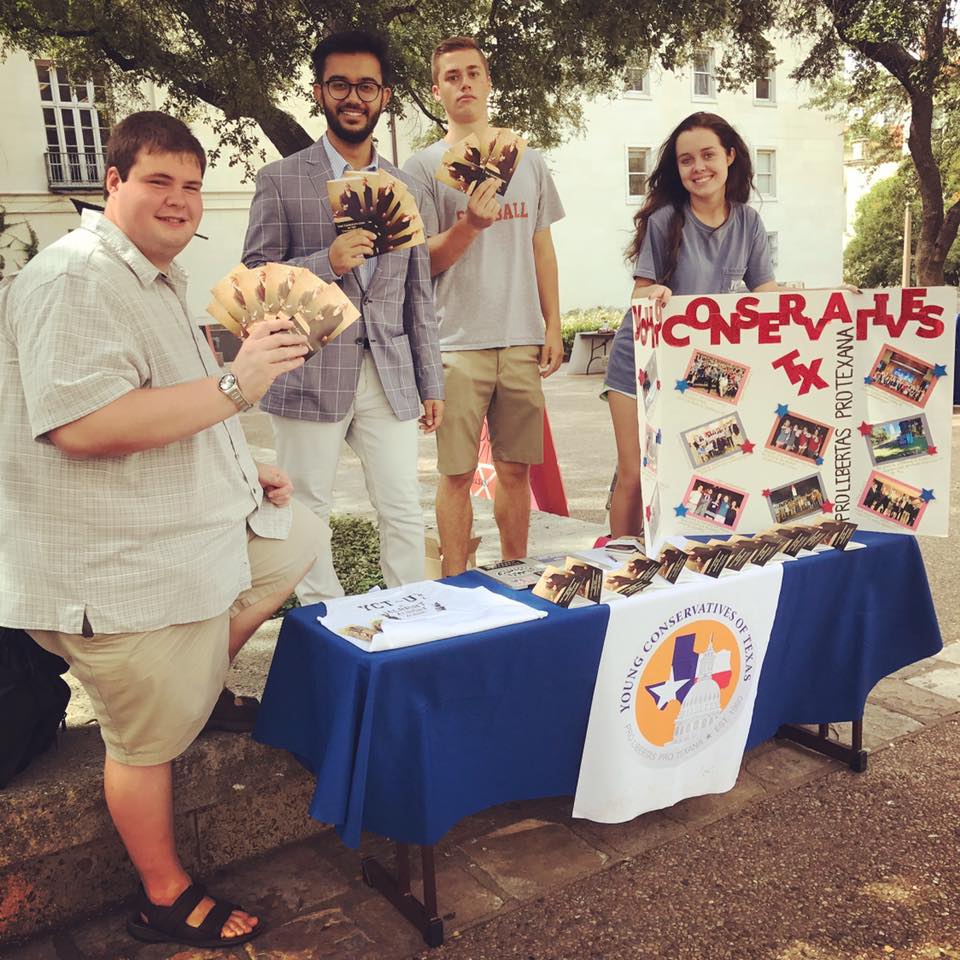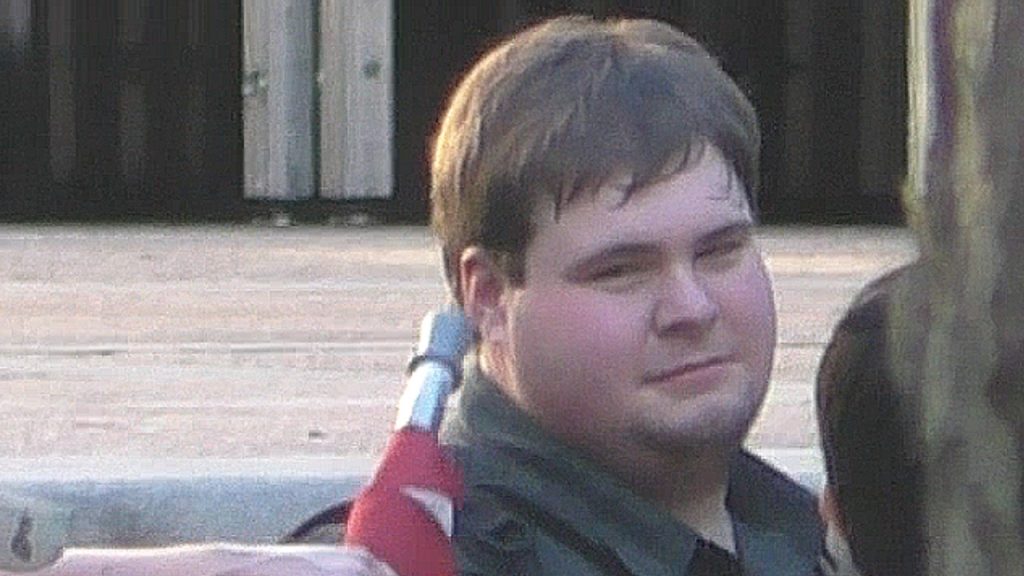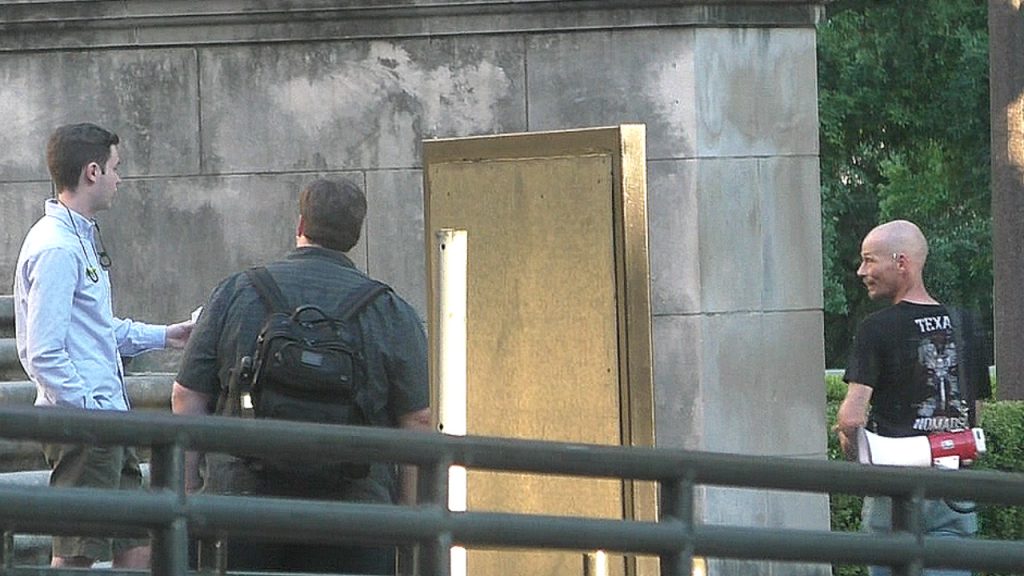 Meghan Lovett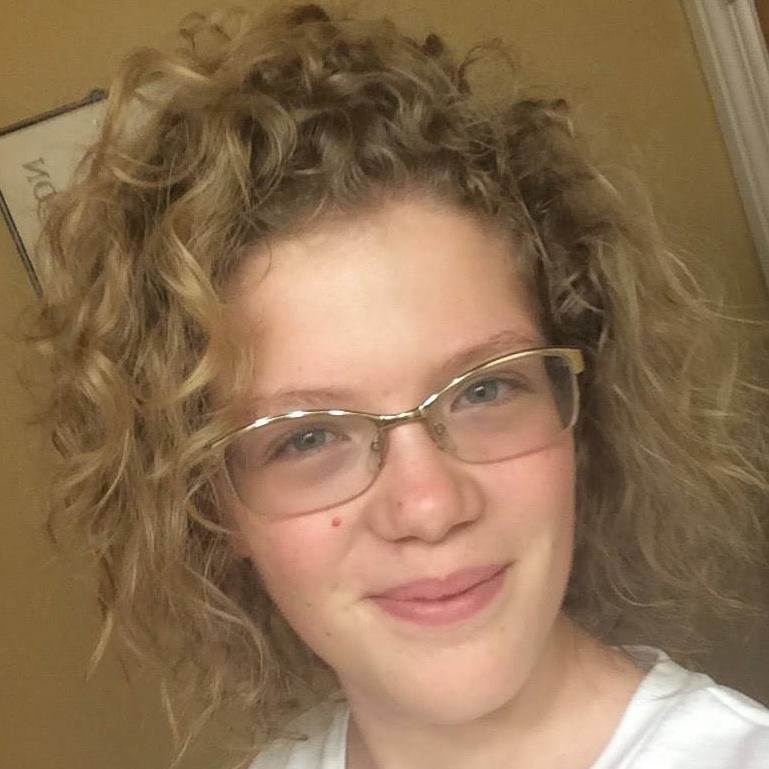 Meghan Lovett is not a prominent member of the Hot Takes facebook group. She was added by Anthony Dolcefino. She is relevant to this, however, for two reasons.
First, she is tied to YCT members like Lillian Bonin, Homero Trevino, and Anthony Dolcefino.
Second, she is the founder of the new UT chapter of Turning Point USA. TPUSA is a far-right organization which has enabled recruitment for far-right & fascist activities, with their events often drawing crowds that range from right-libertarians to Neo-Nazis under the banner of "free speech," nationalism, and American exceptionalism. We previously wrote on the threat Turning Point poses, such as their targeted harassment of leftist professors, in our article exposing their field director Benjamin Larrabee–who Meghan is friends with.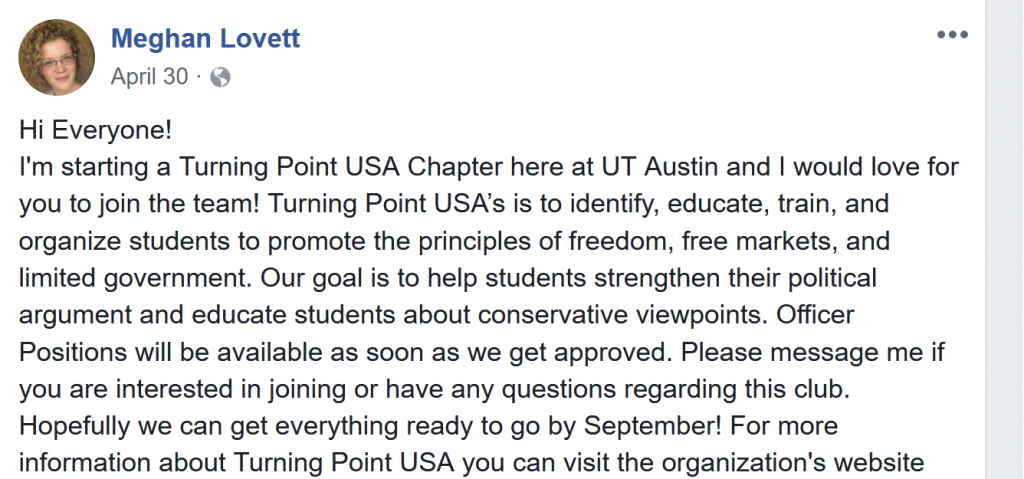 Chandler Simmons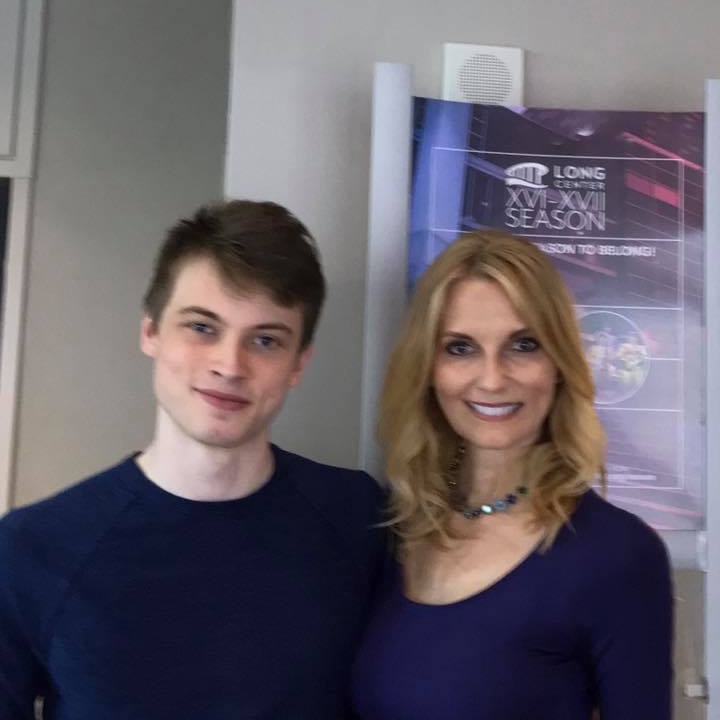 Chandler Garrett Simmons is a UT student, member of UT Hot Takes, and anti-semite. He was put on our radar when we initially began this research, but at the time we flagged him merely as an edgy liberal who defended fascist free speech, and we left him off this list as we did not have tangible evidence of his actions or his affiliations with the others in this article. After we published this article however, others came forward and pointed us towards some new information which has earned him a spot on this list.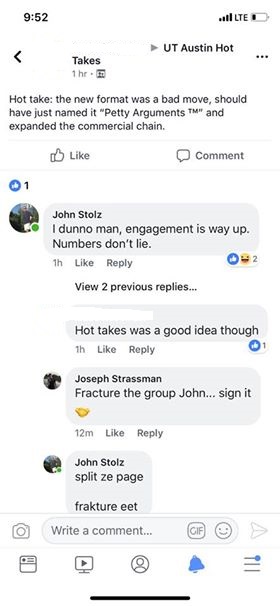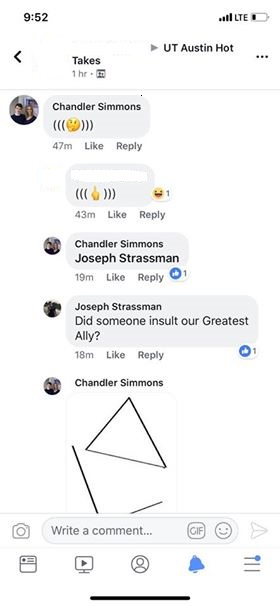 Some students reported anti-semitic harassment directed at them by Chandler which caused them to leave the group. An example of this is shown below. In his comment, Chandler uses an echo, or triple parentheses, in response to a student's post criticizing the Hot Takes format. The triple parentheses are an anti-semitic symbol that originates in the alt-right, and it is used to highlight names of Jewish people or organizations thought to be controlled by Jewish people. The echoes are frequently used online to designate targets for anti-semitic harassment. In a later reply, Chandler posts an image. This image is a variation of the shekelstein or "happy merchant," image, an anti-semitic caricature of a Jewish man rubbing his hands together which can be found all over alt-right forums and neo-nazi memes.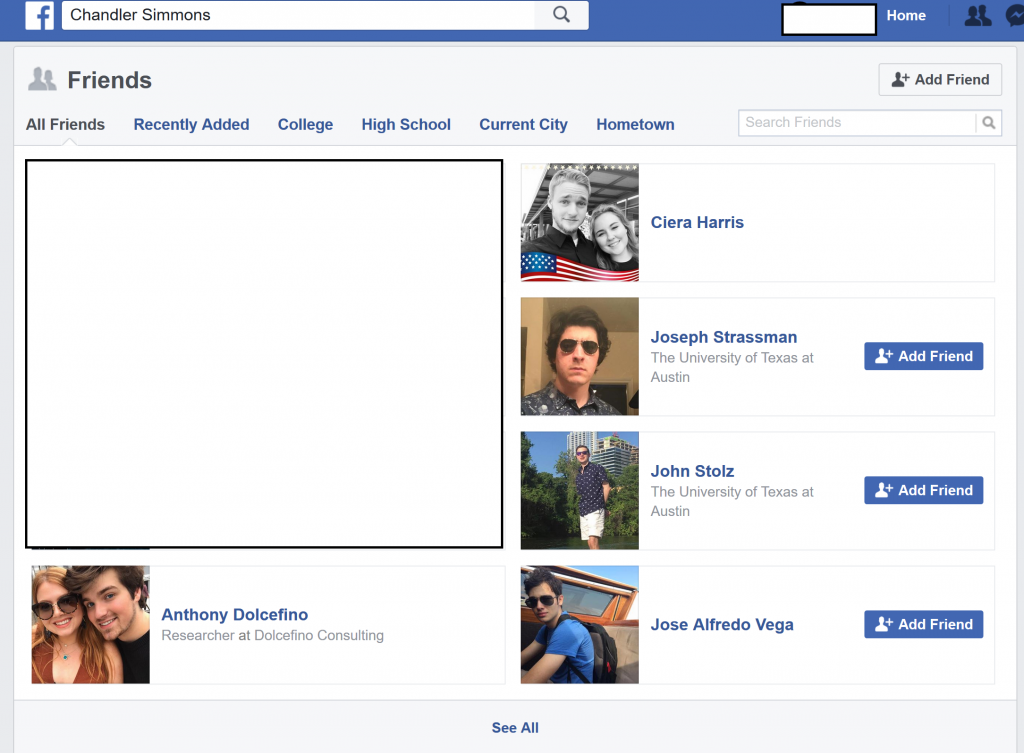 Chandler is facebook friends with Dolcefino, Stolz, Harris, and Strassman. He went to West Brook Senior High School and is originally from Beaumont, Texas. He has been reported to have made other dog-whistle posts as well as misogynistic posts.
Unidentified Fascists
There are still some members of this milieu who we have not yet identified, and need help identifying. Below, we've included pictures and descriptions of these people and their actions. Please help us root out fascists in the student body, so that we can better keep our communities safe.
The Patriot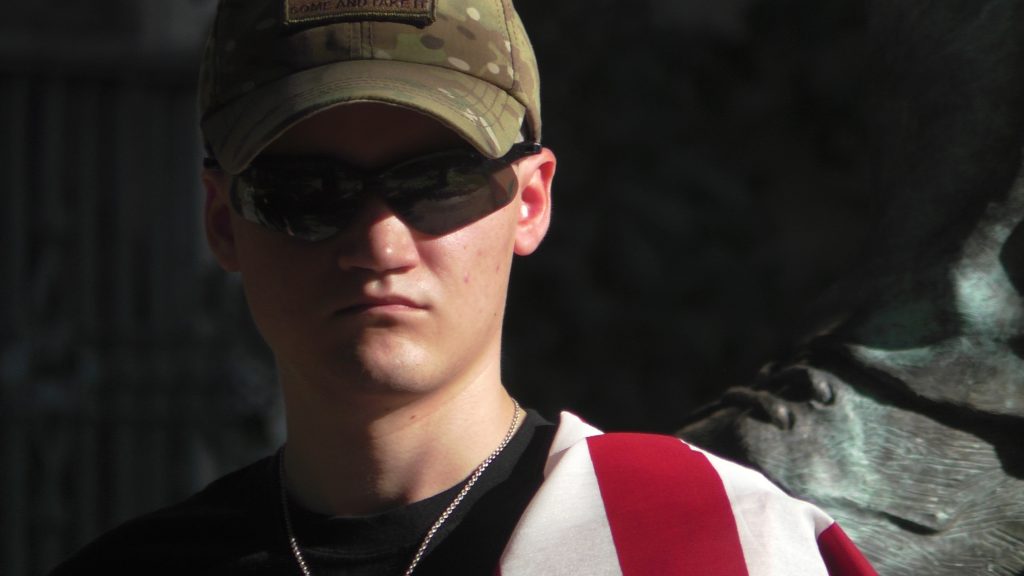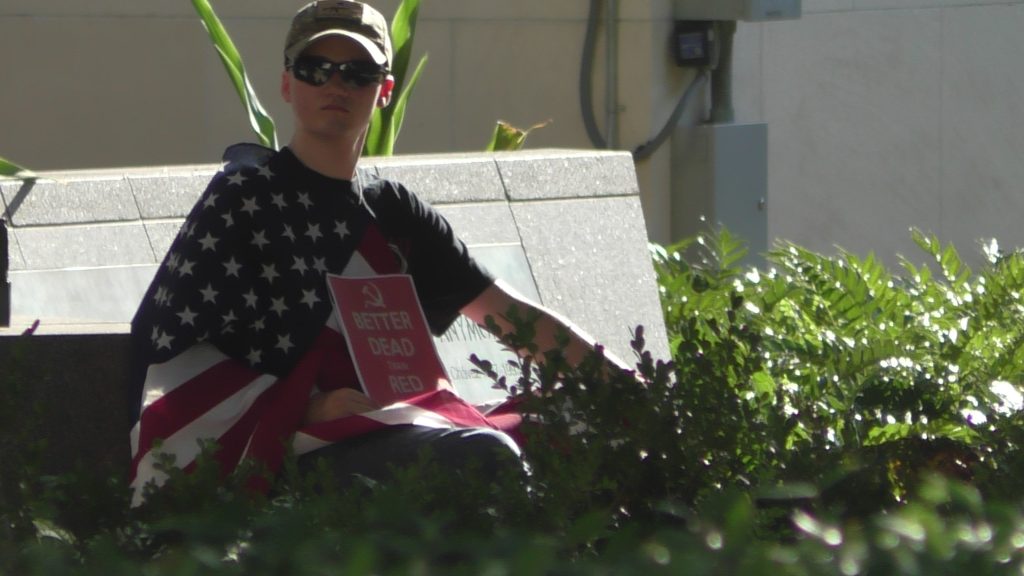 This fascist student was the first to show up to RSF's People's Trial in May to counter-protest it. He was there initially with an American Flag and a sign that said "Better dead than red." He is suspected of being one of the main people placing anti-communist stickers around campus. For reference, one longstanding fascist dog-whistle has been "anti-communist" struggle, with groups like AntiCom arising out of that.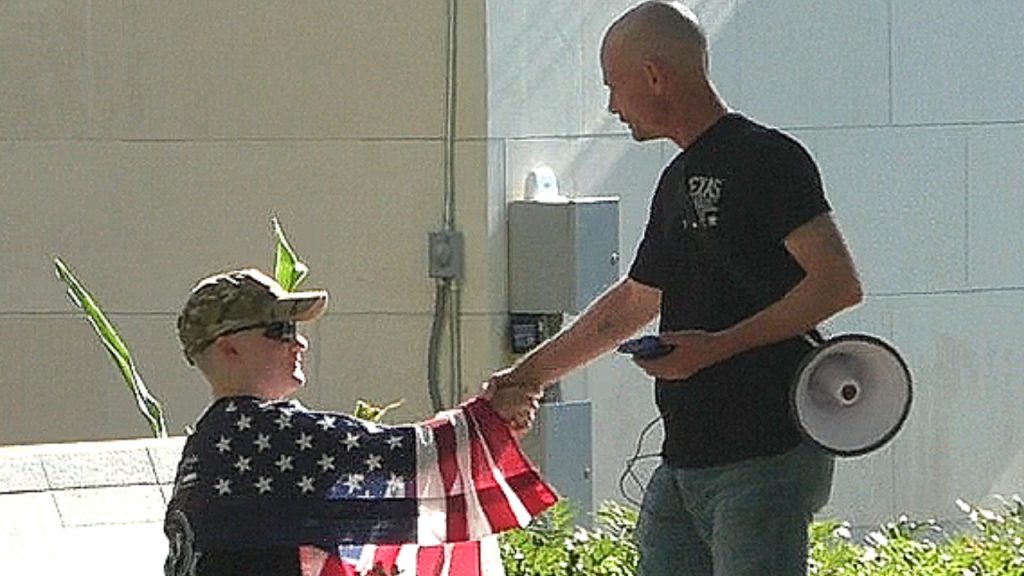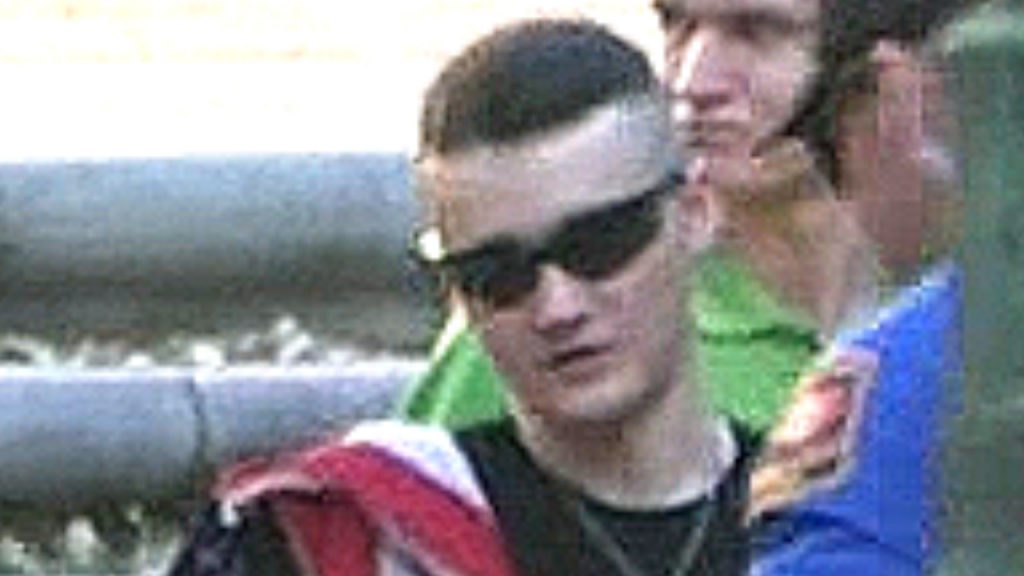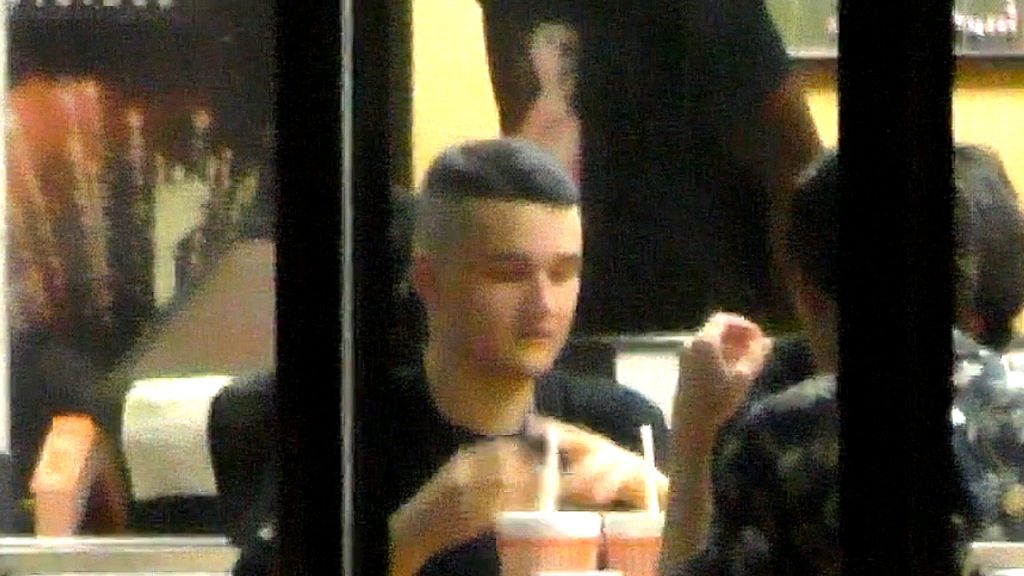 After a few minutes, Christopher Ritchie arrived at the event as well. He walked up to this kid and greeted him, shaking hands and chatting. It's likely they already knew each other, which provides a firm link between the campus right and the fascist forces acting off campus. Remember, Christopher Ritchie is known as a violent & dangerous neo-confederate fascist.
Green Shirt
Friends with Strassman, Leighton, and other YCT members. Was part of the group that showed up to disrupt RSF's event in May.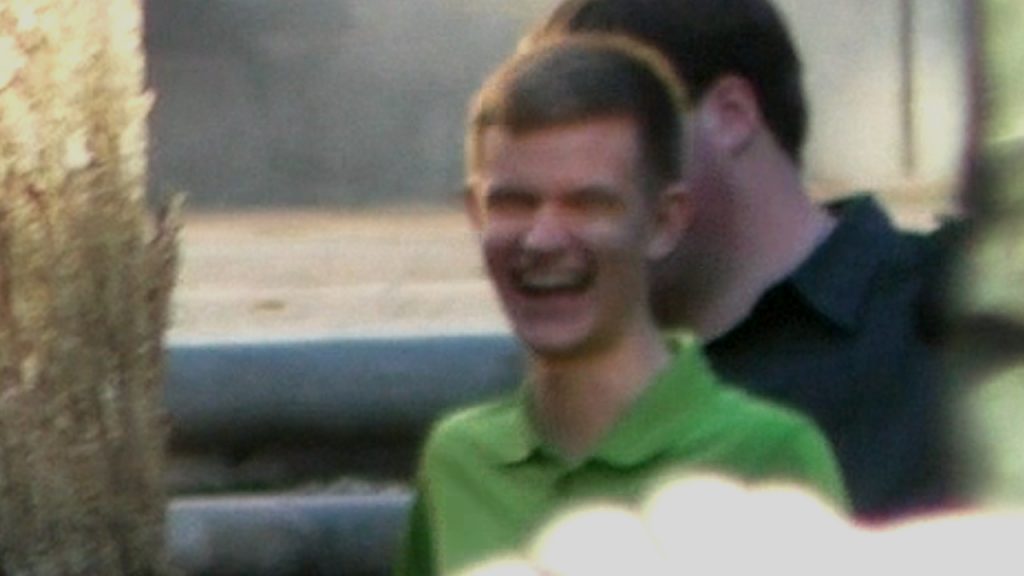 ---
Got a story you need to tell? Publish it with us! Send us your opinion pieces, reviews, news, statements, report-backs, or anything else you wanna see put out in the world. We take all kinds of content, with an eye towards marginalized perspectives and news about movements & revolutionary organizations. Submit content to austinautonomedia [@] autistici [dot] org
Send any tips or other information on any of the fascists mentioned in this article (or those not included) to sassatx@protonmail.com