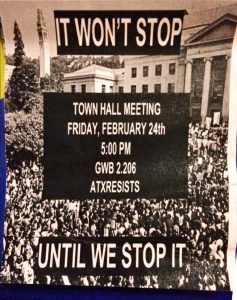 Originally published on Facebook by ATXResists
On Monday, February 13th, 2017, students and workers at the University of Texas at Austin awoke to find fascist propaganda and graffiti across West Campus and Campus. Flyers calling for the destruction of Muslims, the outing of undocumented immigrants, and the reclamation of "white pride," associated with the group American Vanguard—a white nationalist organization—were plastered on poles, newspaper boxes, and statues across campus. Graffiti of the N-word, celtic crosses, and swastikas were spotted in West Campus. Students from the night prior reported seeing a small group of people putting up the flyers. This was not the first time such flyers had gone up; neo-Nazi Identity Evropa stickers had been spotted on a few occasions in the fall semester and were destroyed by anti-fascists. This was, however, the most visible round of fascist flyering on campus.
And this time, due to the mass outrage among the student body, the University was forced to respond. In the response the University made clear that it cares more about catering to the interests that fund and support it (including white supremacists and Trump supporters) than it does about protecting students. In its statement, the University stated that it had removed the posters simply because they violated rules regarding the posting of flyers. The University's insistence that it "vigorously supports free speech" sent a chilling message: had this been a registered student organization putting up flyers in more "legitimate" places, the University would defend the platform for these fascists to spread their messages against students. The statement from J.B. Bird, Director of Media Relations for the University, furthermore fails to name the fascistic nature of these flyers, only labelling them as "political messages aimed at immigrants, minorities and Muslims," normalizing the genocidal politics of fascism as a valid political position. Fenves' letter called for "robust discussions and debate," as though students of color, Muslims, and immigrants should be forced to debate for their own humanity against those who wish to destroy them. The University has made clear that it believes genocide could or should be simply another option on a ballot to have "enlightened debate" over.
Continue reading "Stand up, fight back! ATXResists statement on fascism at UT"