In April 2017, a wave of vandalism struck frats across West Campus over the course of three nights. Frats were tagged with "racist" and "rapist," among other slogans. Fiji, which was targeted the first two nights, held a racist "border patrol" party in 2015. A study published in March of 2017 found that 15% of undergraduate women on UT campus reported being raped. Actual statistics are believed to be much higher.
The anonymous statement republished here was originally sent to It's Going Down, which made the acts even more notorious across the country. The graffiti came near the end of a year marked by student struggles against fascist activity on campus, the University's failure to address racism, and other issues. The University, ironically, tried to make use of its (at the time) new hate & bias incident policy to investigate the vandalism. Shortly afterwards, the piece was again thrust into the spotlight as fraternities and the alt-right tried to connect the May 1st, 2017 stabbings at UT with the vandalisms (and by association all "antifa" and leftists).
Three years later, almost to the day, the Kappa Alpha Theta sorority was tagged with "Eat the Rich." We host this article to keep alive the memory and intergenerational spirit of insurgency against Greek Life. You can find online readable and printable zine versions of this statement HERE.
We are a collection of friends and co-conspirators belonging to our local communities. We are not associated with all the organizations that have shared our handiwork and celebrated it, despite the accusations of those on social media. This action is claimed by us as rogue actors, and came from no organizational authority. We believe in the spontaneity of action, in the possibility for direct acts led by small affinity groups to achieve broad effects and inspire other insurgent acts. We publish this, not to claim fame or reap benefits from the recent vandalism of notorious fraternities in West Campus. We are publishing this statement to clear up some misconceptions, to clarify why these taggings happened, and to inspire others.
To the confusion of the local news, we did not launch these attacks in response to any particular scandal or recent accusation. We were responding to the everyday crisis that is rape culture, white supremacy, and elitism. Fiji may be notorious for its rape room, racist parties, and horrific pledge rules, but it is not that unique. It is no accident that so many fraternities take the style of plantation homes—the institutions of Greek life are themselves colonial, bourgeois, patriarchal structures, founded to preserve the reproduction of elite classes. Our attacks come in response to the everyday fear and feeling of danger that these institutions and their members produce for students of color, women, queer and trans students, and other marginalized folks. Catcalls, racial slurs, rape jokes, and more are the daily realities which go unspoken and uninvestigated by either the police or the University.
Some consider our acts irresponsible, pointless, and ineffective. We think the massive surge in conversations happening around sexual assault, white supremacy, and the failures of the administration are proof of the success of our actions. The administration has showed its true face, as it has rapidly responded to our actions with calls for increased security, crisis support for the frats, and investigation according to the hate crime policy. This stands in stark contrast to the University's inability to respond to racist acts by the frats, investigate sexual assault, fund mental health services for students, and respond to Celtic Cross graffiti on the Blanton. We have seen from the prosecution of the UT Antifa 3 that this administration's feign towards multiculturalism is a ruse—an attempt to maintain the peace and ensure that students of color and women continue to provide their money, bodies, and very presence to maintain the status of the University and its image.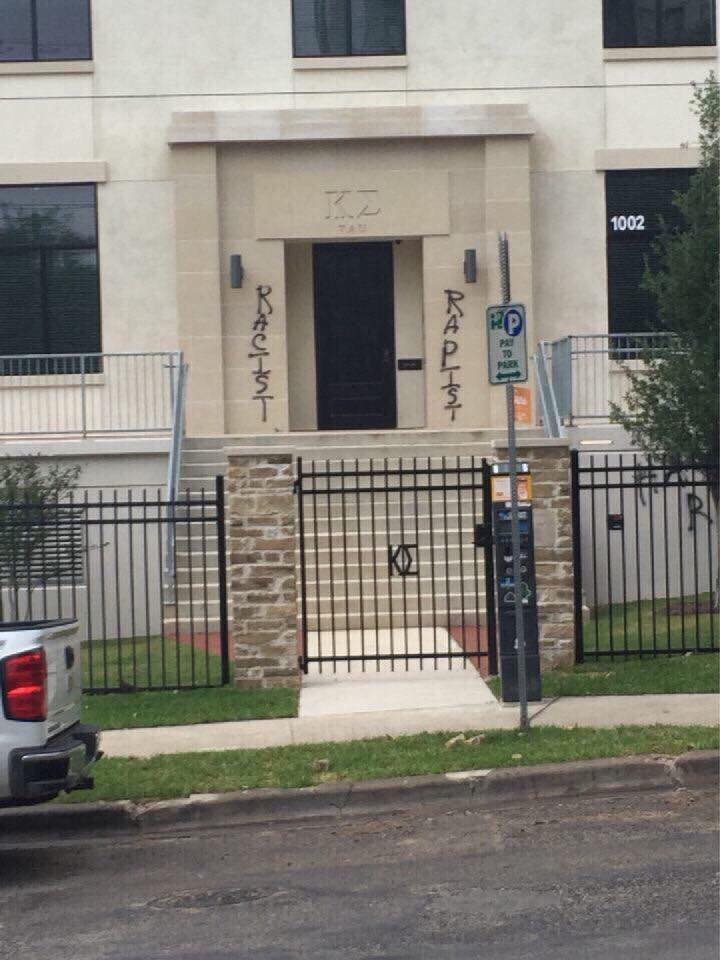 Most importantly, we hope our acts can serve as a template for student self-organization. When the administration and police fail to hold accountable powerful institutions with deep financial connections and when their crimes go unnamed, we will hold them accountable. We will name our enemies, and do so loudly for the world to see. We will break the silence and the taboo around these institutions. We will make clear to survivors that we support them and will fight for them by any means necessary. Students must provide for each other what these institutions can never provide us.
This moment is exceptional. These are institutions and people who have never felt unsafe because of their status and identities. And now, through a couple of simple actions, they feel threatened. FIJI was forced to have night long watches. Private security, UTPD, and APD patrolled the area. Even SUREWALK, the campus organization that supposedly protects students from assault, was seen patrolling the area to protect rapist frat Fiji.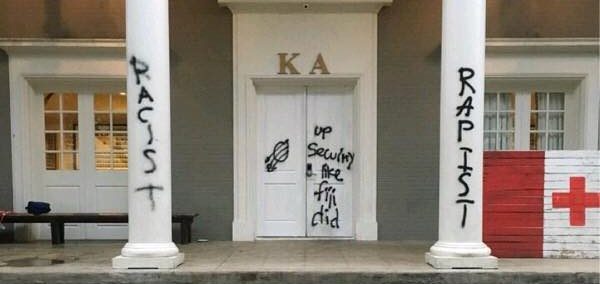 Let us be bolder in naming our enemies. Let us tell students at orientation the truth about the crimes of these institutions. Let us catalog the violence of the frats and the administration, so that there is never a period where students forget who their enemies are. Let us make it impossible for the administration and frats to simply wait out the occasional uproar, and let us constantly agitate against them and make their lives hell. Let us make racists, frat bros, and the administration afraid again—afraid of students, afraid of the marginalized and harassed, afraid of the exploited and excluded.
It is no accident that we attacked Greek life. The Greco-Roman legacy has inspired so much of the march of European civilization against the "uncivilized." Colonial and plantation nations were constructed in the image of Greece and Rome. Fascist group Identity Evropa uses images of Greco-Roman statues in its propaganda. Continental philosophy finds much of its roots in the Socratic tradition. Our notion of democracy and all its accompanying inequalities and hierarchies stems from the Greek conception of the polis, sustained by slavery, the domination of women & children in the home, and the battle against foreigners.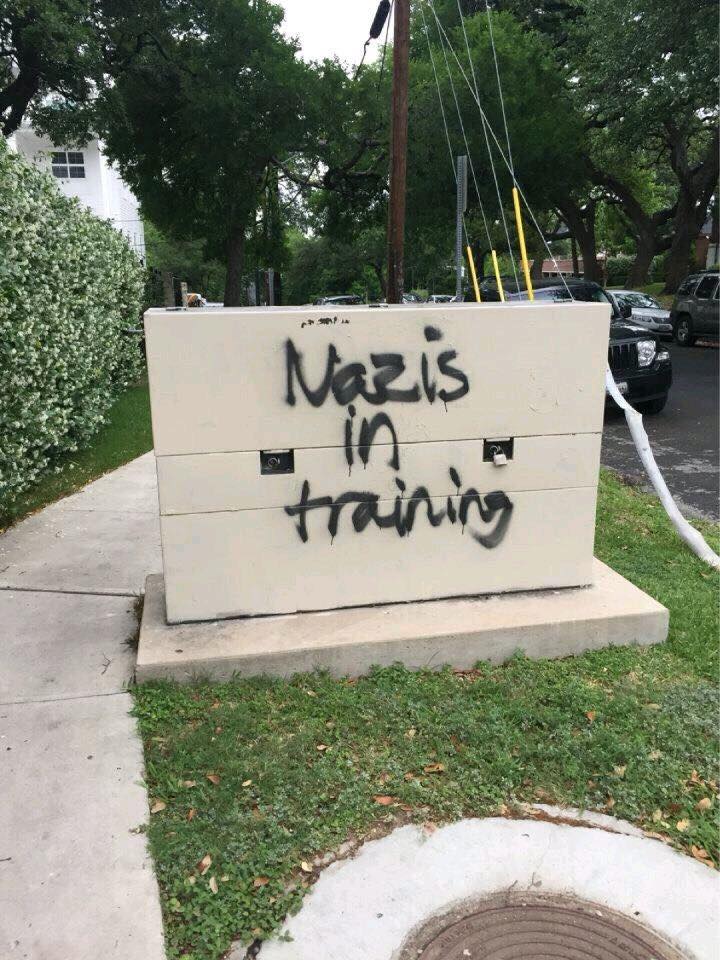 In the midst of resurgent fascism and ongoing colonial legacies, we must become the unruly, improper, unrespectable "barbarians at the gates." Our attempts to appeal to the institutions to include us, to show that we can be like them, have and always will fail. It is time to jettison all such illusions and instead construct new communities and ways of living that amplify our power here, as students and collectives, until we can overrun these institutions themselves.
We are labelled "vandals"—placing us in a lineage that extends to the "barbarian" Vandal tribes that sacked Rome. We will accept this charge, for we seek the destruction, looting, and emptying out of these halls of power by the force of the unruly masses—the excluded and exploited. And we hope that individuals such as Gregory Fenves can only watch and play the fiddle while Rome burns.
Our message can perhaps best be summarized as: Every Student Can Tag. Anyone can be The Vandals of West Campus. Buy some spray paint, with cash of course, can't have a debit card trail. Turn off location services on your phone. Don't take photos of your handiwork—wait for someone else to do so (quick shout out to the frat bros who got the best photos of the tags out of anyone—thank you so much for that propaganda work!) Have a change of clothes. Mask up and wear unidentifiable clothes so you can't be tracked through video surveillance. Make sure you have a secluded spot to change in and out of costume. Aim for the darkest, quietest targets. Stay in small groups so you can defend each other in case confronted. Scout out the house before hand and be aware of any police or frat patrols.
We hope you will not make us your vanguards or heroes. We neither want the fame or status, nor do we want to continue the dangerous work ourselves in the midst of increased police investigations. We hope our names never come out into the public sphere, and that all you see will see will be our actions. We hope that you will become one of us. Take up our name and sign off on your actions, put out report backs. We hope that through generalized student action and preparation, the efforts of the pigs and the administration to catch "culprits" will be thwarted, as the entire student body itself becomes a threat.
To the fraternities and University: Prepare yourselves. We are at your gates. Your walls will fall. And you will be sacked.
—The Vandals of UT Austin
---
Got a something you need to publish? Send it to us! We take all kinds of radical/revolutionary content, with a special affinity for anarchist/autonomous movements and crews. We specialize in research and strategic intelligence that can inform direct action, but we'll take art, opinion pieces, and other stuff too! Submit content to austinautonomedia [@] autistici [dot] org.