Autonomous Student Media: Gestures Towards the Ungovernable
Two weeks ago, the new chapter of Turning Point USA at UT hosted their first meeting. It was interrupted for a while by a fire alarm, forcing the meeting to move outside–where it was easy to see and overhear their conversation. We've gathered intelligence about what exactly happened at this meeting, who is involved in TPUSA, and what TPUSA's emergence on campus means. We encourage you to share this article with your professors, TAs, classmates, and other networks. This is an extremely relevant issue for anybody that is progressive or left-leaning, who could be at risk of being targeted by this group.
The Cast:
TPUSA Leaders: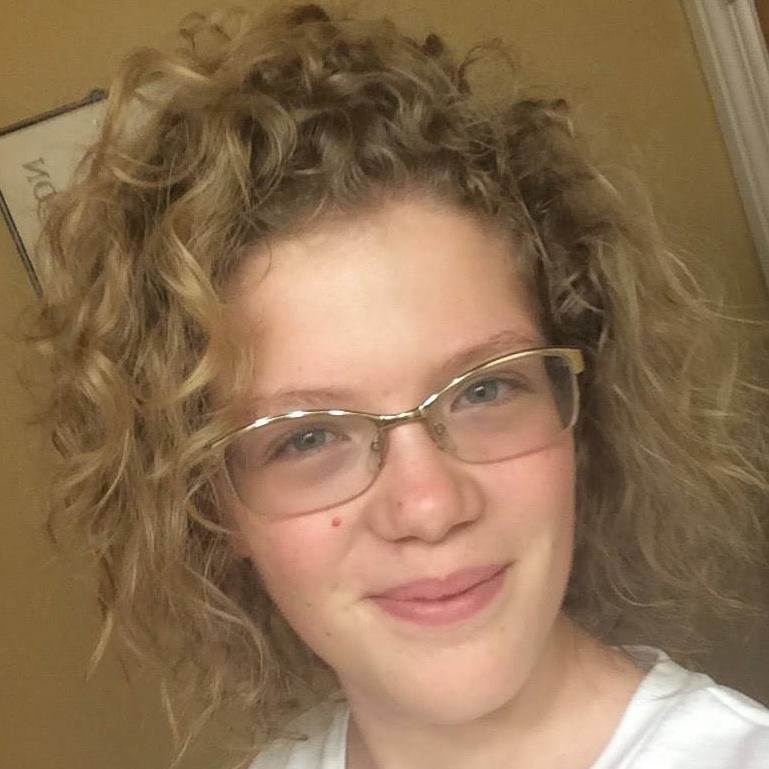 President: Meghan Michelle Lovett

Originally from Boerne, Lovett is the founder of the new TPUSA chapter and a member of the YCT. She has had close relationships with Benjamin Larrabee (see below), attending TPUSA leadership & training conferences with him in order to jumpstart this organization. Meghan herself appears to be a fairly novice, unthreatening organizer. She seems to moreso fulfill the role of enabling TPUSA to be a registered student org, therefore allowing it to operate on campus and for people like Larrabee to push TPUSA's broader agenda.
Vice President: Elysse C Brenner

Political Communication major at UT. Elysse is largely unremarkable and in many ways is a run of the mill conservative. Her facebook likes includes Milo Yiannopoulos, Tomi Lahren, and Fox News among a plethora of other pro-gun, pro-life, conservative pages.

Milo is a far right comedian who routinely uses fascist iconography like the Iron Cross, has attempted to target trans and undocumented students in his speaking events, incited his followers to attack protestors at the colleges he's spoken at, and encouraged vigilante attacks on journalists.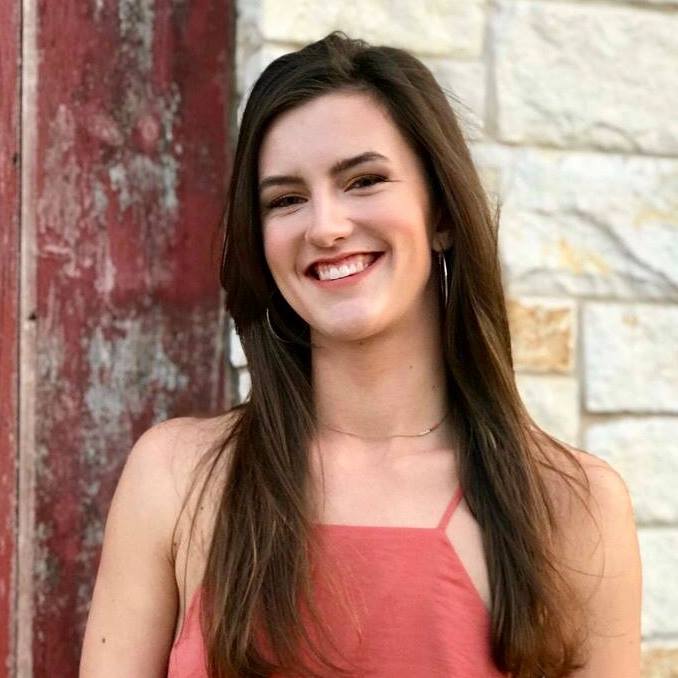 Social Media Coordinator: Neve Gallagher

Public Administration/Health major at UT. Appears to be another typical conservative white woman. Facebook likes include Tomi Lahren.
Treasurer: Holly Smith

Political Communication major at UT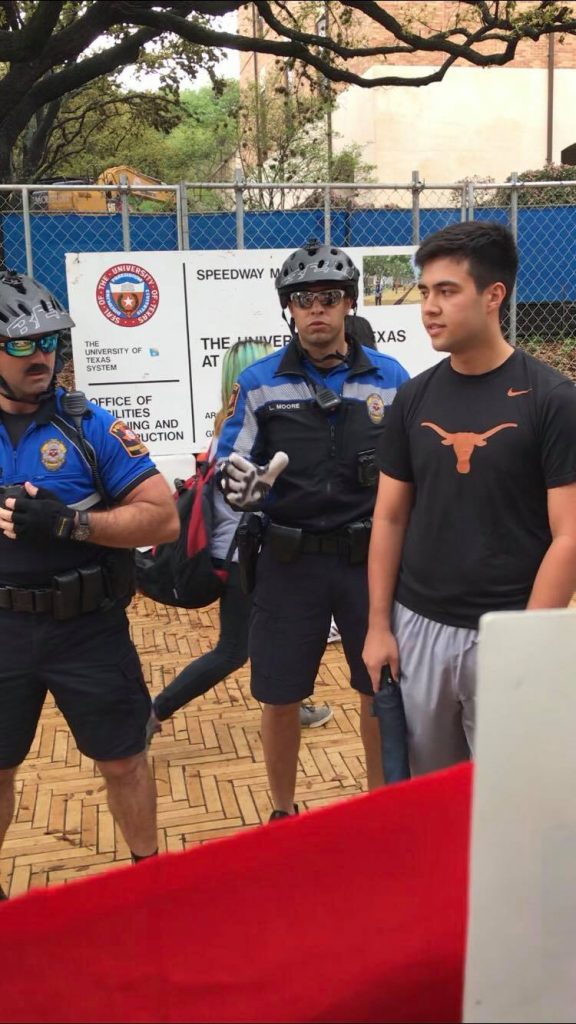 Outreach director: Samuel David Samson

Government & LAH Sophomore. Formerly interned for Ted Cruz. Email is ssamson915@gmail.com. Phone number is 713-540-0568. Is also a YCT member, most notoriously present on West Mall at the pro-Kavanaugh demonstration three weeks ago. Last spring, he harassed protestors at a Palestine Solidarity Committee rally alongside TPUSA recruiter Benjamin Larrabee.
Historian: Duncan C Trimmell

Third year Linguistics & LAH. Email is dtrim2005@yahoo.com. Most recently listed occupation as a Favor runner.
TPUSA Hired Organizers
Benjamin Larrabee

Ben Larrabee is the field director for Turning Point USA in Texas. Currently living in Austin, he is responsible for helping coordinate and train new TPUSA leaders at colleges across the state. He's been prominent in helping start (and tabling with) TPUSA chapters at UT, Texas State, A&M, and more. Last known phone number was 386-405-3153.

Samantha Adele Metzger

Field representative with the Leadership Institute. Lives in Dallas. The Leadership Institute is a non-profit which provides training and tools to conservative activists. The organization manages the website Campus Reform, a conservative site targeting "liberal bias" on college campuses–one where ASN has been given an article or two.
Meghan Lovett
Samuel Samson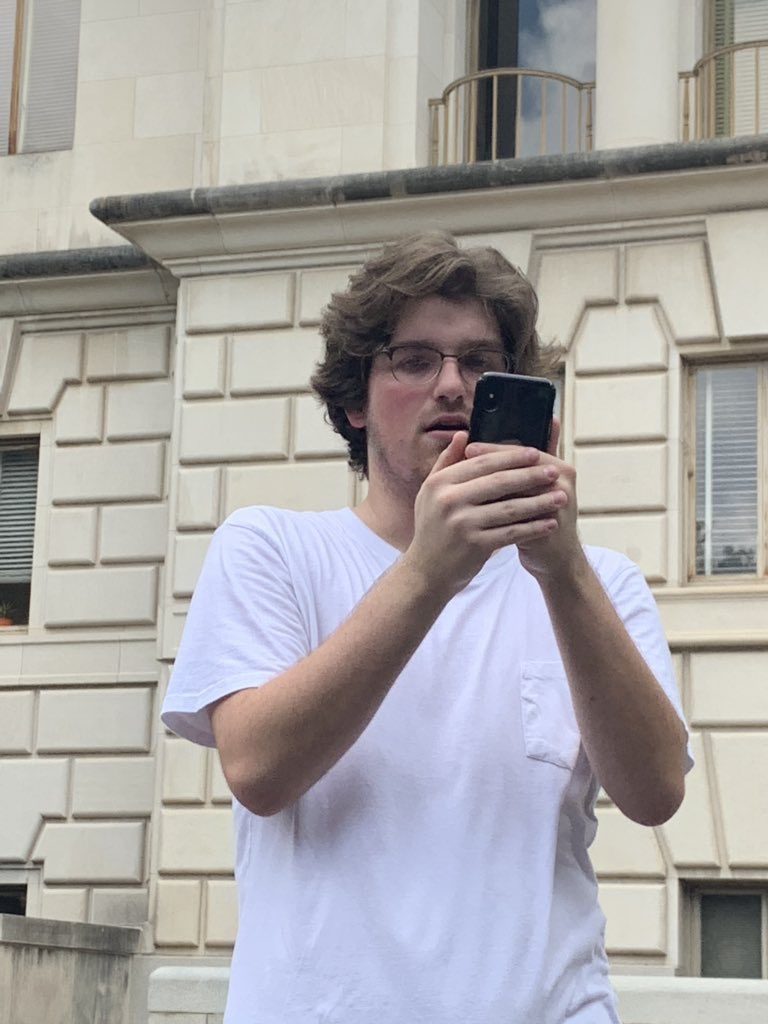 Anthony Nevin Dolcefino

Vice Chairman of YCT. Government major. Researcher at his father's company, Dolcefino Consulting. anthonydolcefino@gmail.com. Was part of the YCT's pro-Kavanaugh demonstration, is also connected to Andy Kessler, who espouses Neo-Nazis beliefs, and others spouting racist beliefs in YCT.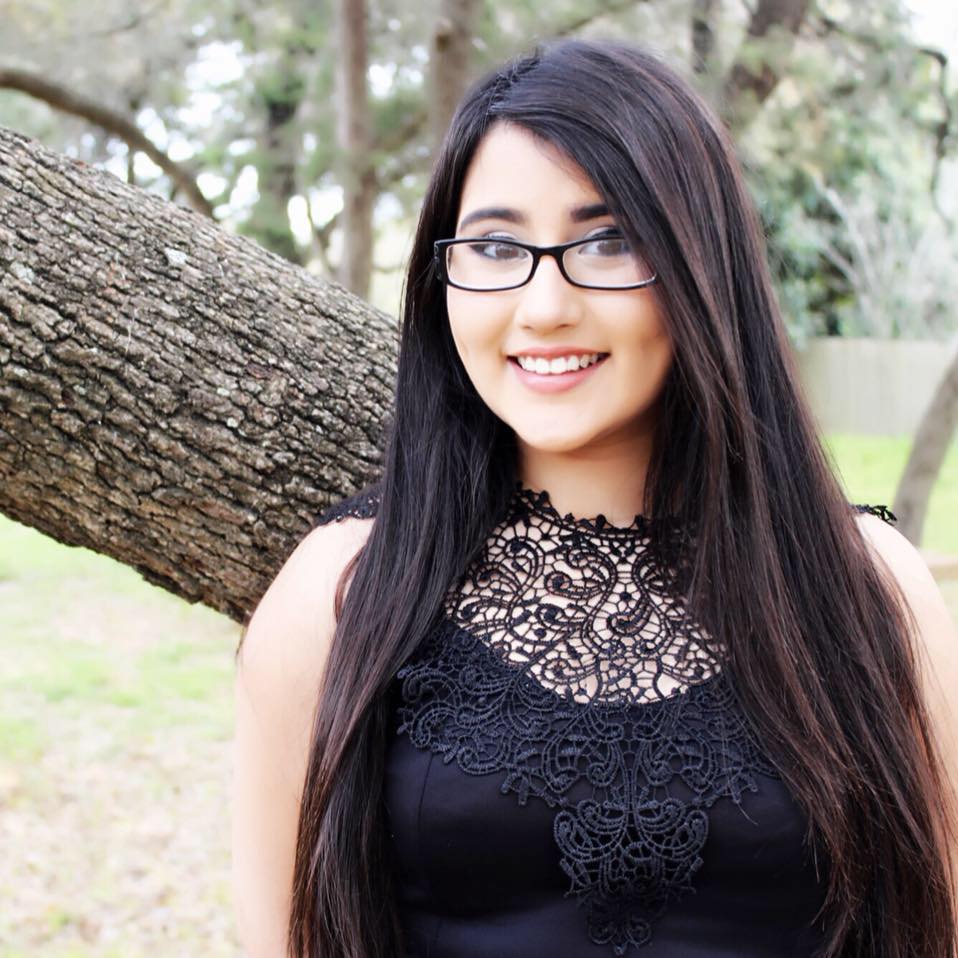 Maya Lia Vela

Journalism Junior. Email is mayaliavela@gmail.com. Phone number is 210-878-9058. Member of the YCT who was present at the pro-Kavanaugh demonstration on West Mall.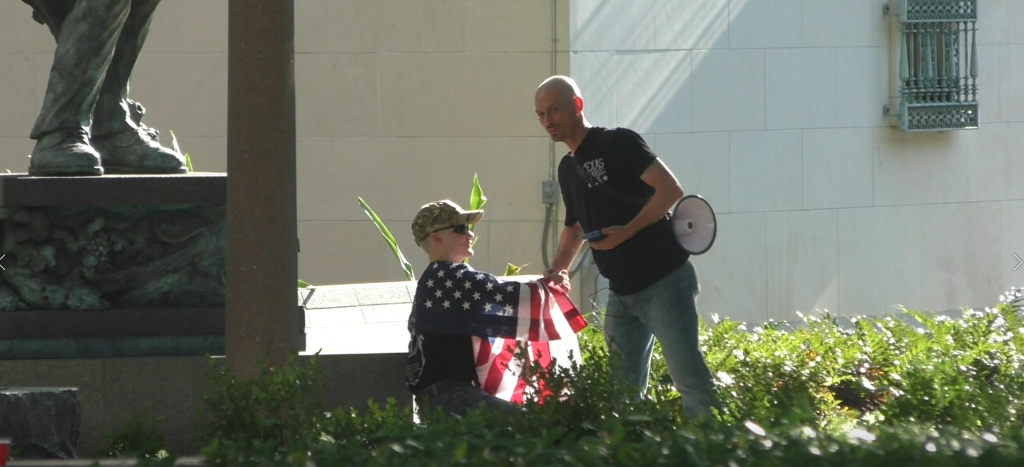 Lance Jones

Previously seen showing up to counterprotest RSF's "People's Trial," for a rapist professor. He showed up with an American flag and a flyer that said "Better dead than red." When approached by violent neo-confederate, fascist, & Charlottesville attendee Christopher Ritchie, shook hands and greeted him as if they were already familiar.
Highlights from the meeting itself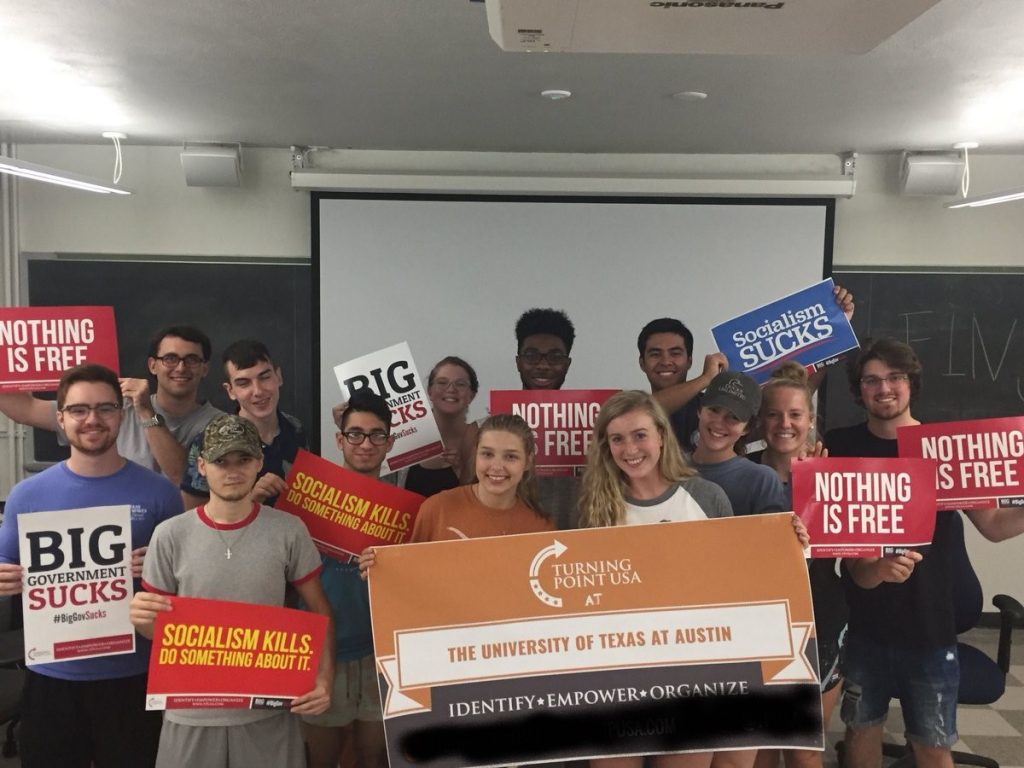 Lance Jones mentions trying to go "off the grid" from social media to avoid being identified
At one point, Samson mentions plugs for "nearly free trips" to Israel through TPUSA.
The group talked about finding out how to pay to bring big conservative personalities like Dana Loesch, Charlie Kirk, Tucker Carlson, Ben Shapiro, and Milo Yiannapolous to campus, claiming that its very expensive. They made jokes about getting someone's "Jew gold," to pay for it and provoking people to punch them so that they can sue and use the money to bring in speakers.
Some mentioned being afraid of being openly conservative on campus (fucking good)
Anthony Dolcefino, Sam Samson, Maya Vela, and Ben Larrabee were among the most vocal in the meeting.
Ben Larrabee led most of the group discussion. Larrabee led the discussion, asked questions, and essentially gave people a "training" on how to respond to liberals.
Most of the officers didn't speak or participate throughout the meeting.
Samantha Metzger offered to bring a "conservative publication" to campus (Campus Reform) and said that students could be paid up to $100 per publication, in addition to internships and other "opportunities."
The last few points point to a couple of conclusions about the group. First, that there are strong direct ties to the YCT. Second, that the paid professional organizers from TPUSA are leading a lot of the charge, and essentially using the student officers as a vehicle to access resources & space on campus in order to recruit and push their politics. Third, that TPUSA is placing a heavy emphasis on recruitment and generating content for sites like Campus Reform, a site which has often caused the right-wing outrage machine (extending from obscure sites to Breitbart & Fox News) to target campuses and professors. Larrabee and Metzger certainly appear to be the most important to this initiative, and also the most dangerous agents.
Analysis: Who is TPUSA & Why Does This Matter Anyway?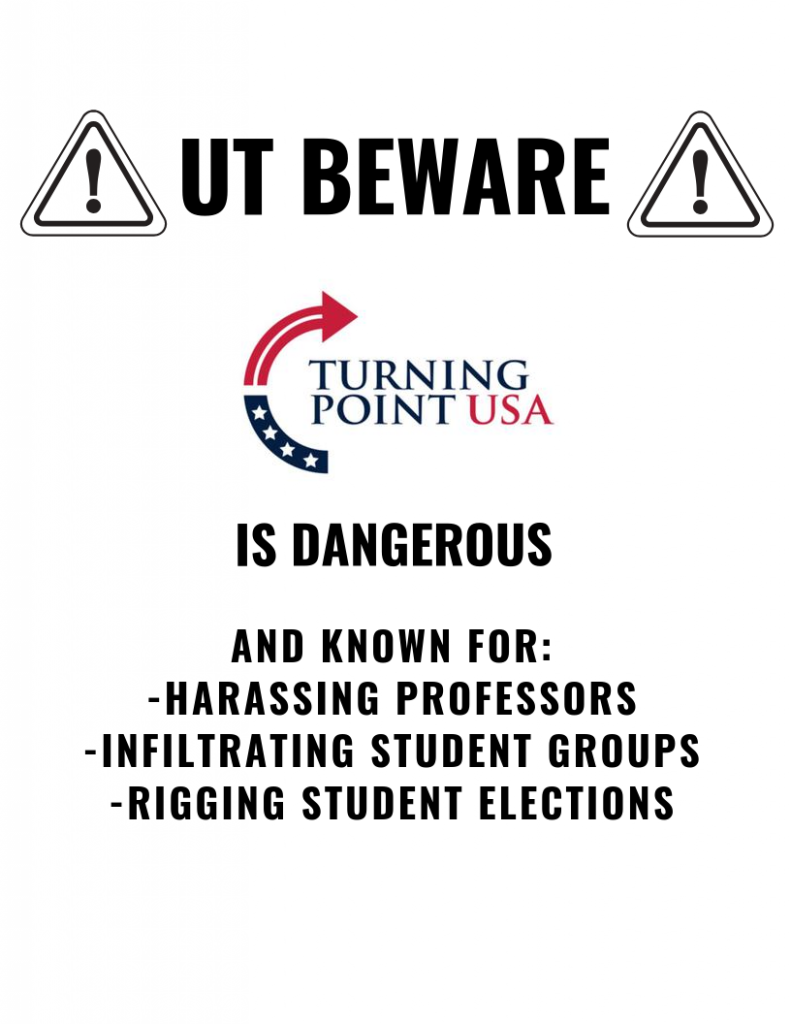 While the YCT has dominated much of the attention on campus in recent years, largely due to their spectacular agitations which always invite massive backlash, Turning Point USA is a different political beast in its entirety. As a nationwide organization, TPUSA both has access to a larger pool of resources and a more dangerous strategy and mission than the YCT, which largely contents itself with provocative actions. Turning Point's activities encompass many of the activities of the YCT but go even farther. Beneath their stated goal of building a conservative, "pro-liberty," student movement lies the foundation of a breeding ground for fascist activity.
First, we could look at the sorts of speakers TPUSA tends to invite, conferences their leaders attend, and what their student organizers end up getting involved in.
The founder of TPUSA, Charlie Kirk, is a contributor for Breitbart–the right wing site that served as a breeding ground for the growth of the alt-right
TPUSA's main goal in 2016 was recruiting college students for the Trump campaign and building support amongst young voters.
They have invited Milo Yiannapolous to campuses.
Their December 2017 Student Action Summit featured prominent alt-right figures such as Steve Bannon (executive chairman of Breitbart, a grotesque racist & anti-semite), Ann Coulter (a massively Islamophobic writer who inspired much of the rationale behind Trump's Muslim Ban), Sebastian Gorka (outed as having ties to Hungarian pro-Nazi groups), Tomi Lahren, Donald Trump Jr., Dinesh D'Souza, and more.
At a November conference in Denver they hosted new alt-right star Ivan Throne, a Mens Rights Activist who advocates reducing women to their "wife value" ideology and fantasies of a patriot-warrior cult.
They have spread a meme that "hate speech is just speech liberals don't like"–a ploy to normalize fascist organizing and recruitment
Their marketing strategy of "anti-communism" actively draws from the fascist playbook. Anti-communism has long served as a dog whistle for fascist politics, consolidating the right and even liberal forces in opposition to the "threat" of communism while normalizing their own violent ideology.
Right-wing libertarian "pro-market, small government" forces like TPUSA have served as fertile ground for fascist entryism and recruitment, as they repeatedly demonstrated a preference for authoritarian police states (such as Pinochet's dictatorship in Chile) in the name of capitalism/anti-communism over any real commitment to liberty
Members of the Florida International University chapter shared racist, sexist, & Neo-Nazi memes and images in a private chat.
They mysteriously end up hiring racists by "mistake"
A Charlie Kirk speaking event in Colorado attracted Neo-Nazis from the Traditionalist Workers Party, who attacked students on campus.
Their high school leadership summit this past summer featured speakers like Nigel Farage, a xenophobic & racist leader of the UKIP party in England, and Sebastian Gorka.
At a recent conference, Turning Point leaders Charlie Kirk & Candace Owens were scheduled to speak alongside a member of the German neo-fascist AfD party–which has been connected to recent anti-immigrant riots in Germany–and "Race Realists" like Steve Molyneux.
While Turning Point USA attempts to distance themselves from the alt-right and outright Nazis publicly, this seems largely performative. Kirk claims that he is disgusted by white nationalists, but he seems to have no qualms with speaking alongside some of them and takes no responsibility for the ease with which TPUSA members slide from "conservatives," to outright fascists. While they may not be white nationalists, much of their rhetoric & actions–like claims that "white privilege," is a myth and fighting against hate speech restrictions–lay fertile soil for white nationalist politics to take root.
Beyond just attracting these unsavory figures to campuses, and despite their stated commitment to "free speech," TPUSA as an organization also aims to launch right-wing attacks at Universities. Just a few examples:
They are most notorious for maintaining a "leftist" professor watchlist–a frightening attempt at attacking en masse critical thinkers and liberatory thought within higher education.
They quietly funnel money to hijack student government elections, most recently at Texas State–where the SG president resigned after the scandal broke.
They have kicked off targeted harassment & stalking campaigns against professors at multiple campuses.
They send members to film professors in classes and "leftists" on and off campus to intimidate them.
Campus Reform, the conservative publication that Metzger aims to get UT students publishing for, has sparked conservative outrage campaigns that have resulted in death threats & attacked the jobs for professors that oppose TPUSA's reactionary politics.
Turning Point USA is a threat to students & professors alike on this campus. As an entry-point for fascist recruitment–both in their organization and their rhetoric–they bring the risk of attracting more individuals that will pose a threat to black, indigenous, & non-white students, LGBTQIA+ students, and more. Their organizing brings harassment campaign and threats to the positions of faculty in departments such as Black Studies, Women's & Gender Studies, LGBTQ+ Studies, and more. Services geared toward mental health support, support for survivors, and support for marginalized students may come under attack via Campus Reform articles which go on to generate a wave of right wing outrage, similar to the events which led to right-wing backlash against the MasculinUT program.
This makes it extremely important to get organized early, while this group is in its infancy. Building connections and sharing information between students and professors will be essential to solidarity campaigns in case of targeted harassment. Disrupting their organizing, slowing down their recruitment, and shutting down their larger events will make their efforts both uncomfortable, infeasible, and unprofitable. Identifying their members and leaders will help prevent infiltration and spying. They already admitted in their meeting that the high costs and fear of backlash is a hindrance to their organizing–now is the moment to get organized and be an even greater obstacle to their activities.
From what we know of the members and of TPUSA's general strategy, it is likely many of the members and officers–like Lovett, Gallagher, and others–are unaware of TPUSA's darkside and have simply bought the pretty image of "small government" and "liberty," that TPUSA sells. We encourage and invite these people to look through this article and all the evidence for what TPUSA actually intends to do, and leave the organization. Some of the largest threats and actors in this are folks like Larrabee and Metzger–the paid footsoldiers of TPUSA who astroturf chapters across the State. They should be organized against accordingly.
On a final note, TPUSA's founder, Charlie Kirk, will be tabling on West Mall on October 24th from 2-4 PM.
Other sources & further reading:
TPUSA as the Alt-Right's Blackshirts
While there's much to criticize about the Southern Poverty Law Center, this article gives a good look at some of TPUSA's connections to the alt-right
Another article outlining TPUSA & alt-right connections
---
Send any intel about the people listed here or TPUSA to us on facebook, twitter, or at our email!
Got a story you need to tell? Publish it with us! Send us your opinion pieces, art, zines, reviews, news, statements, report-backs, or anything else you wanna see put out in the world. We take all kinds of content, with an eye towards marginalized perspectives and news about movements & revolutionary organizations. Submit content to austinautonomedia [@] autistici [dot] org.