Autonomous Student Media: Gestures Towards the Ungovernable
While we missed a beat last week since we were busy digging into Turning Point, we're back with a brief report on some of the stuff going on around campus. You've probably heard about these events, but we hope to highlight some perspectives and sides to these stories you might not otherwise find.
Charlie Kirk Comes to Campus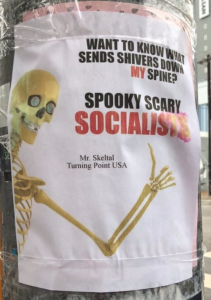 On Wednesday, October 24th, fascist group Turning Point USA brought their founder, Charlie Kirk, to campus for a tabling event. The night before, some students had posted anti-TPUSA flyers and memes mocking Kirk & the organization across campus. Advertised as an opportunity to "debate" Kirk, the event drew out both liberals who wanted to argue with him as well as middle-aged white men who simply wanted to meet Kirk in person. In preparation for the event, UTPD mobilized 18 officers to provide security and designated the steps of the Tower a "Security zone," likely to prevent the sort of mobilization that happened against the YCT earlier this month.
At 2 PM, as Kirk sat under a canopy on West Mall, a group of about 10 students arrived and stood across from him on West Mall in protest of his presence. They held signs decrying Kirk as racist, naming Turning Point USA as a fascist group, and a cutout that depicted Charlie Kirk as a man-baby. A few of the students handed out flyers with more information on Kirk and TPUSA, explaining to passerby what was going on and why the protestors considered TPUSA such as dangerous organization. The students stood for two hours, despite the rain, intermittently shouting chants which ranged from "racist, sexist, anti-gay / Charlie Kirk, turn away!" to "Toilet Paper USA!" For the majority of these two hours, the two sides had little interaction besides some verbal heckling from TPUSA supporters.
On the fascist side, multiple familiar faces were spotted. Meghan Lovett, Samuel Samson, Anthony Dolcefino, Benjamin Larrabee, and Samantha Metzger were all in attendance. Lance Jones made an appearance in his signature cowboy hat. John Stolz, a student espousing white nationalist beliefs, was seen chatting with Anthony Dolcefino and other TPUSA members.
At 4, when the event was scheduled to end, Kirk and his supporters crowded around the handful of counter-protestors who were left. Kirk attempted to goad the protestors into engaging him, asking them to prove how he was racist or sexist. The protestors provided little to no response, recognizing the futility of trying to engage with him and refusing to provide fodder for their propaganda.
Despite his pretense otherwise, Charlie Kirk is not interested in debate–something others realized earlier during the event, as they became frustrated attempting to debate the brick wall of a man-baby. This became evident when other members of the crowd tried to engage Kirk as he talked at the protestors. Any mention of Kirk's racism or the white nationalists affiliated with TPUSA would simply be met with Kirk listing all the black people he knew–which seem to mainly be Candace Owens and Ben Carson. When one person tried to bring up Turning Point's involvement in rigging student government elections, Kirk refused to engage and simply kept repeating "I don't know what you're talking about." Kirk displayed that he was only interested in speaking to people on his terms, where he could make rhetorical maneuvers to feel smug and smart.
During this exchange with the protestors, it is alleged that one student bystander became frustrated and splashed water on a TPUSA member. He was quickly pulled aside and talked to by UTPD, and later charged with a Class C misdemeanor. Man-baby Kirk complained about "assault" when this happened, and tweeted about it describing the act of splashing water as "violence." Shortly afterwards, having grandstanded about "the radical left" and failing to get a response from the protestors, Kirk and his crew dispersed.
While the protest, which was not publicly announced, was too small to disrupt Kirk's event, it did demonstrate that there is opposition to TPUSA and fascist groups on campus. While the chanting did not drown out or shut down Kirk, the protest was able to bring attention to the danger TPUSA poses and informed many students about the organization, interrupting what may otherwise have been a smooth propaganda & recruitment event. Future actions will require mass mobilization which can outmaneuver the preparations of the University and the police in order to shut down similar events.
Water Problems Hit Austin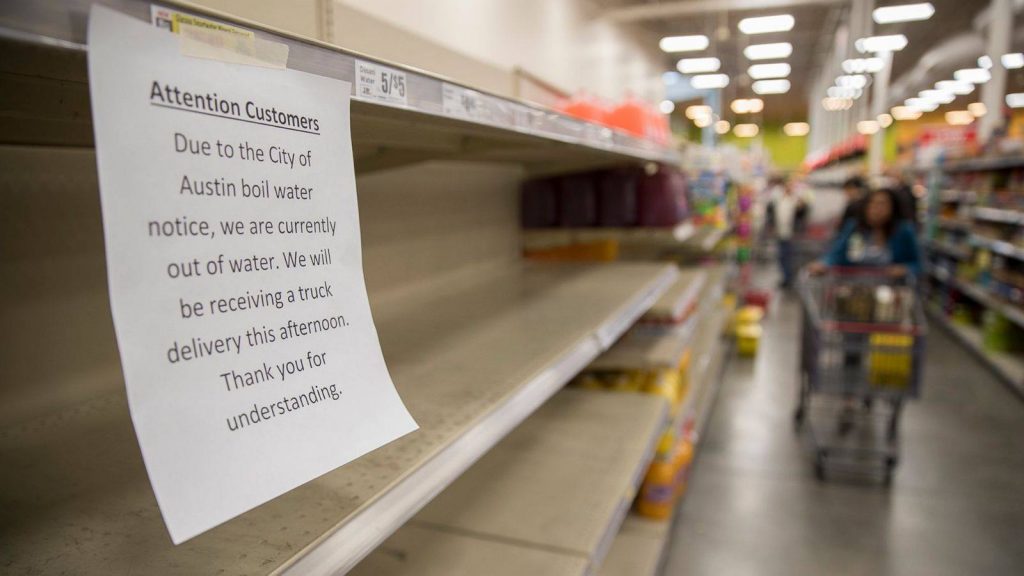 Last Monday, Austin residents woke up to a boil water notice from the City. Record flooding had dumped excess silt into Austin's water supply, overloading the treatment centers. Due to the decrease in water quality, the city initially put out an advisory to boil all water used for drinking & cooking. A few days later, the boil notice was raised to a mandatory notice due to the threat of infection. The boil water notice finally ended on Sunday, October 28th.
As the boil notice went into effect, stores were quickly depleted of bottled water as people panicked and began to hoard water. Many restaurants & coffee shops closed or stopped serving non-bottled drinks, and those that remained open had to add the extra work of boiling water for cooking and cleaning. Some breweries, such as Black Star Co-op and Vista Brewing, began offering clean water. Some individuals who had bought up bottled water took advantage of the situation by price gouging, selling bottles of water for ridiculously higher prices. On the other hand, the City provided free bottled water at 7 locations across Austin and UT set up stations across campus.
During the boil notice, some residents self-organized spontaneous mutual aid efforts to provide water to those in the Austin who, despite the City's efforts, lacked access to water. Some gathered bottles to hand out to homeless people near campus, while other provided water to people in public housing. Many coordinated their efforts in a Facebook group called "Keep Austin Watered." They also focused on supplying other resources to reduce water use, such as wipes, hand sanitizer, and give people pots and other resources to boil their own water. In a brief moment of crisis, people self-organized to care for those who fell through the cracks of the government's relief efforts.
Though brief, the boil water notice was a harbinger of things to come. The rains & flooding which overloaded the water treatment system are tied to the climate change induced intensification of storms. Paradoxically, the same warming climate that produces stronger storms will produce drier soil & lower inflows to lakes. Shifting climates may produce drier conditions in the city in coming years. As these changing conditions collide with Austin's growing population, suburban sprawl, and increased water consumption, pressure on the water system and threats to the supply will become more pressing issues in the years to come. As we face the potential for more climate change induced water crises, which may last longer than merely a week, building the foundations for mutual aid networks–locally & regionally– and ways to supply our own water–such as rainwater collection–will become more pressing needs in the coming years.
On a final note: Happy Halloween! May your week be full of ungovernable mischief & desires
---
Got a story you need to tell? Publish it with us! Send us your opinion pieces, art, zines, reviews, news, statements, report-backs, or anything else you wanna see put out in the world. We take all kinds of content, with an eye towards marginalized perspectives and news about movements & revolutionary organizations. Submit content to austinautonomedia [@] autistici [dot] org.