Autonomous Student Media: Gestures Towards the Ungovernable
Ask a room full of organizers about the things that inspired and radicalized them, and you'll probably end up with a good number of people. A few may specifically mention slam poetry & spoken word, a form of expression that often attracts radical and revolutionary thinkers because of its ability to give voice to experiences and ideas that are typically silenced. At UT, you may find some of these creative radicals in a local group called Spitshine Poetry. Founded in 2012, Spitshine hosts weekly writing workshops and regular open mic nights, where students may collaborate on and present their work.
Spitshine is no yuppie liberal art collective, however. Their membership prominently features working class, queer, non-white, and women poets. Some of their most prominent poets touch on topics that gesture towards deep, radical critiques of society–topics including the imperialist State, rape culture, liberal fantasies of "dialogue," survival & resistance within a white supremacist society, working class & immigrant experiences, and more. What is inspiring about their work is how they fuse artistic creation, activism, and radical pedagogy. Many of their members are involved in community organizing, a reality reflected in many of their poems. Through their poems, they provide windows into their experiences that others may not be aware of. Through their art, they communicate radical ideas in a way that is moving & engaging, making those concepts more accessible and appealing than the old tomes of Leftist theory.
Below, we've highlighted a few select videos featuring current and former members of Spitshine. Listen and let their words fuel your radical energies.
In addition to their workshops and open mics, Spitshine also sends a team of their most skilled poets to the annual College Union Poetry Slam Invitational (CUPSI). Here's a special video from March showcasing the current CUPSI team. CUPSI, is an annual inter-collegiate slam poetry competition, which Spitshine will be attending in early April. Support Spitshine's fundraiser to help send their team to CUPSI 2018 and be sure to check them out on Twitter too!
A fun historical event which demonstrates the radical leanings of many of the poets who attend CUPSI: Last year at CUPSI, the student competitors spontaneously organized a takeover of the final event where they cancelled the competitive aspect of the final performances. This began out of a protest against the speeches of Marc Smith, who was presented as the creator of slam poetry (erasing its origins in black communities) and given a platform as a special guest. His poems that night contained racist undertones–including criticisms of poets of color confronting whiteness and belittling the rage of black people against anti-blackness–which prompted the students to walkout and to turn their backs on him in protest. They subsequently eliminated the competitive aspect of the final event, refusing the legitimacy of judgement over their experiences and emotions.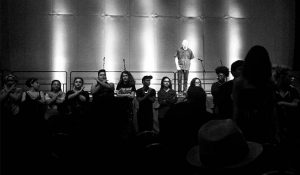 The students–including UT Spitshine members–also began to voice deeper criticisms of the exploitative nature of the event. They criticized CUPSI for generating revenue off of their stories and therefore decided to prohibit Button Poetry from recording and uploading their performances to Youtube. For a brief moment, the students organized the event into one controlled by them and without the competitive, exploitative practices that typically accompanied it.
Go follow Spitshine on Facebook and Twitter for updates on their upcoming events and how to get involved!
---
Wanna get your voice out? Submit something to us at austinautonomedia [@] autistici [.] org
We'll publish all kinds of content–reviews, articles, cartoons, videos, music, and more!