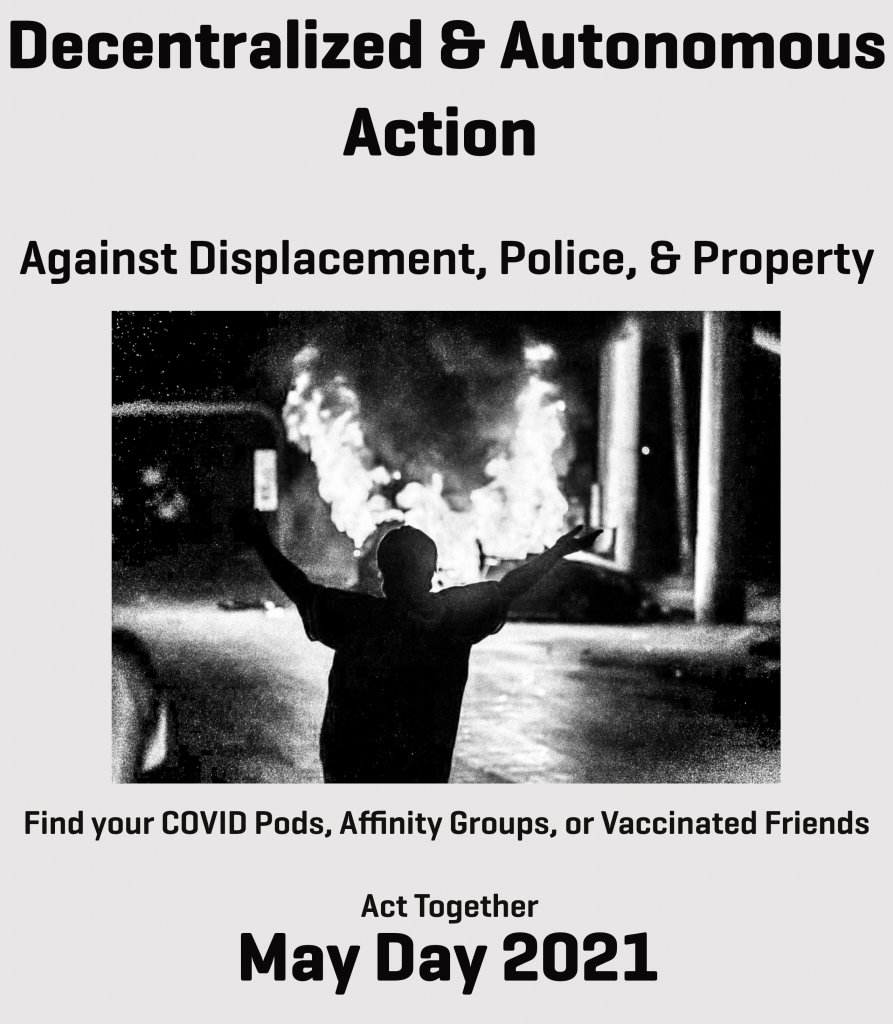 An Anonymous Transmission
The Message
More than a year and a half into a set of escalating crises–a global pandemic that has bled the poor and working classes dry while enriching the ruling classes, a globalizing insurrection against anti-Black police violence, a State whose violence has not ceased with a simple change in the figurehead–we remain at a crossroads. The way things are is not sustainable. We feel this deeply in every aspect of our lives: physical, spiritual, social, emotional. We reject the tyranny of working long hours to barely meet our basic needs. We denounce the extraction, exploitation, and hoarding of the land's precious gifts. We deny the manufactured necessity of police, prisons, and surveillance.
The experiences and struggles of the past year–from mutual aid networks & rent strikes to riots & autonomous zones–have fundamentally transformed us and our local conditions. One the one hand, the growth of local organizing networks and the explosion of insurgent strategies has expanded the window of possibility for autonomous activity in the city. On the other hand, the weight of over a year of furious organizing, the heigtening of internal contradictions and conflict amongst organizations, and the slowing down of the waves of local insurgency have sapped much of the energy that propelled us last year. Finally, we look ahead to an oncoming struggle around multiple proposals to criminalize homelessness, heigtening antagonism to the police and the regime of property they serve, and a summer which many predict will be hot and riotous. It is amidst these conditions that we offer this proposal for May 1st.
This year, we are calling for friends, family, and comrades to deliver a message on Saturday, May 1st to those who wish us harm. We have compiled a suggested list of recipients of this message. These recipients are directly complicit in, among other things, the murder and brutalization of Black and Brown people, the systematic oppression of the unhoused, and the unrelenting exploitation of workers. We have also listed creative ways to deliver this message. We encourage you to find your crew–your affinity group, your COVID pod, your vaccinated comrades, or whomever else you wish to affiliate with. You may make the delivery of your message a secret, announce it to the world, or submit a reportback on how the delivery went–all with security culture in mind of course.
This is a challenge and a test of the capacities latent in our networks–to measure our collective abilities to seize the initiative and take action in ways the escape the trap of marches without power. Importantly, the one major rule for delivering this message: avoid Downtown at all costs. Escape the hyper-surveilled, easily policed trap of a Downtown march at an empty symbol of power (City Hall, the Capitol) and instead distribute across the city, striking at the infrastructure of power itself. Spread thin the predictive & policing capacities of the police and make the city ungovernable–remembering that smaller distributed actions are more ungovernable than one large action.
Find each other. Have fun and take care of each other. We keep us safe. We are all we have. The world is not big enough to hold both our and their realities.
Suggested Recipients
Anti-Homeless Forces
Matt Mackowiak: [See Here For Info]

A tireless advocate for the criminalization and misery of unhoused people, Mackowiak has made it his personal mission as president of the Travis County Republican Party to disappear and displace as many poor Austin residents as possible.

Save Austin Now HQ/GOP Office: 807 Brazos St
Mackenzie Kelly:

Office: 10401 Anderson Mill Rd, 78750.
Sweeps Contractors:

Relief Enterprise–The main contractor for sweeps conducted by the City of Austin.

Main Office: 6448 US-290 East, Suite E11, Austin, TX 78723
Vehicle Lot: 13802 Turbine Dr, Austin, TX 78728 (in the same lot as Mastercast Inc. Stucco & Masonry Supply)
Steven Bush, Sweeps Crew Leader: [See Here For Info]

EPSI–a contractor that previously worked on the sweeps led by the State of Texas, guarded by DPS. Once the State handed off the task fully to the City, after the start of the COVID-19 pandemic, Relief Enterprise has taken over where EPSI left off.

7710 Rialto Blvd #100, Austin, TX 78735
Police
APD East Substation: 812 Springdale Rd.

This station is particularly important for the policing of the East side. This is also the site of APD's forensics lab. As such, they may be extra defensive of this spot.

APD North Substation: 12425 Lamplight Village Ave
APD South Substation: 404 Ralph Ablanedo Dr
APD Evidence: 4708 E Martin Luther King Jr Blvd, Austin, TX 78721
Austin Police Association Building: 5817 Wilcab Rd #7, Austin, TX 78721

The Austin Police Association is APD's police union, which has advanced a lot of reactionary copaganda and had involvement in campaigns such as the push to recriminalize camping. Note–Their website lists their board of directors meetings: https://www.austinpolice.com/

APD Recruitment Center: 1520 Rutherford Ln #3, Austin, TX 78754
Ken Casaday, President of the Austin Police Association: [See Here For Info]

See details about previous actions people took against Ken Casaday: https://austinautonomedia.noblogs.org/apa-president-scared/

APD TechniCenter: 4201 Ed Bluestein Blvd, Austin, TX 78721.
UT Police Department: 2201 Robert Dedman Dr, Austin, TX 78712
DPS HQ: 5805 N Lamar Blvd, Austin, TX 78752.

This facility is also home to the Austin Regional Intelligence Center, a partnership between 19 law enforcement agencies with an emphasis on surveillance and intelligence sharing. Also known as a fusion center. ARIC was recently exposed by BlueLeaks for fostering a network of community intelligence operations, police informants, racist surveillance, and surveillance of protestors. See some of the recent Austin Chronicle articles on the subject: https://www.austinchronicle.com/aric-blueleaks/
Prisons
Texas Correctional Industries Showroom: 8801 S 1st St #100, Austin, TX 78748

A facility that displays products for sale that were produced by prison labor.
Texas Department of Criminal Justice:

Central Administration: 209 West 14th Street, Suite 500
Pardons & Paroles Board: 8610 Shoal Creek Blvd, Austin, TX 78757
TDCJ building, including Victim Services: 8712 Shoal Creek Blvd, Austin, TX 78757
Region IV District Parole Offices:

2101 E Ben White Blvd B, Austin, TX 78741
1616 Headway Circle, 1st Floor, Austin, TX 78754

Travis State Jail: 8101 FM 969, Austin, TX 78724
Logistics Infrastructure
SouthEast Austin particularly (Burleson Road, St Elmo St, and Oltorf, around highway 71) are home to many warehouses and logistics facilities.
Amazon Warehouses (Based off google maps results):

Corner of Burleson Rd & Montopolis Dr: https://goo.gl/maps/XVPdKL1UEtu1ZgTg9
Fulfillment Center at 2093 Rutland Dr, Austin, TX 78758
Fulfillment Center at 2000 E Pecan St, Pflugerville, TX 78660
Amazon DAU1: 4616 W Howard Ln, Austin, TX 78728
Amazon DAU7: 3150 Chisholm Trail, Round Rock, TX 78681
1328 Sunbright Blvd, Buda, TX 78610
Whole Foods Distribution Center: 840 Interchange Blvd, Austin, TX 78721
Forms the message can take
Banner Drops
Graffiti
Lockdowns
Blockades
Marches
Squats, Takeovers, & Occupations
Dance parties
Community gatherings
Bike blocs
Home demonstrations
Sabotage
Expropriation
Anything Else You Can Imagine
If you need help compiling your message, reference this style guide from Crimethinc: https://archive.org/details/RecipesForDisasterAnAnarchistCookbook/page/n5/mode/2up
If you would like to transmit reportbacks or share the information you gather about one of the recipients listed for other messengers to use, you may send submissions to itsgoingdown.org or austinautonomedia.noblogs.org
Editor's Note: You may use these promotional graphics/flyers, which include links back to this article.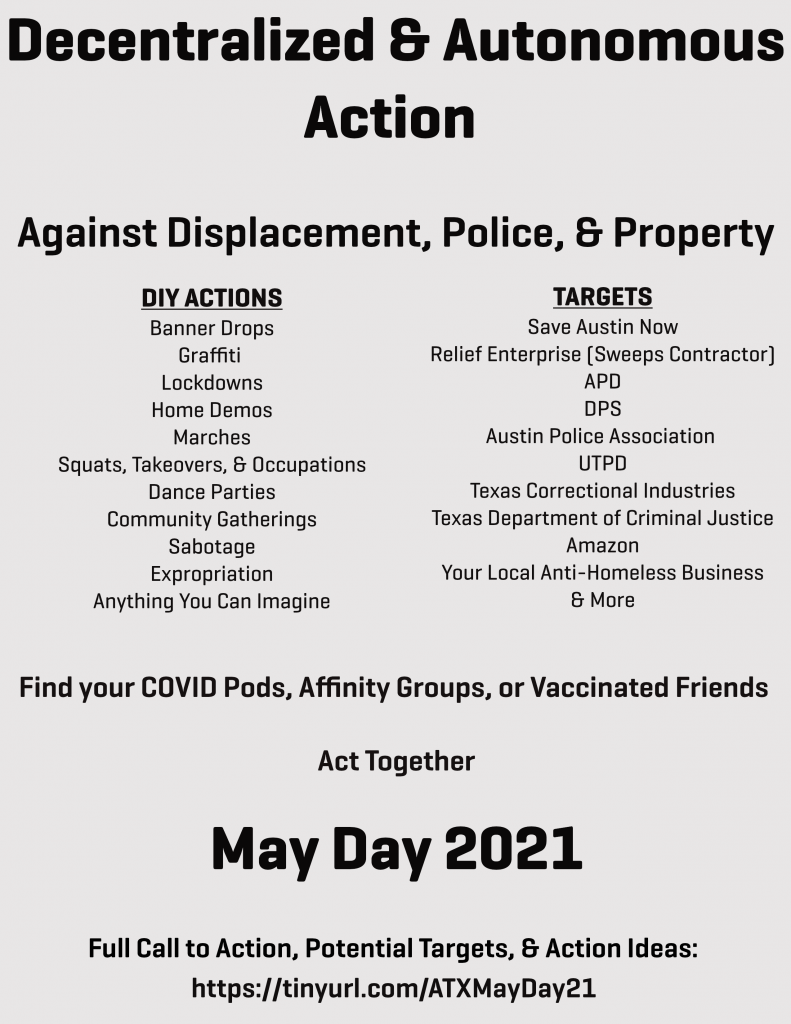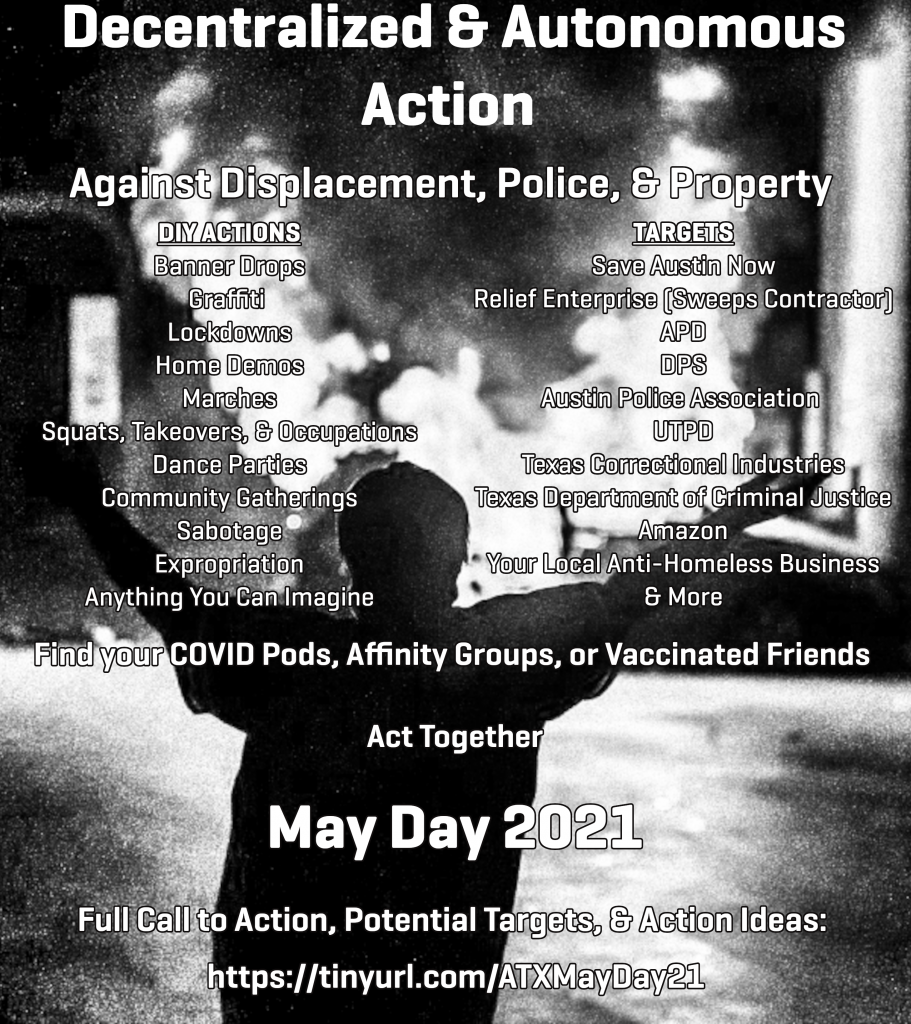 ---
Got a something you need to publish? Send it to us! We take all kinds of radical/revolutionary content, with a special affinity for anarchist/autonomous movements and crews. We specialize in research and strategic intelligence that can inform direct action, but we'll take art, opinion pieces, and other stuff too! Submit content to austinautonomedia [@] autistici [dot] org.